Time does fly so fast! It's almost three decades now since these amazing females became a part of our lives. Some of them are singers, actresses, daughters of famous people and more. We've seen them step into the limelight, grow and manage their lives when things didn't seem to be alright. We've witnessed their success and we're taking a look at how they are now. Let's get this started and see who among these '90s women ruled and rocked our world.
Mandy Moore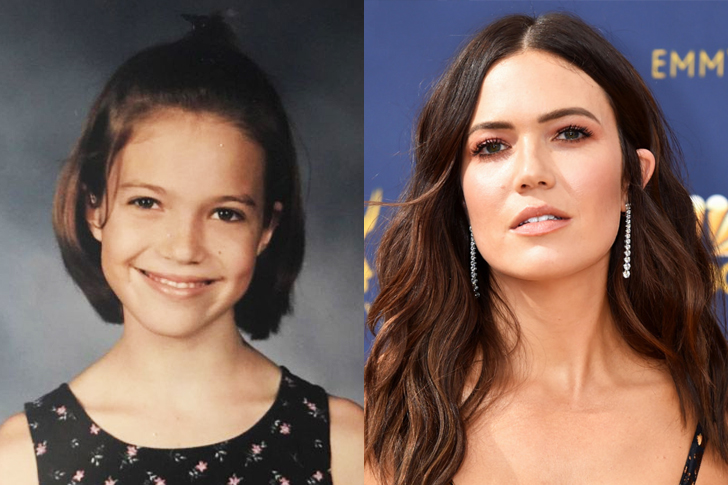 Mandy Moore is both an amazing singer and a talented songwriter. She has many songs that everyone loves, even until at present. It was after she released her album entitled So Real that she became enormously popular, especially among teenagers. She knew right then and there that she has to explore her capabilities in the industry so she made investments in her acting career as well. Her cute characters in romantic comedies and teenage movies gave her a place in the limelight.
Everyone will agree that Moore has enjoyed a successful singing and acting career. She is not only listed on VH1's 100 Greatest Women in Music, but she also starred in popular movies like Nicholas Spark's novel turned movie, A Walk to Remember. Today, she stars in the hit drama show, This Is Us. Mandy is also happily married to Taylor Goldsmith. Hopefully, we can soon see little Mandy or little Taylor complete their family.
Jennie Garth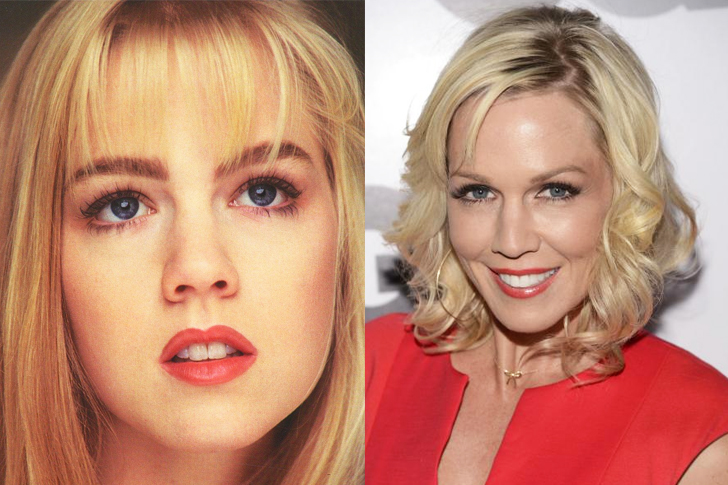 Many of us still remember the entertaining and exciting episodes of Beverly Hills, 90210 where Jennie portrayed the role of Kelly Taylor. However, before the world knew her as Kelly, she jumpstarted her career portraying the character of Denise in the hit TV show Growing Pains. The actress is also known for her role as Val Tyler in the sitcom What I Like About You and soon she got her very own reality show Jennie Garth: A Little Bit Country on CMT.
Unfortunately, Jennie has experienced two unsuccessful marriages but she was not afraid to give love another shot. Her current better half is Dave Abrams and she has never been happier! Who would have thought that they met on a blind date? The lovely couple joined the reality TV trend when they recently filmed, The Jennie Garth Project. While Jennie has a lot of other profitable investments, she is also a supporter of many charitable groups.
Angie Harmon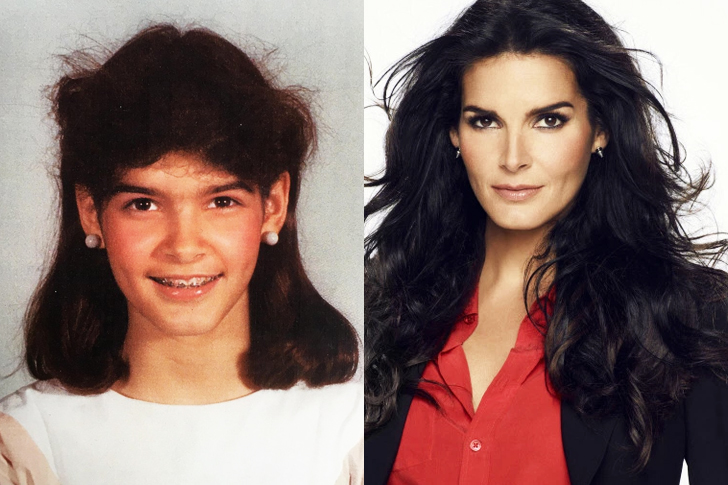 Angie Harmon was considered to be one of the most familiar faces in the '90s. She was born on August 10, 1972. Her parents are Lawrence Paul Harmon and Daphne Demar Caravageli. She was discovered by David Hasselhoff, who was also her co-star in the popular TV show Baywatch Nights. Next to Baywatch Nights, Harmon got a bigger opportunity when she got the role of Abbie Carmichael in the series Law & Order.
Today, Angie Harmon is still an active actress at the age of 46. Recently, she played Jane Rizolly in the popular television series Rizzoli & Isles. After that, she took a pause and dedicated her time and attention to her family and kids. She was married to Jason Sehorn for 13 years and was gifted with three lovely children. No wonder why Greg Vaughan felt the electricity and fell in love with her. She is a talented woman and a wonderful mom with a sexy body physique.
Candace Cameron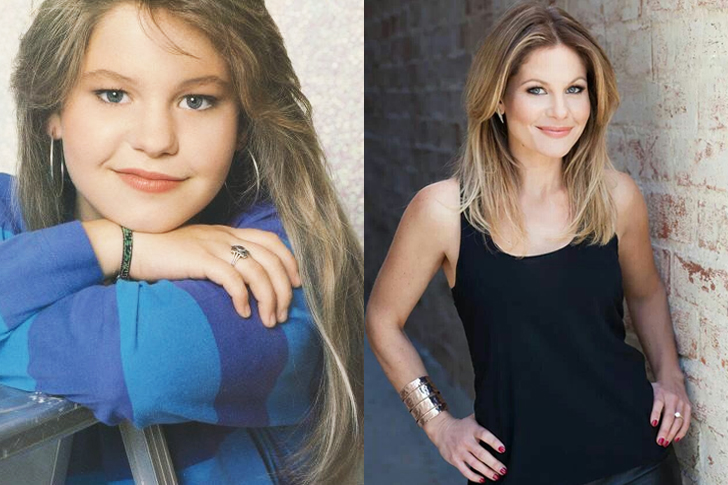 Being a celebrity is pretty much in Candace's blood. She also has a brother – Kirk Cameron – who is also an actor. Candace decided to take the same path as her brother who was on the show Growing Pains. She later starred in the show, Full House which became a favorite sitcom for many years back in 1987-1995. She portrayed D.J. Tanner in a total of 191 episodes. Today Candace is over 40 years old and married to Valeri Bure, a Russian NHL player, back in 1996.
They were gifted with three wonderful kids, Natasha Bure, Maksim Valerievich Bure, and Lev Valerievich Bure. According to the actress, her strong Christian belief which she found when she was 20 years old became the foundation of their marriage. With such a degree of belief, we can surely say that they will live happily ever after. All credits to this woman's strong faith that she was able to raise her family as well.
Tia and Tamera Mowry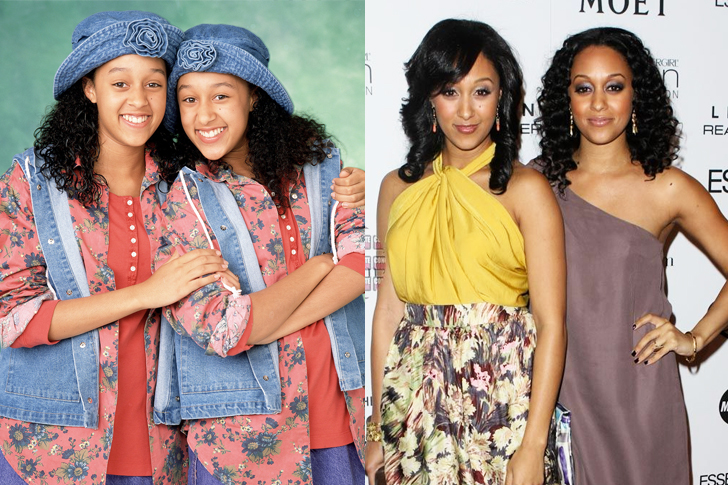 Tia and Tamera are twins that only have a 2-minute gap between the two of them. Tamera as the eldest. Tia and Tamara starred in the youth hit show Sister, Sister in 1994. It lasted for 5 years and needless to say, that it was a huge hit. Their careers took a right turn when Disney signed them up for a Disney Original Movie called Twitches in 2005 and its equally successful sequel, Twitches Too in 2007. Their reality television series, Tia & Tamara hit the screen on Style Network in 2011.
They really put in the investments toward their acting careers. Today the identical twins are already 41 and are still happily working together with Nickelodeon. Tia is married to Cory Hardrict, who is also a celebrity, while Tamera walked down the aisle with Adam Housley, an Emmy-winning journalist. Tia wrote a book that deals with child-care while Tamera still appears each morning on The Real.
Alyssa Milano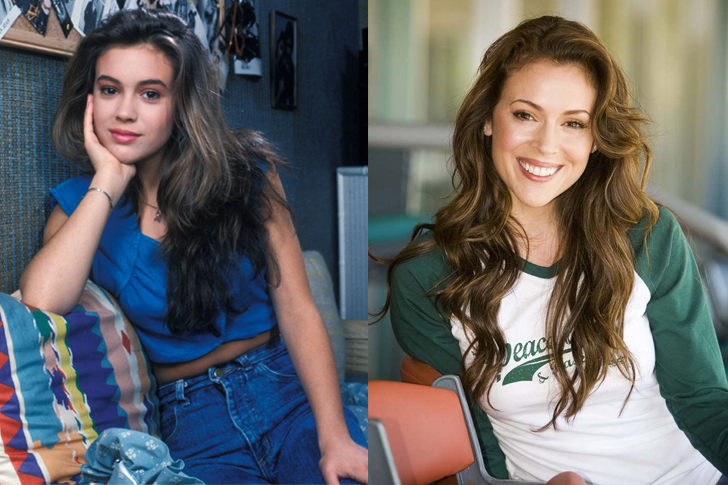 Alyssa Milano's career was launched when she became part of Who's the Boss? – an American sitcom on ABC which aired for almost eight years. She played the loveable daughter of Tony Danza. Six years later, Alyssa got a more mature role when she starred in Charmed, a popular TV show about 3 witch sisters. The show not only proved that she is indeed a versatile talent, but also a talented producer as well. The actress produced the last 3 seasons of Charmed.
Nowadays, Alyssa is busy with both TV series and movies. She also launched her very own book in the year 2014 called Hacktivist, a fast-paced cyber-thriller. Alyssa married Cinjun Tate but they split up in 1990. She later married agent David Bugliari in New Jersey and have two wonderful children named Elizabella Dylan and Milo Thomas. Being a mother to her children, she says, is the biggest role of her career.
Jessica Biel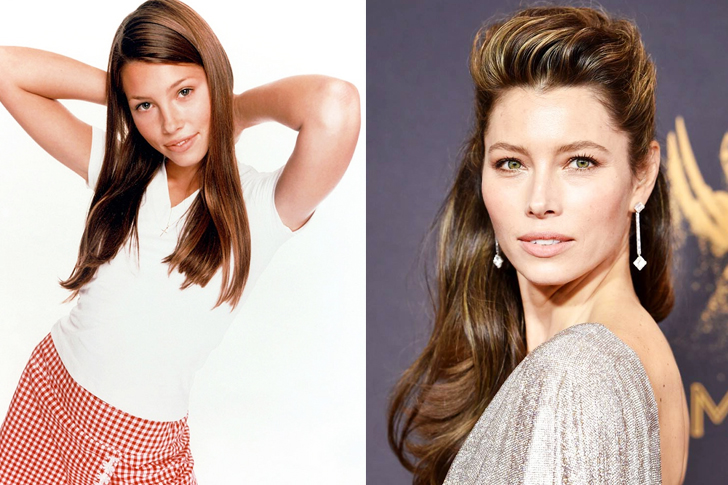 Jessica Biel starred in many big productions over the past years. She played the role of a Protestant minister's well-behaved daughter on CW's 7th Heaven. Her acting talent was noticed, though, when she portrayed Erin Hardesty in The Texas Chainsaw Massacre, in 2003. She also got an award as a young artist in 1997 for Ulee's Gold. Jessica married Justin Timberlake in 2012 after dating for 5 years.
Remaining together until now is proof that they are happy and enjoying their precious time as husband and wife. Now they also have a four-year-old son named Silas. Much credit goes to these two who have maintained a quiet and scandal-free marriage. Though there are still no reports of their upcoming partnership in movies or television series, many fans are still hoping they would see this lovely couple on the big screen soon. Their chemistry is just perfect for a fun and feel-good romantic comedy movie!
Keri Russell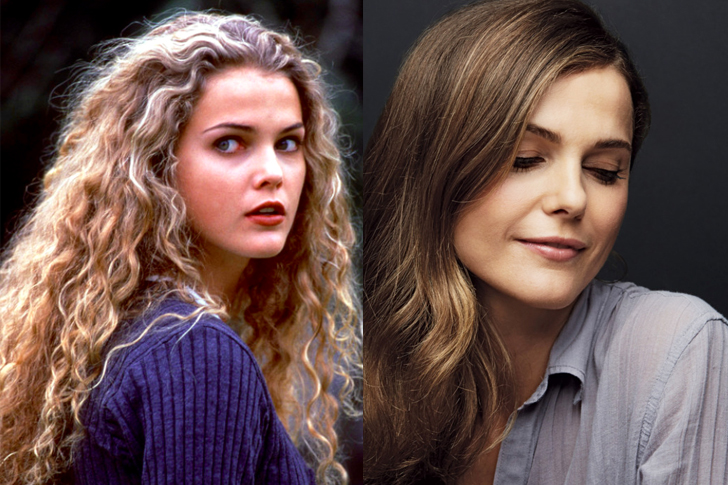 If you grew up watching Mickey Mouse Club then you probably remember Keri. She later became known for her role as Felicity Porter in Warner Brother's drama television series Felicity and even won a Golden Globe for it. She also appeared in the spy thriller series The Americans for five years and bagged a nomination for a Primetime Emmy and Golden Globes as well.
This talented actress also made investments in the big screen, starring in different popular movies such as Honey I Shrunk the Kids, Malibu Shores, Waitress, Dawn of the Planet Apes, Bedtime Stories, and Star Wars: The Rise of Skywalker. Keri also received a star on the Hollywood Walk of Fame in 2017. Her role as Julia Meadows in the upcoming movie, Antlers is expected to be released in 2021. Keri and Matthew Rhys have been together since 2014. Keri now has three children, including her first two kids with her ex-husband Shane Deary.
Tara Reid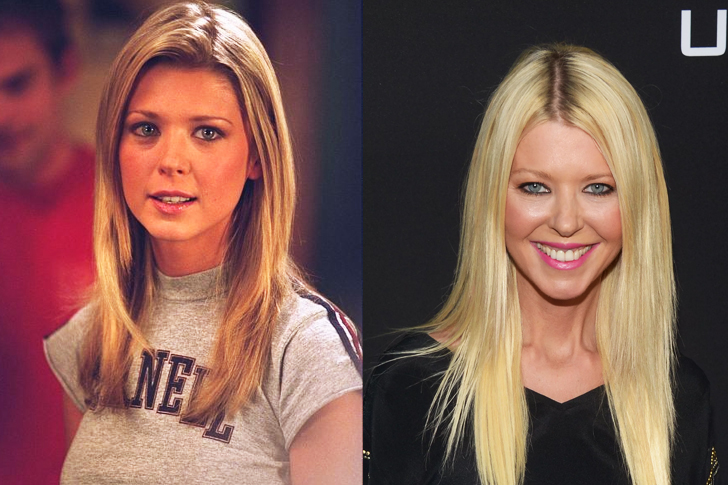 Tara Reid was only six years old when she became part of Child's Play, a TV series. She also did many commercials with known brands. In the late 1990s, Tara Reid became part of one of the most memorable movies of the decade, American Pie. Tara now has her very own traveling show and is currently dating DJ Erez Eisen. Unfortunately, Reid was one of those celebrities who could not resist the temptation of cosmetic surgeries.
She underwent several surgeries which did not do her justice at all. Aside from the occasional headaches, the actress barely looks like her old self. Nonetheless, in terms of personality, she is still one of the sweetest and most genuine actresses in the industry. She probably also has good insurance in place, should something come up again as a result of her past surgeries. Hopefully, she learned her lesson about the dangers of getting cosmetic surgeries and the way some people can develop an obsession with it.
Alicia Silverstone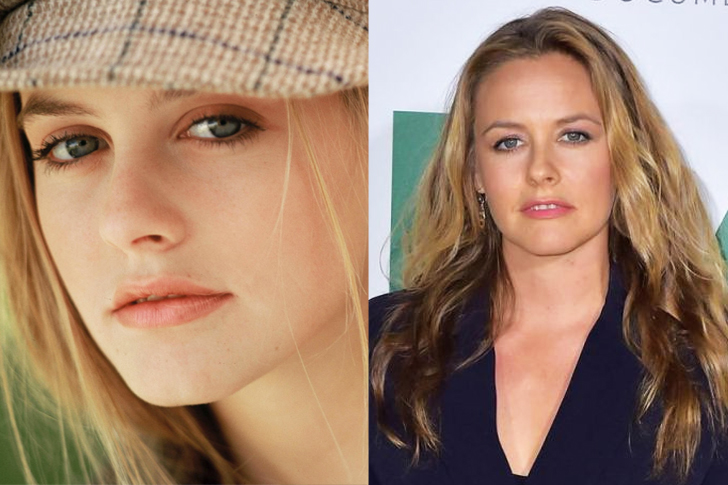 It was the year 1993 when Alicia Silverstone launched her career through the movie entitled The Crush. Her career was finally starting to gain traction when she also bagged the 1994 MTV Movie Award for Best Breakthrough Performance. Silverstone instantly became one of the most iconic idols of the decade after she appeared in three Aerosmith music videos. Her blue eyes, long blonde hair, and goddess-like beauty were a complete package.
Though the actress was already receiving recognition in the industry, her lead role in the successful teen comedy film, Clueless, bagged her a multi-million dollar deal with Columbia Pictures. She was also cast as Batgirl in the 1997 Batman & Robin film. After Alicia's accomplishments and fame in Clueless, Alicia played Mandy Bloom in Time Stands Still. Alicia is also a proud vegan and has published two books: The Kind Diet and The Kind Mama. Who knows? She might offer online classes on how to be a vegan, too.
Sarah Michelle Gellar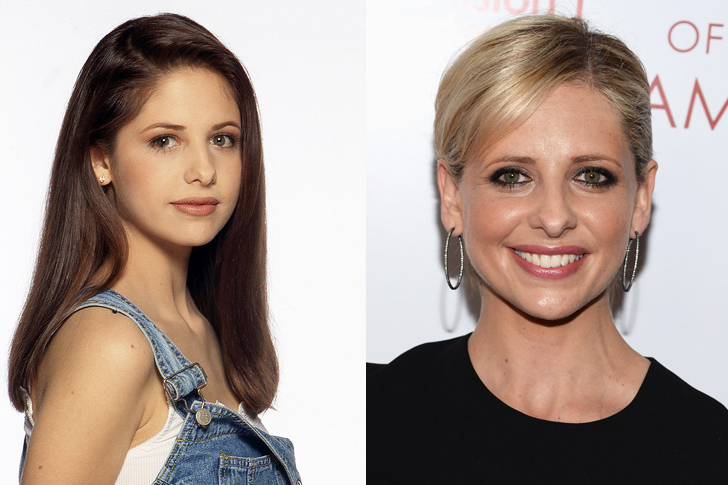 It was in the '90s when Emmy Award-winning actress Sarah Michelle Gellar became popular through the television series Buffy the Vampire Slayer. Gellar has also bagged several awards, which include an astounding five Teen Choice Awards and a Saturn Award. She also earned her a Golden Globe nomination. The show was perfect for any type of audience, young or old. It had both romantic and thriller scenes that would bring goosebumps to anyone who watched it.
Today, Sarah is working on both her acting career and business. She made an investment in an organic-baking mix company called Foodstirs. Her personal life is also as successful and she is happily married to the love of her life Freddie Prinze Jr., with whom she has two children. These two met while working on the film I Know What You Did Last Summer. Four years after this project, the equally hot couple tied the knot.
Lacey Chabert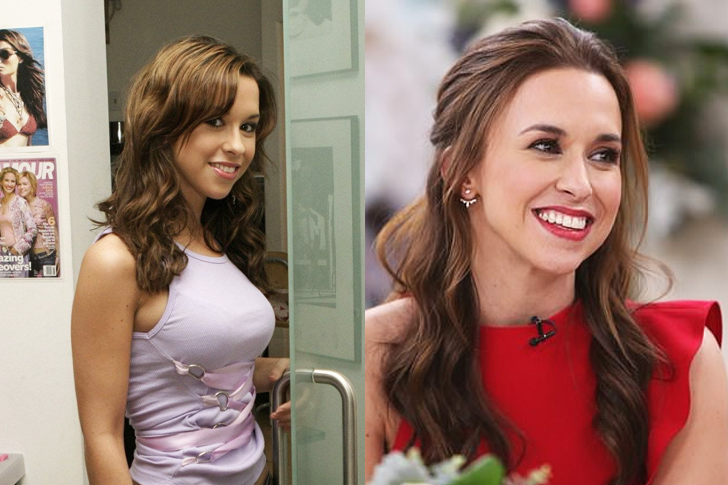 Lacey Chabert's got her first acting job in the television series All My Children. You might also recognize her from the show Party of Five where she played Claudia Singer. She later became a voice actress for several animated TV shows like The Wild Thornberrys, Family Guys, and various DC Comics shows. Her inimitable voice and talent in music made her a sought-after voice actress.
Chabert also appeared in numerous films such as Lost in Space, Not Another Teen Movie, Daddy Day Care, and who could ever forget her as Gretchen Wieners in the 2004 hit movie, Mean Girls. Today, Lacey has made a lot of appearances in Hallmark Channel movies. In an interview, the actress reported that she is proud to be a part of these movies because of the great and positive messages they have for the viewers. We give much credit to Miss Chabert for being a part of these amazing films.
Cindy Crawford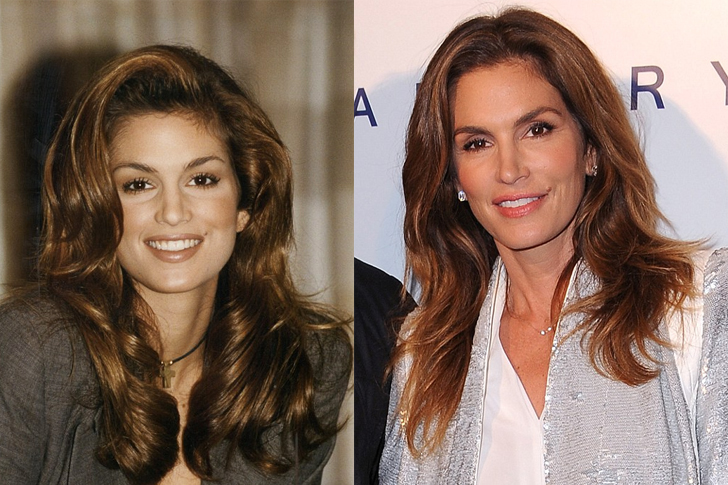 Cindy Crawford was considered one of the hottest supermodels during the '90s. She was also named "the highest-paid model on the planet", as per Forbes. Cindy married Richard Gere, although their marriage only lasted for four years. Their lawyer did a wonderful job in making the split as civil as possible. Too bad because they looked perfect together!
The model has worked on movies like Fair Game, Larger than Life, and others. In 1998, she was married for the second time to fellow model, Rande Gerber. This time, the model turned actress saw to it that they will beat the odds and try to make the marriage work. Their fruitful marriage was blessed with two lovely children and the family of four is happily living together. Their daughter, Kaia, looks similar to her mom and is following her parent's career as a model and actress. Talk about great genes and terrific mentors too!
Gwyneth Paltrow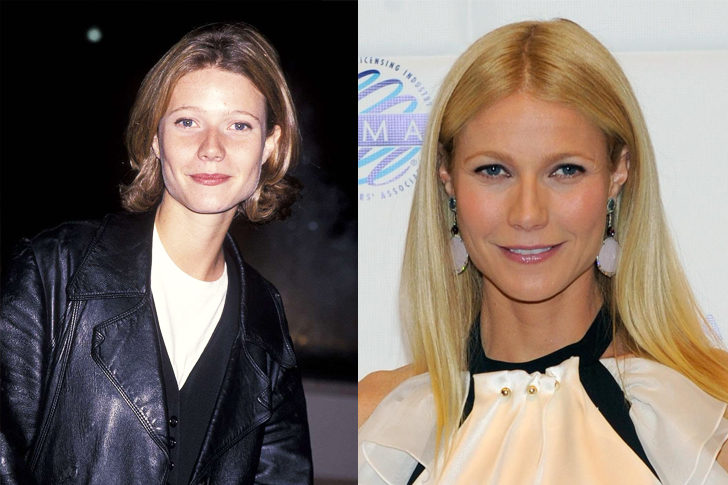 Being an actress is probably in Gwyneth Paltrow's blood as she comes from a family with deep roots in the entertainment industry. In 1996, she gained prominence after she landed a role in the movie adaptation of Jane Austen's novel, Emma. Since then, she has worked on multiple successful projects. She will forever be Mr. Stark's great love for Marvel fans, having flawlessly played the role of Pepper, Ironman's love interest.
In 2003, she finally settled into one relationship and married Coldplay lead singer Chris Martin. Unfortunately, they hired an attorney and ended their marriage after 13 years. Currently, Gwyneth is an endorser for Estee Lauder's Pleasures perfume and is married to Brad Falchuk. The actress's last movie appearance was in the Avengers in 2019. Since then, she has been exploring other options in her career. She is now an executive producer of some television shows such as The Politician and The Goop Lab.
Uma Thurman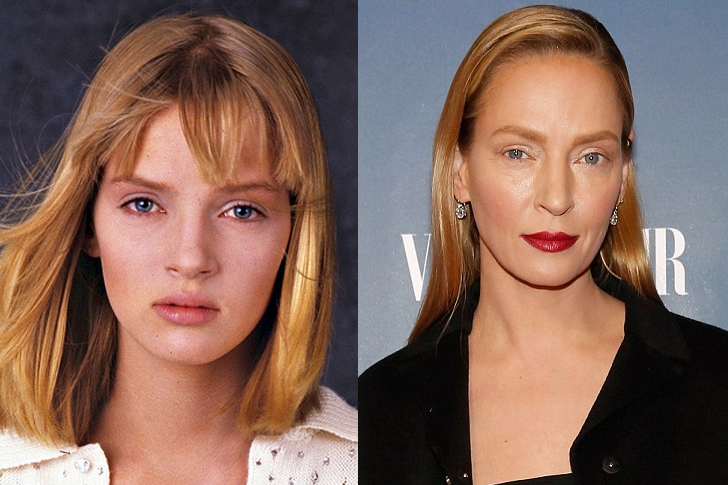 Uma Thurman started her modeling career at the young age of 15. Later on, she also pursued acting and rose to fame after appearing in Pulp Fiction in 1994. Her role as Mia Wallace bagged her several nominations for Best Supporting Actress from prestigious groups such as Academy Award, BAFTA Award, and the Golden Globe Award. After marrying Ethan Hawke and having three children, she took a break from her career and became a full-time mom.
Even though Uma took a break, in her heart, she never left the Hollywood scene. She resumed her career and was able to land leading roles in multiple movies such as Kill Bill, My Super Ex-Girlfriend, The House That Jack Built. Her last movie appearance was the movie The War with Grandpa. Thurman is set to appear in the television series Suspicion in 2021 as the lead actress. Uma is now 49 years old and has become one of the many celebrities who makes their investments more worthwhile by donating to various charities.
Kate Moss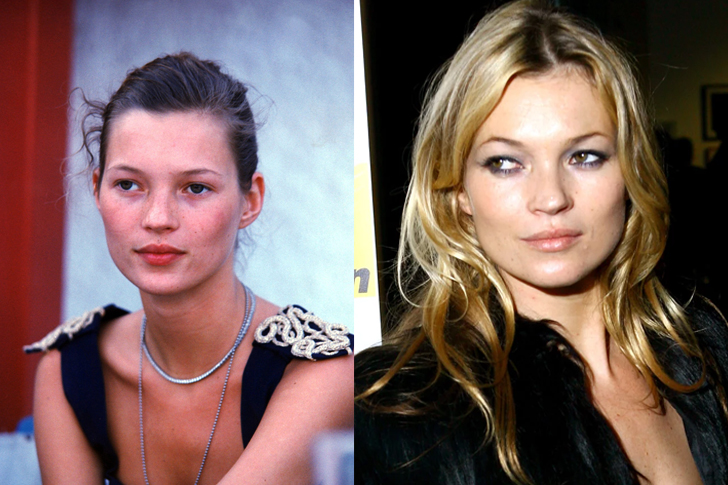 When Kate Moss was 14, she became a model and changed the industry standards completely. Top designers hired her and she also appeared in several unforgettable Vogue covers. It is crazy how she was able to keep her figure when she was called "The Tank" for her ability to drink quite a lot. Unfortunately, aside from alcohol, Kate also had other personal issues to deal with, which is why H&M dropped her from a campaign in 2005.
With the help of her lawyer, she was cleared of all the charges against her and was able to bounce back into the modeling industry, She redeemed herself in 2012 when she came in second in Forbes top-earning models list. Kate Moss is still one of the highest-paid models in the industry with her current net worth estimated at $70 million. She still gets invited to the elite runways. She's also a devoted mom to her only daughter, Lila.
Winona Ryder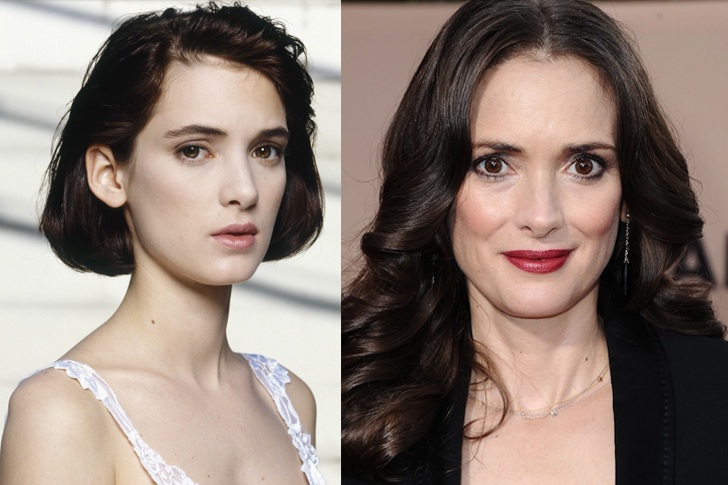 In the 1990s, Winona Ryder rose to fame after starring in some of the decade's most memorable films. She appeared in the film Age of Innocence, for which she won a Golden Globe Award for Best Supporting Actress. In 2010, she was also nominated for her other roles in movies like When Love Is Not Enough: The Lois Wilson Story and Black Swan. She also had high profile Hollywood relationships with Johnny Depp and they were also engaged for a period of time.
Unfortunately, they didn't go through with the ceremony and broke up. Instead, she has been dating designer Scott Mackinlay Hahn since 2011. Currently, she is playing one of the main characters in the popular Netflix series Stranger Things. The actress clearly made career investments in television series as Ryder is also the start of two other television series named The Plot Against America and Sarah Cooper: Everything's Fine.
Drew Barrymore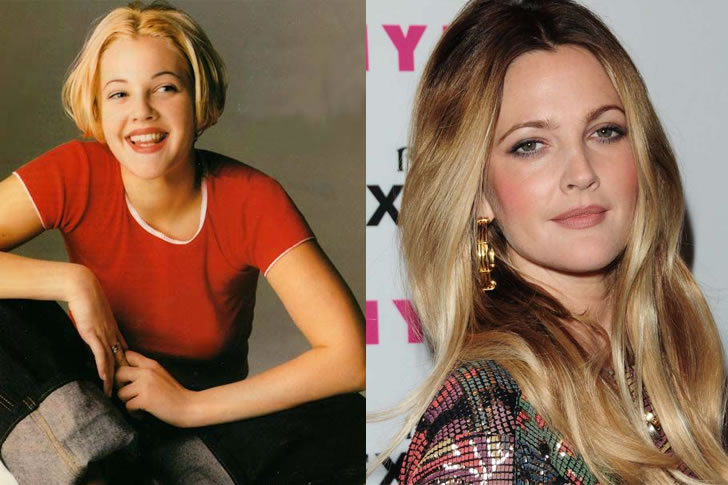 It is no wonder Drew Barrymore turned out to be a talented actress since she came from a family of artists. She rose to fame at a young age after landing a role in E.T. The Extra-Terrestrial. After her debut, she worked on project after project, making the '90s a fruitful decade of her career. Though her highly publicized personal issues affected her for a period of time, she was able to rise above it. We also give credit to her supportive family and friends who did not give up on her.
She then starred in many popular and successful movies such as Charlie's Angels, Donnie Darko, Riding in Cars with Boys, Confessions of a Dangerous Mind, Fever Pitch, 50 First Dates, Music and Lyrics, Blended, and Miss You Already. These days, you'll mostly see Drew in romantic comedy movies. Reports say that she has also become a director and her latest project is the film How to be Single. At present, she has two children with her ex-husband Will Kopelman.
Vanessa Marcil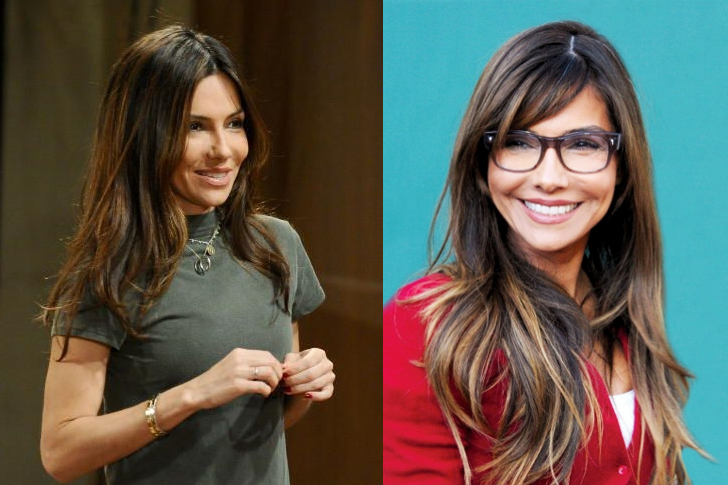 Who is Hollywood's soap opera goddess? It's none other than Vanessa Marcil. Thanks to her sophisticated and versatile appearance, she's perfect for this genre. You might have recognized her from her roles in popular television series such as General Hospital, Las Vegas, and Beverly Hills, 90210. With credit to her role in General Hospital, she bagged several Soap Opera Digest Awards for Hottest Female Actress, Outstanding Lead Actress, and Favorite Return.
She also won as the Outstanding Supporting Actress in a Drama Series from Daytime Emmy Award. Currently, Vanessa is half a century old but still looks as gorgeous as her first appearance on TV. Through the years, she has continued to appear on popular shows like Crossing Jordan, Hawaii Five-0, and Lipstick Jungle. Aside from being an actress, Vanessa is a mom to her son, whom she had with her ex-boyfriend Brian Green. Marcil can now be seen in various Hallmark Movies and continues to make appearances in television shows.
Stephanie Seymour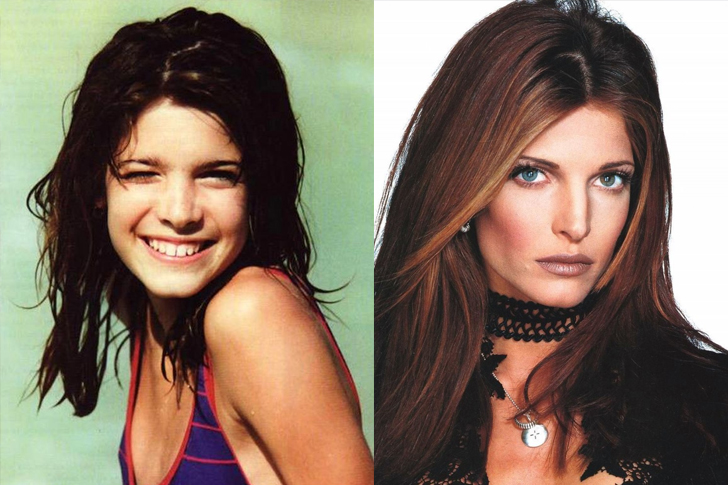 When Stephanie Seymour was young, many already began to notice her stunning beauty and her modeling potential. This is why it was no surprise that she started appearing on the cover of Sports Illustrated, Vogue, and Playboy. She also became a Victoria's Secret Angel and starred in the November Rain music video. Stephanie continues to model and walk on runways to this day. Recently, she worked with Claudia Schiffer in a campaign for Salvatore Ferragamo. She also had a short-lived acting career, appearing in Pollock and an episode in Law & Order.
After all experiencing trouble in her romantic life before, she is currently married to a billionaire Peter Brant. Though they filed for separation in 2009, their lawyer must be scratching their head when the two finally reconciled in 2010. The couple, together with their sons Peter II and Harry, are now living happily together. Seymour is also known as one of the global spokesmodels for Estée Lauder.
Julia Stiles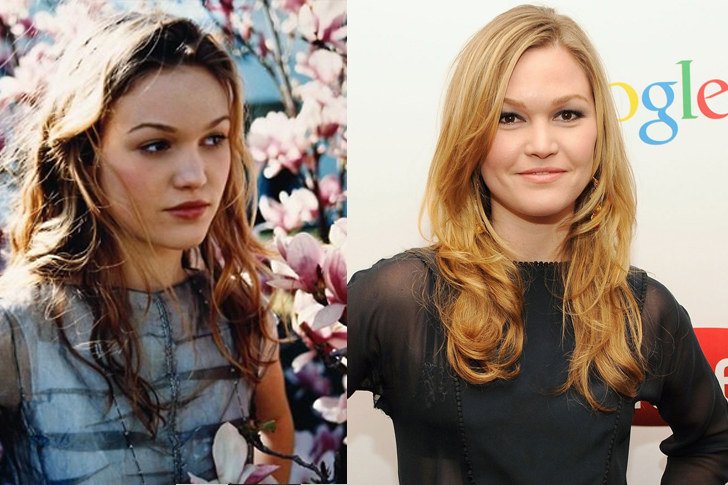 Julia Stiles started her acting career when she was only 11 years old, portraying Erica Dansby in the television series Ghostwriter. Reports say that her biggest break was when she starred in the movie 10 Things I Hate About You with the late Heath Ledger. Stiles won the MTV Movie Award for Best Breakthrough Performance and was also nominated for two Teen Choice Awards. She has also worked on Save The Last Dance, The Prince & Me, and Wicked.
Credits to the actress's unwavering goal to finish her studies, Julia took a break from acting to study at Columbia University despite being at the peak of her career. After graduating with a degree in English Literature, she returned to the entertainment industry. Luckily, she was able to break free from her teen roles and landed more mature and serious characters. Since then, Julia has gained roles in movies like The Omen, Mona Lisa Smile, and Silver Linings Playbook.
Selena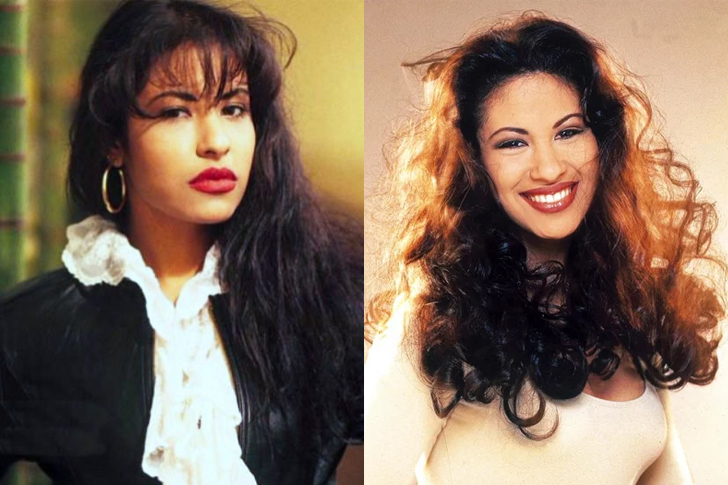 Mexican-born singer Selena is unquestionably one of America's sweethearts. She was known to be a versatile performer as well as an amazing songwriter who was able to crossover from one chart to another. She got her songs Dreaming of You and Amor Prohibido to reach the Top Latin Songs chart. In 1992, Selena was married to her co-band member Chris Perez. Three years later, they were expecting a baby but she didn't quite get the happy ending she was hoping for.
Her passing was mourned by her fans all over the world. It's been more than two decades since she left, but her mark in the music industry remains. Unfortunately, even today, she is still cited as one of the industry's biggest influences. Jennifer Lopez played the role of Selena in her biographical musical drama film in 1997. She will be forever be remembered as one of the greatest artists of her generation.
Juliette Lewis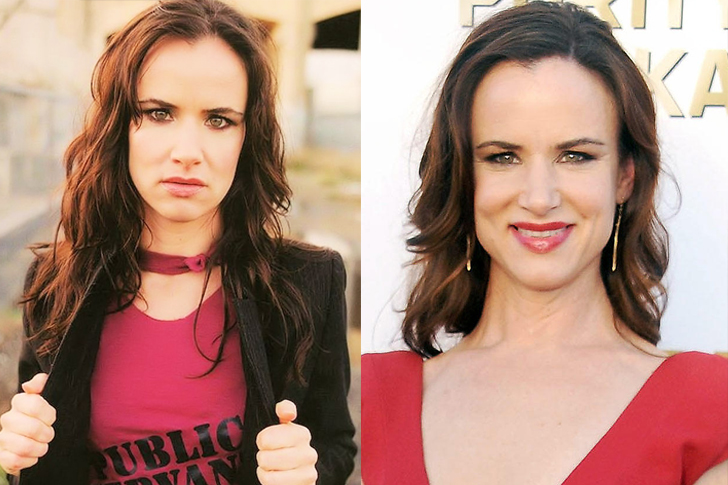 Juliette Lewis landed her first few acting jobs in small films and a couple of television series. She is best known for portraying many offbeat character in movies with dark themes. She built this image after appearing in Cape Fear as well as starring in Natural Born Killers, and From Dusk Till Dawn. Some of her most admired movies are Nerve, Cold Creek Manor, August: Osage County, Starsky & Hutch, and The Switch. Her role in Hysterical Blindness however was met with such acclaim that she even received an Emmy nomination for Outstanding Support Actress.
Currently, Juliette is 46 years old. We can still see her in many new projects, whether it be in films or music. She made investments in her career as a television star when she started appearing as the lead actress in series like The Firm, Wayward Pines, Secrets and Lies, and The Act. She also explored the music industry with her projects with various musical projects.
Tyra Banks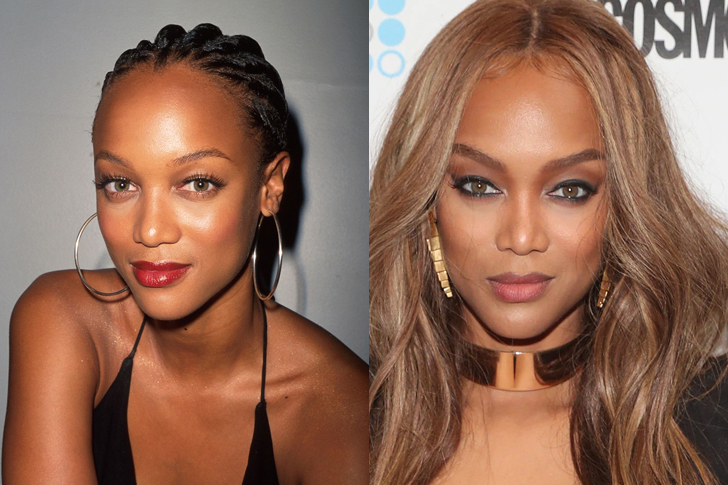 Tyra Banks is a world-renowned supermodel who made her debut in the Paris runways back in 1991. She then signed with Covergirl Cosmetics and began modeling for brands like Calvin Klein and Giorgio Armani. She became one of the most sought-after runway models and was later signed on to become one of Victoria's Secret famous Angels. Banks was known to be one of the world's highest-earning models of her time.
When she retired, she opted to make use of her earnings and make a big investment towards her other passions. She created and hosted the television reality series, America's Next Top Model which then became a global sensation and a popular franchise all over the world. At 45, Tyra still enjoys modeling and is well-respected in the fashion industry. She has also landed acting jobs in the movies Life-Size and Coyote Ugly. Recently, she was featured on the cover of Sports Illustrated Swimsuit. As for family, she had a baby with Erik Asla via a surrogate.
Whitney Houston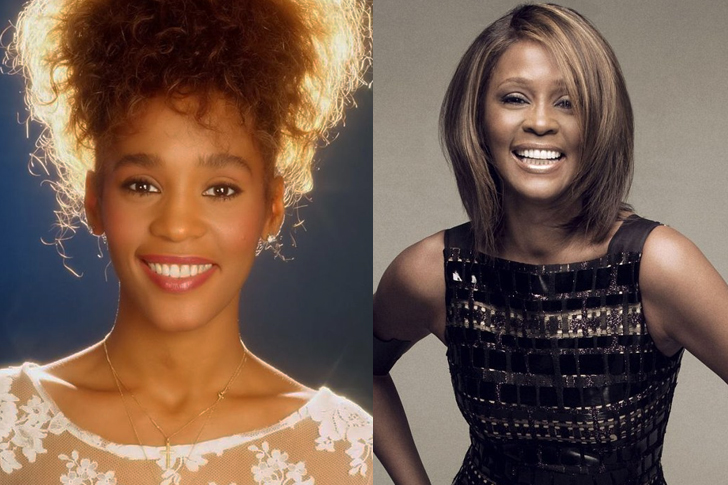 Most people know Whitney Houston as an iconic singer who was gifted with amazing vocals. It was during the 90's when she rose to fame after releasing hit songs such as My Love Is Your Love and I'm Your Baby Tonight. She also landed an acting job when she worked on the film The Bodyguard. The talented singer recorded six soundtracks for the film which includes one of her biggest hits, I Will Always Love You.
It soon became the best-selling physical single by a female artist in music history and won the Grammy Award for Album of the Year. All with credit to this artist's impeccable talent! The music industry mourned for Whitney when she passed away in 2012. Her influence on other artists is still palpable, however. In fact, she's often cited as an inspiration for many of the industry's new generation of singers. She's no longer with us, but her songs will live on and forever remain in people's hearts.
Janet Jackson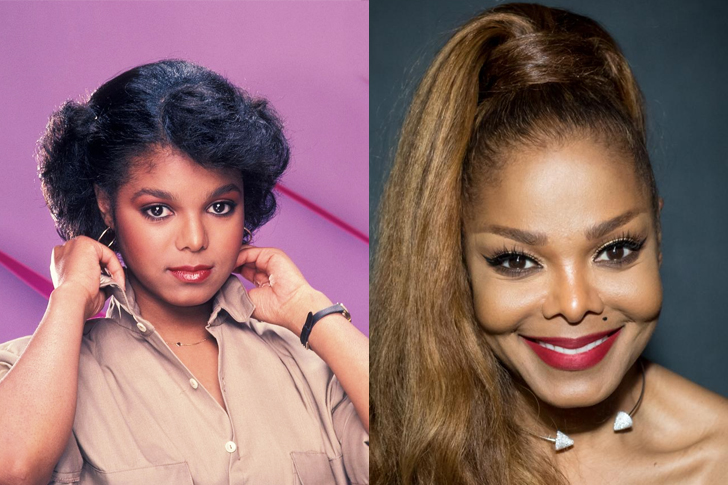 Janet Damita Jo Jackson, who is famously known as Janet Jackson, is the sister of Michael Jackson, the king of pop music. She may not be as popular as her late brother, but she was also able to compose many popular songs during the 1990s. In 1991, the artist jumpstarted her career when she signed two record-breaking multi-million dollar contracts with Virgin Records, which easily made her one of the highest-paid music artists.
She also broke the record for having the most consecutive top-ten entries on the US Billboard Hot 100 Singles. Jackson was then hailed into the Rock and Roll Hall of Fame in 2019. Janet married businessman Wissam Al Mana in 2012 and gave birth to her first child, Eissa, 5 years later. Shortly after she gave birth, there have been speculations that the two were going through a rough road. Unfortunately, in 2017, the couple announced their separation and hired an attorney to finalize it.
Paris Hilton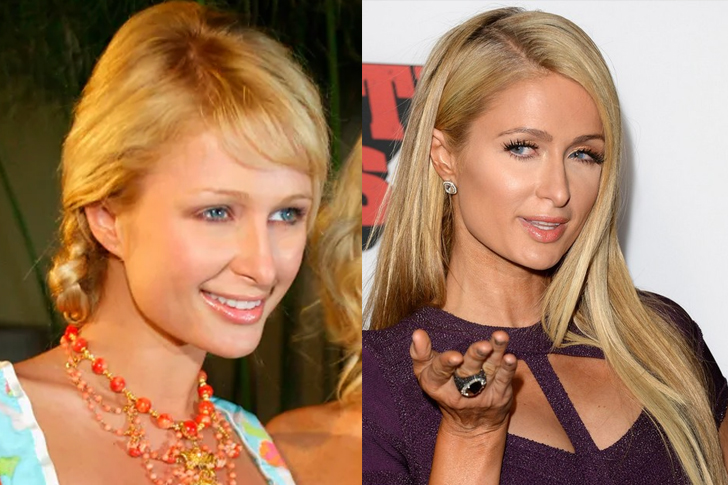 Paris Hilton is an American socialite and the granddaughter of one of the richest hoteliers, Conrad Hilton. She is also a model and an actress who has worked in films, television series, and reality shows such as The Simple Life. Back in the day, Paris was most known for her wild parties and club hopping. She also published a book, Confession of an Heiress which instantly became New York Times Best Seller in 2005.
After a short-lived music career, Paris became a businesswoman who created her very own beauty product line. Hilton easily became a successful entrepreneur as shown in her booming revenues. For her perfume alone, she gains over $10 million per annum and an additional $10 million in revenue for the rest of her investments. Reports say that even today, she receives $300,000 just to make quick appearances in clubs and events. She also got engaged to Chris Zylka but they called it off after a few months.
Salma Hayek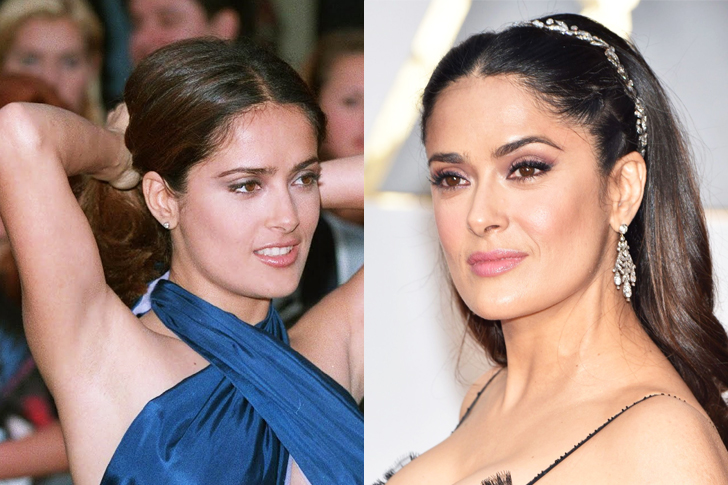 Salma Hayek is a Mexican-born actress who started her career playing lead roles in telenovelas. In the 1990s, she moved to the United States where she landed multiple movie roles in films such as Fools Rush In and Dogma. She seized all the opportunities given to her and quickly gained her celebrity status. Her role in the 2002 film entitled Frida was her major acting breakthrough where she was nominated for Best Actress for Academy Award, BAFTA Award, Golden Globe Award, and Screen Actors Guild Award.
Some of Hayek's films include Grown Ups, Puss in Boots, Grown Ups 2, Tale of Tales, The Hitman's Bodyguard, and Like a Boss. Salma has made her mark in Hollywood and showed that she can successfully play any role in multiple genres. She is also a director and producer who owns the production company Ventanarosa. With her earnings from acting, she probably didn't need a business loan to start her company.
Yasmin Bleeth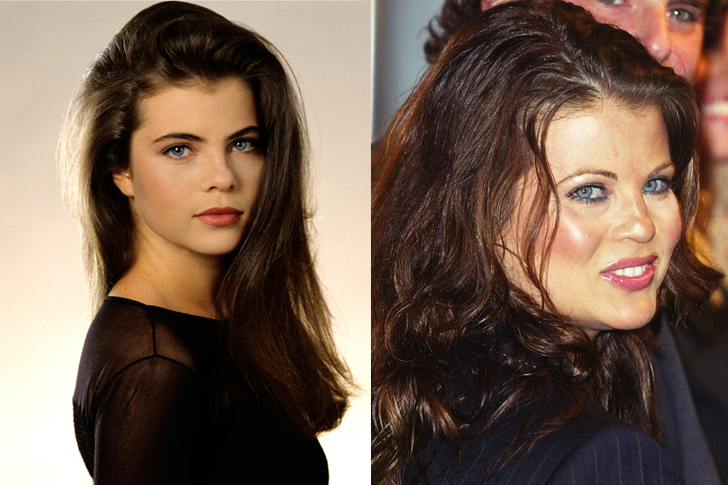 If you've seen Baywatch, chances are you know or recognize the face of Yasmine Bleeth. Her portrayal of Baywatch star Caroline Holden was what made her acting career progress. After her contract ended, this gorgeous model was also offered guest appearances and several roles on TV series and shows. She may not have achieved the same degree of popularity, but the actress enjoyed a stable career over the years.
Yasmin is currently 51 years old and has been married to Paul Cerrito since 2002. It has been a rough journey for her, but it is fortunate that she was able to rebound and fix her credit report along the way. She was also cleared of any felonies and was sentenced to 2 years of probation as well as 100 hours of community service. Despite these challenges, we hope she's able to really turn things around and improve her lifestyle further.
Fairuza Balk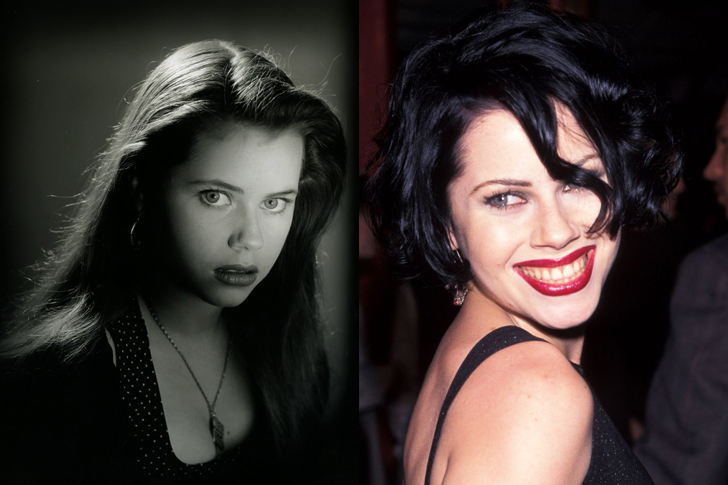 During the 80s, young Fairuza Balk first appeared in the movie Return to Oz. After high school, she moved to Hollywood and it was around this time when she began switching from teen roles to ones that are more serious and mature. She started appearing in grungy films like The Craft and American History X. Fairuza knew that she had a unique look and she took that to her advantage as she made career investments in this specific kind of roles.
The Fairuza today is an award-winning actress who has shown her versatility in multiple genres. Aside from acting, she voiced-over for popular television series and video games. She recently worked in the movie Hell is Where the Home Is. It is great that she continues to act in her original genre – thriller and mystery films. Balk is also yet to be seen as Lizzie Thomas in the television series in 2020 entitled Paradise City.
Jenny McCarthy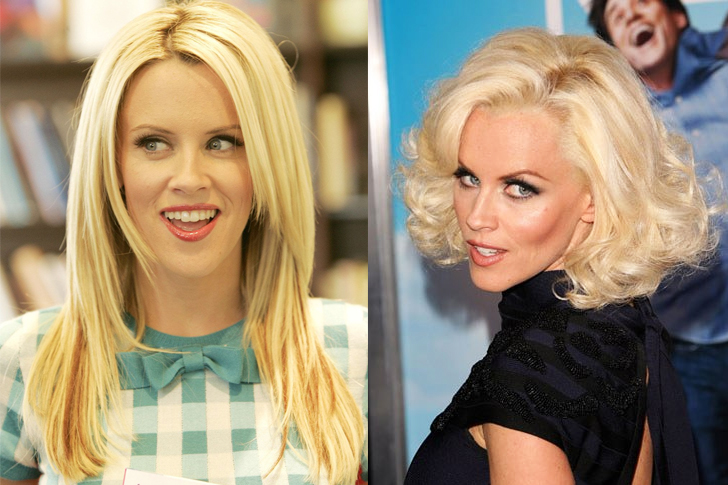 The beginning of Jenny McCarthy's fame can be traced back to 1993 when she became a popular model. After modeling, she became a television host on the dating series Singled Out. The male contestants were probably distracted while she was there. Today, Jenny is also an actress who has landed roles in films such as John Tucker Must Die. You might have also seen her on popular television shows like My Name Is Earl. Jenny also published books about herself and parenting.
She is also a well-known anti-vaccine activist or someone against vaccinating children. She said that parents who are making investments in these vaccines for their kids are allegedly dangerous for them. McCarthy has been married to singer and actor Donnie Wahlberg for six years. Though the couple do not have any kids together, they do care for their children from previous relationships no differently. Credit to these two who accept each other wholly despite their histories.
Cassandra Peterson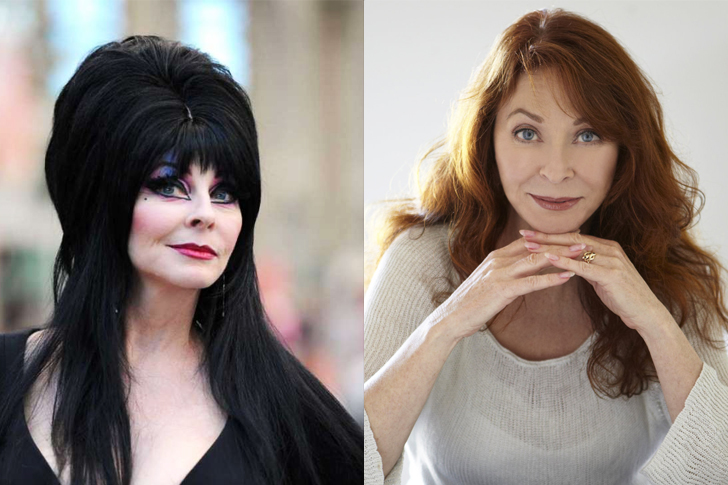 Landing the role as Elvira, Mistress of the Dark, became a turning point in Cassandra Peterson's career. Elvira became so popular that it became a franchise. In one decade, she had a television show and two horror movie marathons. Aside from appearing on TV, she was also given her very own line of calendars and giveaways. She married musician Mark Pierson then gave birth to their daughter, Sadie. Unfortunately, her lawyer reported their split in 2003.
Cassandra has not tucked away her Elvira outfit since this franchise is still ongoing; you can stream her 13 Nights of Elvira on Hulu. Even as a 67-year-old Elvira, Cassandra still plays the cult movie hostess perfectly. You may have also spotted her signature haircut and black outfit in shows where she guest-starred. Peterson is now set to release her autobiography in September 2021, months later from her initial target date, as it was delayed due to the pandemic.
Tori Spelling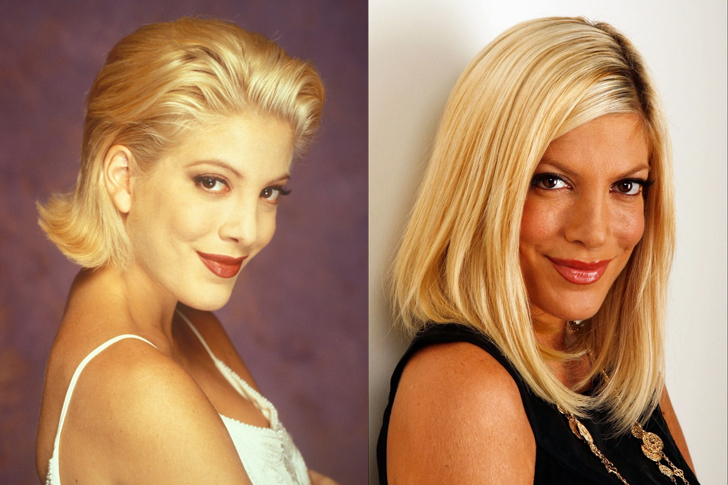 Tori Spelling is an American actress best known for her appearance in the popular television series Beverly Hills, 90210. Because of her role as Donna Martin, she was nominated for two Young Artist Awards. She is also an entrepreneur who launched her very own line of jewelry and fashion line as well on Home Shopping Network. Tori is now a mother of five and is married to Dean McDermott.
Their relationship, much like others, has gone through different challenges but they were able to weather them all. We're glad for this, given the fact that they have two beautiful children together. Aside from this, Tori Spelling is also a New York Times bestselling author. In her latest publication, she mentioned having financial troubles due to project cancellations and her real estate obsession. She should look for a financial advisor who would be able to manage her assets for her better.
Liv Tyler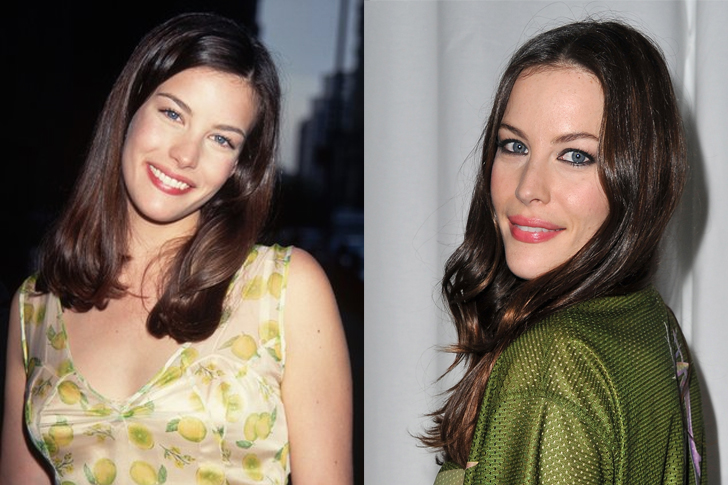 Liv Tyler is the daughter of Aerosmith lead singer Steven Tyler. She first started as a model when she was 14 but decided she wanted to become an actress. Her first acting job was the 1994 film Silent Fall. Eventually, Liv began working for larger-scale productions such as Armageddon. After which she knew she made the right choice of investment. From model to actress to mother, Liv Tyler currently has three children with husband David Gardner.
Being a wife and mom, however, did not stop her from progressing her career as she acted for more films. After the success of her role in Lord of the Rings, Tyler was seen in numerous films such as Jersey Girl, Lonesome Jim, Reign Over Me, The Strangers, The Incredible Hulk, and her latest project, Ad Astra. The actress also explored the world of television as she appeared in several shows like The Leftovers, Gunpowder, Harlots, and Fox's current drama series, 9-1-1: Lone Star.
Christina Applegate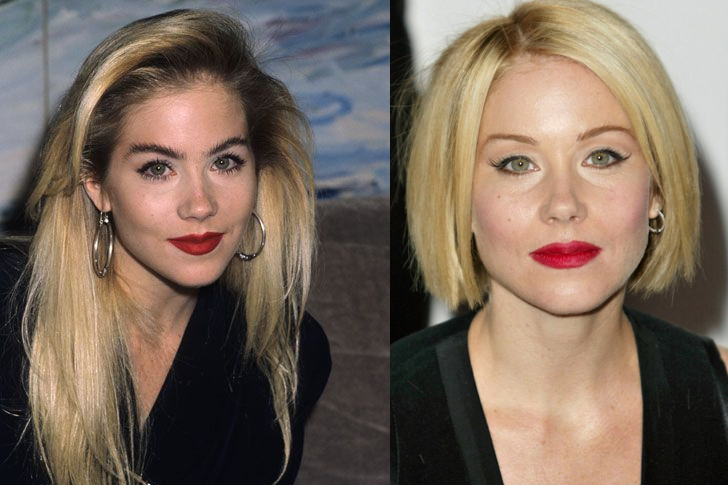 Remember the silly blonde girl in Married…With Children? Kelly Bundy was portrayed by actress Christina Applegate. Over the years, this American award-winning actress and dancer. During her acting career, she has won an Emmy Award for her appearance in the popular sitcom Friends, which also earned her a couple more nominations for a Golden Globe and a Tony Award. Applegate then found her place on the big screen.
She had numerous major roles in several popular movies like Don't Tell Mom the Babysitter's Dead, The Big Hit, The Sweetest Thing, Grand Theft Parsons, Hall Pass, Bad Moms, and Crash Pad. Back in 2008, Christina went through issues with her health. Good thing she was diagnosed early and was able to immediately proceed with treatment. We hope Christina had health insurance to cover her hospital bills. Today, she is healthy and happy. She is also currently working on a Netflix dark comedy series Dead to Me.
Gwen Stefani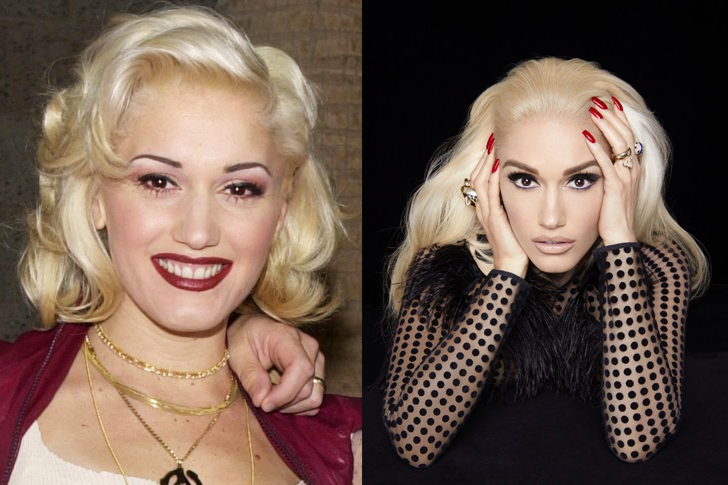 In the 1990s, Gwen Stefani was considered to be one of the greatest singers of her time. She also formed and was the lead singer of the American rock band No Doubt. Some of their famous hits are Just a Girl, Spiderwebs, and Don't Speak, from their 1995 album Tragic Kingdom. With her distinctive mix of pop and punk fashion and style, it is hard to not notice her when she appears on the media. She then flew solo and garnered even more awards like American Music Award, World Music Award, and two Billboard Awards.
She got married to lead singer and guitarist of Bush, Gavin Rossdale in 2002. They have 3 beautiful sons. Unfortunately, their lawyer reported their split in 2016, just two years after their third son was born. Aside from music, she was also nominated for a Screen Actors Guild Award for her performance in The Aviator as Jean Harlow. She also made major investments in her creativity and established her fashion line, L.A.M.B.
Stacey Dash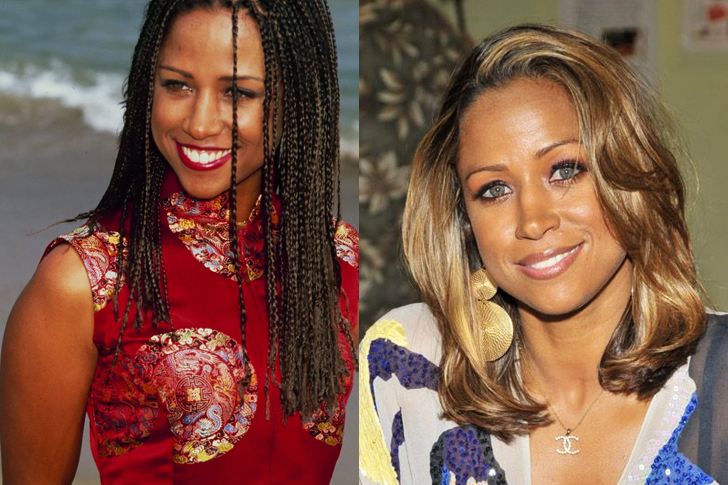 Stacey Dash is an American actress best known for her role in the comedy movie Clueless. She played Dionne, the beautiful friend of the main protagonist Cher Horowitz. Even if she was already past her teen years during filming, she had the face and skills to act as a high school teenager. Talk about some great skincare routine! After her role as Dionne, she landed more roles in different movies.
One of her most recent acting jobs was in the film The Dawn and she is currently working on the movie Roe v. Wade. She was also seen in television shows like The Game and Single Ladies. Sadly, Dash has been going through some very difficult times in her personal life. However, their lawyer had to work overtime as the two filed for their separation about 8 months after the incident. We hope she's able to turn things around soon!
Melissa Joan Hart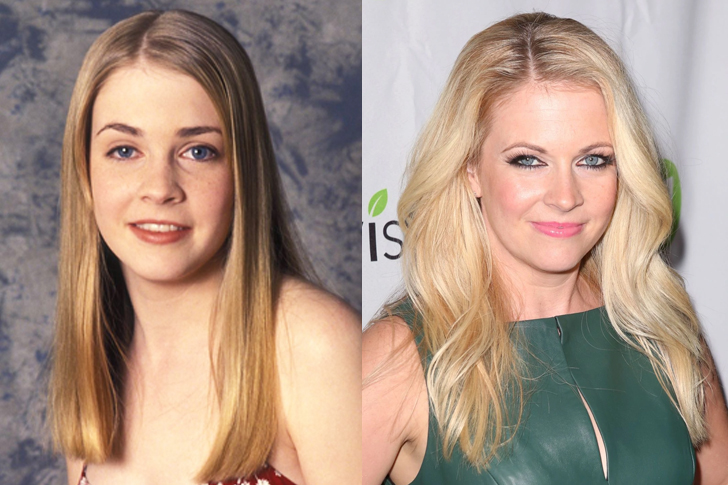 Before Kiernan Shipka of Netflix's Sabrina, Melissa Joan Hart was the original Sabrina Spellman. Earlier in her career, before becoming a teenage witch, Melissa was Clarissa from Nickelodeon's Clarissa Explains It All. She won four Young Artist Awards for both performances and one Kids' Choice Award for her role as Sabrina. Hart also appeared in films such as Drive Me Crazy, Nine Dead, and God's Not Dead 2.
In 2003, she married the love of her life Mark, Wilkerson. They documented their wedding preparation and ceremony and aired it as a TV miniseries. Luckily, Hart had made prior investments in her own production company, Hartbreak Films, which produced the entire series. Aside from acting, Melissa decided to try dancing and joined Dancing With The Stars. She survived for six weeks before being voted off. She has also become a director and executive producer for Melissa & Joey where she played the lead role. She is currently working on the Netflix series No Good Nick.
Jennifer Love Hewitt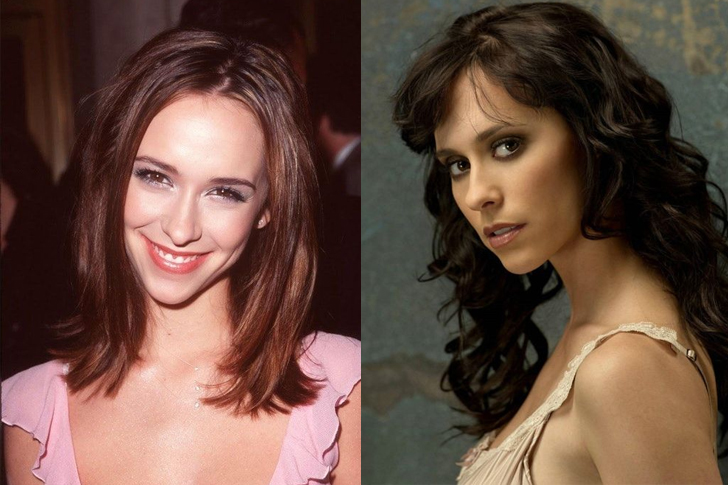 Jennifer Love Hewitt began her acting career as a commercial model before landing roles in films. She also became a television star when she appeared in Party Of Five. After the show ended, she made her first movie debut in the popular horror film I Know What You Did Last Summer. Hewitt was also known for her magical voice that can easily charm anyone. She released four albums: Love Songs, Let's Go Bang, Jennifer Love Hewitt, and BareNaked.
Her 1999 single How Do I Deal reached the Billboard Hot 100. Jennifer's life forever changed when she accepted the role on the show Client List. It was life-changing not for her profession, but her personal life as well since she met her future husband, actor Brian Hallisay while filming. In addition to her other investments, she is doing great in her career as well and has even won two Saturn Awards for her performance in Ghost Whisperer.
Cameron Diaz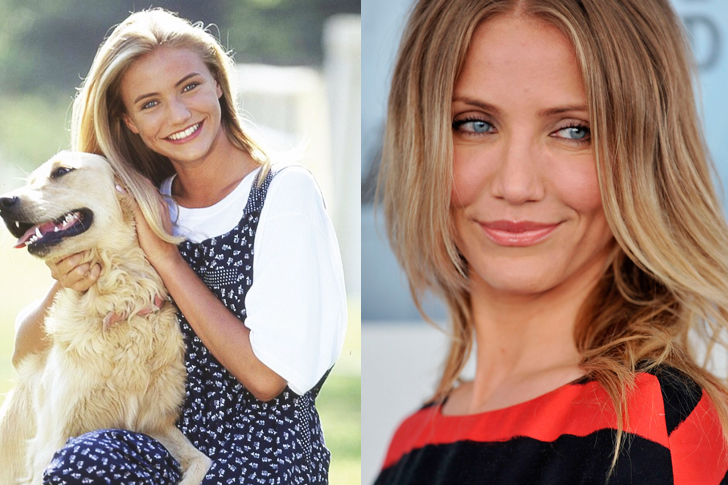 Back in the day, Cameron Diaz is one of the most popular actresses, specifically in comedy. She had her first break when she portrayed Tina Carlyle in the film The Mask starring Jim Carrey. People loved how a gorgeous blonde such as her is great at making people laugh. Since then she has become of the industry's biggest stars and has bagged many great projects. Her supporting role in My Bestfriend's Wedding led to her starring in the movie There's Something About Mary and from then on, she was unstoppable.
Her other popular films include Charlie's Angels, Gangs of New York, In Her Shoes, The Holiday, The Box, and My Sister's Keeper. Diaz was also recognized as a great actress and has gained nominations from Golden Globes as Best Actress. In 2013, she was hailed the highest paying actress over 40 with more than $7 billion domestic box office grosses movies under her name. She is now just enjoying all her investments while happily living in one of her luxurious properties.
Amy Jo Johnson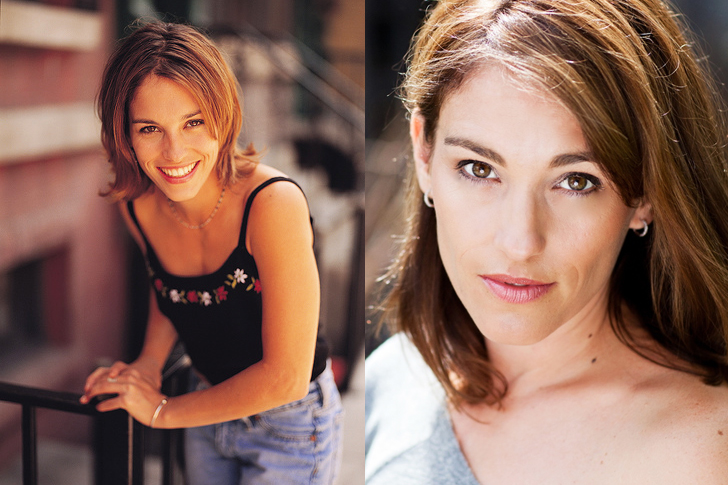 If you're a fan of Power Rangers, you might recognize Amy Jo Johnson as Pink Ranger back in the '90s. She also appeared on the television series Flashpoint and The Division. While filming these shows, she pursued a career as a filmmaker and singer-songwriter. Amy is currently married to Olivier Giner with one child. She also started to explore other aspects of the industry and tried to make other career investments.
She may no longer be acting continuously, but she does more work sitting on a director's chair than in front of a camera. The actress turned director has directed and produced two short films. The first one is Bent, which was released in 2013 and Lines which was available the year after. Her latest works as a filmmaker are The Space Between in which she also sang the theme song and Tammy's Always Dying. The latter received many praises from the critics and its viewers.
Marisa Tomei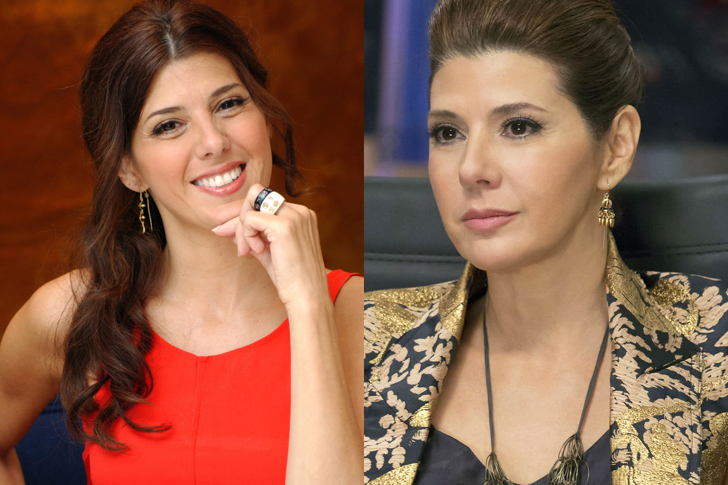 Marisa Tomei is an American award-winning actress who received an Academy Award for Best Supporting Actress for her performance in the film My Cousin Vinny. Tomei also bagged two more Academy Award nominations for her role in the movie In the Bedroom and The Wrestler. Also, she was one of the few who succeeded in the theater industry. Reports also say that she earned a Theatre World Award for her portrayal of Cetta in the play Daughters. Her acting career progressed when she had a recurring role on the sitcom A Different World.
Today, Marisa remains focused on her acting career. She starred in films such as Danika, What Women Want, Anger Management, Love Is Strange, and The Rewrite. Her celebrity status even got better credit following her role as Spiderman's Aunt May, Peter Parker's aunt, in the Marvel Cinematic Universe so you probably caught her on Avengers, Captain America: Civil War, and Spiderman: Homecoming and Far From Home. Currently, she is working on the film Human Capital.
Kirsten Dunst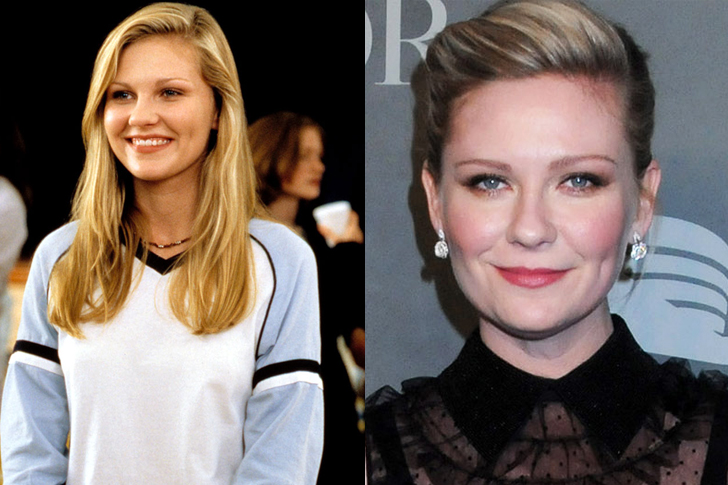 Back in the 1990s, Kirsten Dunst became a household name when she landed huge roles in films such as Jumanji as Judy Shepherd and Interview with the Vampire as Claudia. Aside from the fact that girls all over the world wanted to be her when she played Claudia since she was able to kiss Brad Pitt, Dunst was also got a Golden Globe nomination as Best Supporting Actress. Kirsten may have superpowers or electricity with her kisses because her second big break came when she kissed Peter Parker.
The moment she landed the role of Mary Jane in Sam Raimi's version of Spiderman, her success in the industry was already imprinted. She landed more roles and won multiple awards for her critically acclaimed performance on Fargo and Melancholia. In 2019, she landed a role as Krystal Gill in On Becoming a God in Central Florida where she got her fourth Golden Globe nomination.
Brandy Norwood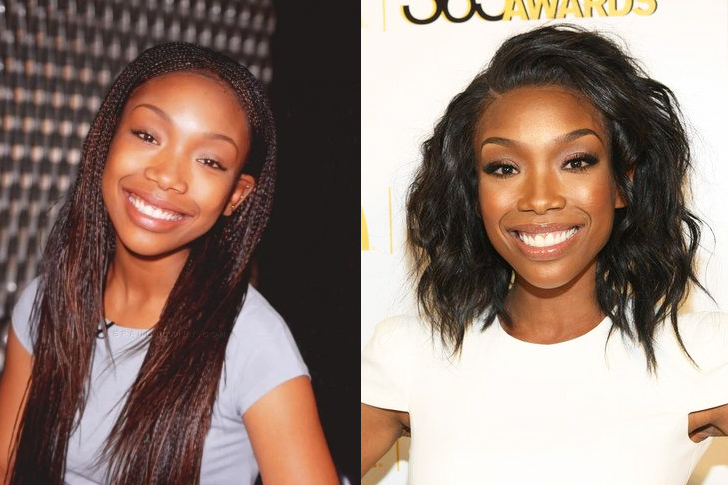 Brandy Rayana Norwood is an actress and singer-songwriter, specifically in the R&B scene. Back in the 1990s, she released her album Brandy which became a hit and reached the top of the Billboard Charts. She also started her acting career at a young age, starring in the sitcom Moesha. The early 2000s were just as blissful for this talented artist. For starters, she gave birth to her first child in 2002.
Then, successfully launched her third and fourth album with great feedbacks from critics and her fans. She has gone through a major challenge in her life, but she persevered and was able to recover from it. Hers is a cautionary tale, reminding people about the importance of insurance. Life can be unpredictable, after all.
Today, Brandy has also added Broadway to her professional career experience. She made her stage debut when she landed the role of Roxie in the musical Chicago.
Michelle Williams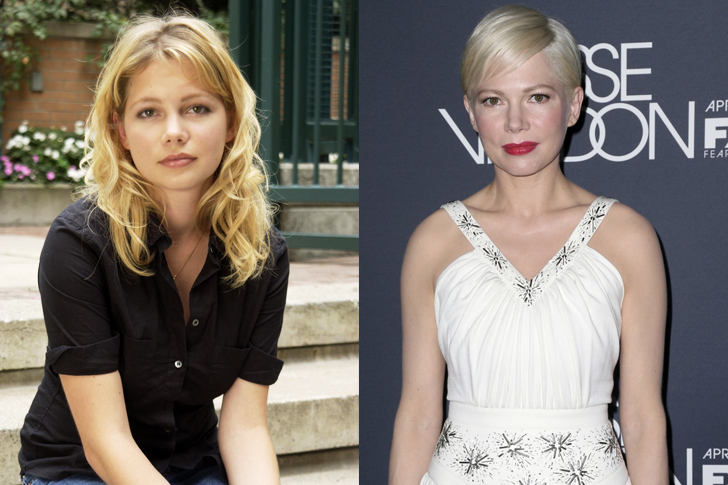 Michelle Williams is an American actress who got her big break when she landed the role of Jen Lindley in Dawson's Creek. People loved her character but were annoyed and disappointed at the same time when she was killed off in the finale. You might also recognize her from the 2005 critically-acclaimed and controversial drama film Brokeback Mountain. Since her first big break, Michelle landed big roles in popular movies such as Shutter Island, Oz the Great and the Powerful, The Greatest Showman, Venom, and Blue Valentine.
Williams also discovered her talent on Broadway as she starred in the musical show Cabaret. Her successful role in Blackbird also earned her a Tony nomination for Best Actress in a Play. She is also a mother of a lovely daughter; but sadly, the father of her baby and her boyfriend at that time, Heath Ledger, passed in 2008. Hopefully, Heath had savings and investment money to help provide for their child's future.
Neve Campbell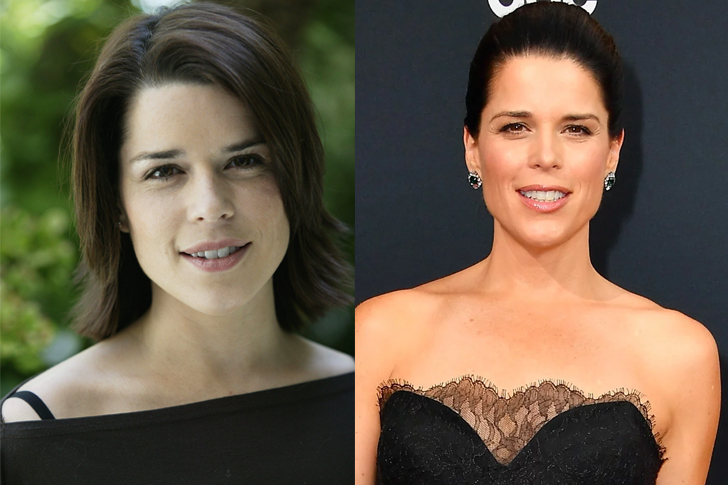 Neve Campbell is a Canadian actress best known for her role as Sidney Prescott in the film series Scream and her portrayal of Julia Salinger in the drama series Party of Five. In the '90s, it was her work from Scream and its other franchises that helped create a new genre: teen horror. After her teen horror film career, the actress also made her mark on the big screen as she appeared in various leading roles in movies like The Craft, Wild Things, 54, and Three to Tango.
Neve also had numerous guest appearances on popular television shows namely Mad Men, Catwalk, The Philanthropist, The House of Cards, and Grey's Anatomy. She also had her first child with boyfriend JJ Field in 2012 and just recently, she has adopted a second son. We sure think it's time for them to open another investment account to secure their kids' future. Her most recent project was the movie Clouds which was released by Warner Brothers.
Raven Symone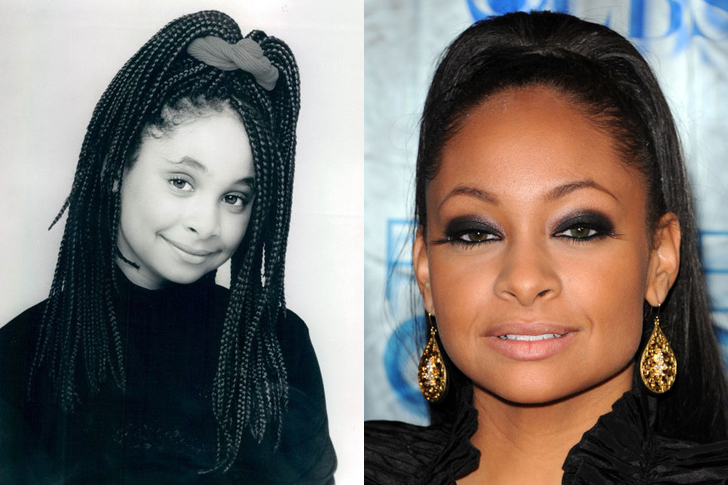 Raven Symone started her acting career at four years old. Her career took off during her television debut, portraying Olivia Kendall on the popular sitcom The Cosby Show. Aside from television, she also landed roles in popular films such as The Little Rascals and The Muppets at Walt Disney World. Because of her amazing performance as Olivia, she got her show on Disney Channel, That's So Raven. She also appeared in Disney films such as Cheetah Girls.
The actress was also on Raven's Home, a spin-off of her first original series. Needless to say that she has a lot of saving and probably some other investments to support her next move. While she temporarily left her acting career to finish her associate degree in fine arts at the Academy of Art University in 2016, she was still able to land on a hosting career as co-host of The View. Symone got hitched with social media manager, Miranda Maday in June 2020.
Heather Locklear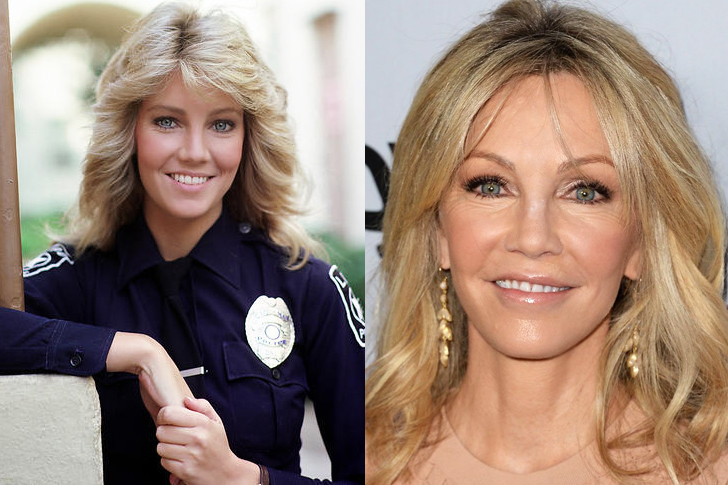 Before Heather Locklear became an actress, she started as a model and appeared in commercials. She had her first big break when she portrayed Amanda Woodward in the television show Melrose Place. Her performance in this series earned her consecutive Golden Globe nominations for Best Actress in a Television Series Drama. After her big break, Heather was only able to land roles in smaller productions. Her career, however, is not going to slow down anytime soon since she still looks as fabulous as her first appearance.
Sadly, her mental health is not doing well as she suffers from depression and anxiety. Numerous reports say that the actress has been caught in very disheartening scenarios such, which has also significantly affected her public image. While she has lawyers who are trying to sort things out for her, we also hope that she is able to recover from her personal issues and bounce back like others on our list.
Aaliyah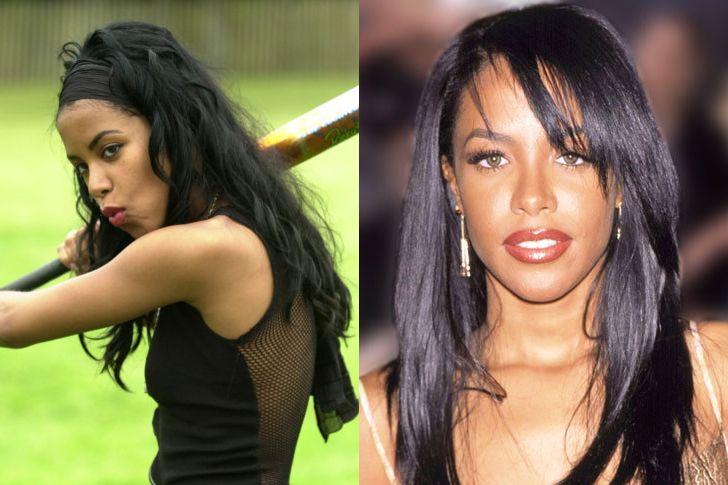 Back in the '90s, Aaliyah was the whole package: she was an actress, model, singer, and dancer. She was first and foremost a singer as her title, Princess of R&B and Queen of Urban Pop would suggest. Her fame was unstoppable that she landed roles in movies such as the thriller film Romeo Must Die and television shows like All That and New York Undercover. If they had Spotify back then, her songs like One In a Million would always be at the top charts.
At the young age of 22, Aaliyah passed away following a plane crash. She had unfinished work such as the movie The Queen of the Damned which was still released a year after her passing. Even after her passed on, her album became her legacy and investment as it continued to reach the number one spot on the Billboard 100 list. She was still able to sell 24 to 32 million albums worldwide with numerous accolades to her credit.
Shannen Doherty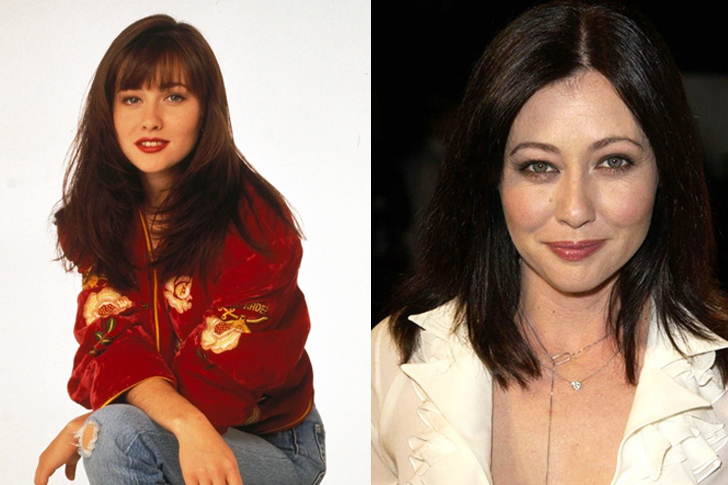 When Shannen Doherty started her career in the '80s, for which she was honored with the Young Artist Award for her performances in Father Murphy, Airwolf, and Our House. As a child star, she was part of Little House on the Praire, Girls Just Want to Have Fun and Heathers. A decade later, her skills led her to land on more challenging roles. Doherty was able to land two of the most popular television shows of the decade, Beverly Hills, 90201 and Charmed. Her earnings and investments were certainly impressive.
After her successful shows in the '90s, Shannen appeared in several reality television shows and independent films. But in 2015, she had to take a break as she was going through health issues. For a while, it seemed as if she was able to recover from it, but as recent reports suggest, the talented actress is still battling with her sickness. Prayers for this lovely actress who sincerely shared her talent with all of us.
You've Reached The End