ASAP Rocky and Rihanna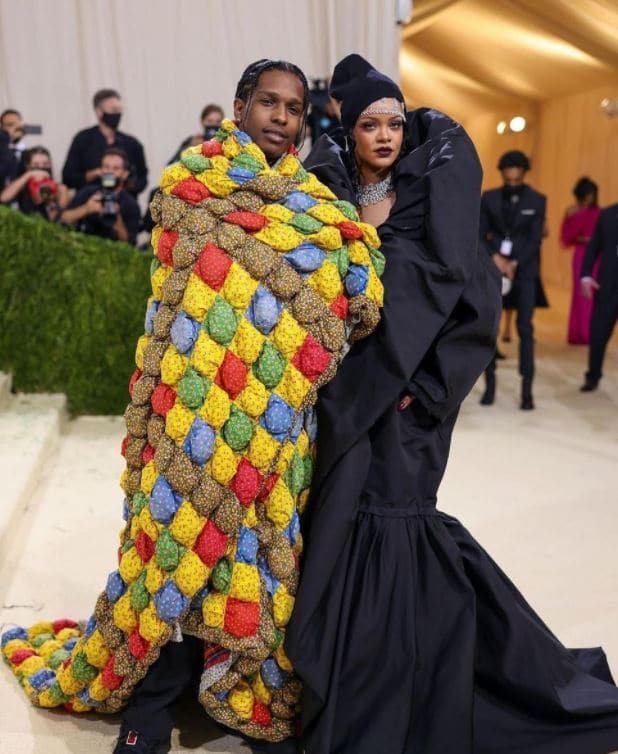 Rihanna is, without a doubt, one of the biggest stars in the music world, and she always plays by her own rules, especially when it comes to fashion. Dressed by big-name designers over the years, including Gucci, Tom Ford, Balmain, and Marc Jacobs, the female singer cemented her status as a style icon and continues to do so until today. Need we mention that she and ASAP Rocky once conquered the awards night flooring? Or so we thought.
We have no idea what either of the two music artists was thinking when they wore these crazy outfits. We get it, the Met Gala is about going all out and pushing fashion boundaries, but this ensemble would be confusing for most people. Why has ASAP Rocky wrapped himself up in a colorful blanket? Why is Rihanna covered in a black fabric wearing a black beanie on top of those diamond hair accessories?
Celine Dion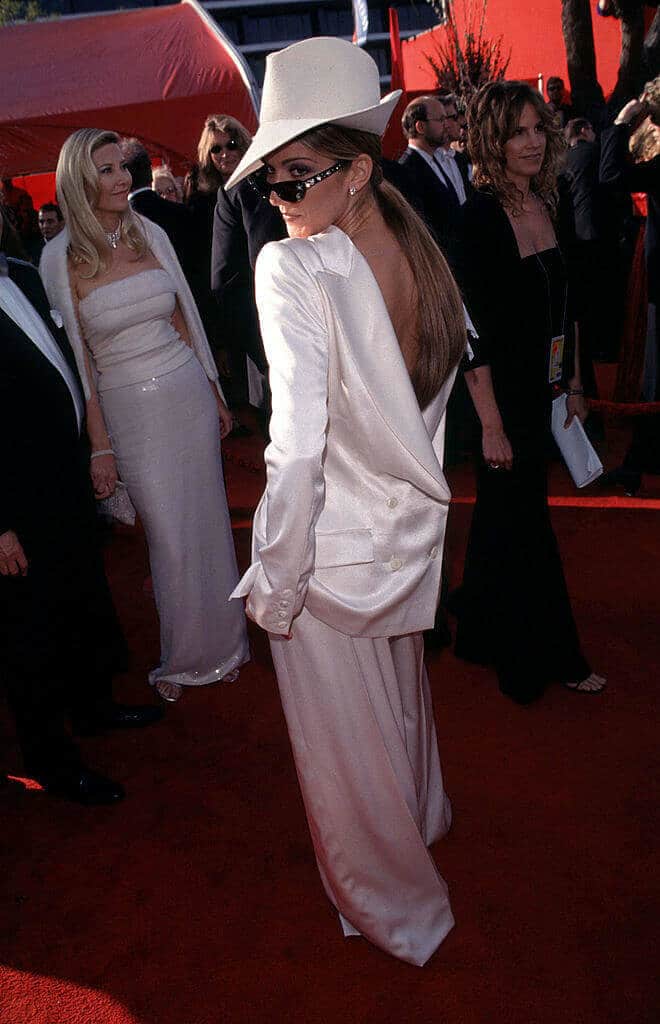 We always see celebrities popping on a sweatshirt and a pair of comfortable jeans whenever they run errands. While there's nothing wrong with that, not all of the stars look pretty good enough wearing the wardrobe combination. As for Celine Dion's case, the only problem with her fashion pairing is, of course, the Titanic movie graphic printed on her sweatshirt. Well, we could really understand her attachment to the film, given that she earned soundtrack credits.
However, Dion's sweatshirt isn't included on our list because it looks like a huge fashion disaster. Instead, we're just terrified by its price! Would you believe this hoodie sold by Vetements costs huge bucks? It was $800, to be exact! We're also not pleased with the design of the clothing. If we're to put a price tag on it, it would just be 20 bucks.
Ciara – Part 2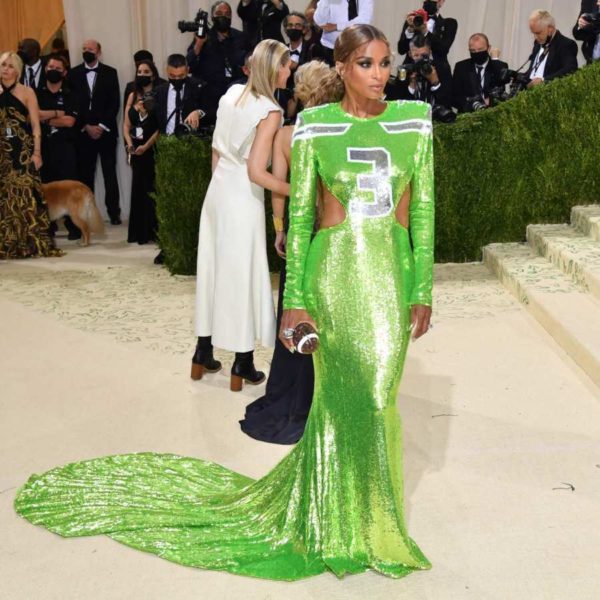 Whether she's attending award events or accompanying her athlete husband Russell Wilson to parties, you can see Ciara wearing bold mini dresses or turning heads in body-hugging designs from Elie Saab, Roberto Cavalli, and Givenchy. Moreover, when she's not sporting oversized biker jackets, knee-high boots, and figure-hugging T-shirt dresses, Ciara can be seen in colorful wardrobe pieces.
At the 2021 Met Gala, Ciara opted for something unique, and she decided to walk the flooring wearing a shiny dress. While it complements her enviable figure, the only problem is that it's a weird-looking, sparkly jersey dress. The 2021 Met Gala theme was called "A Lexicon of Fashion," and we wonder why Ciara opted for a jersey. Was she giving tribute to her footballer husband? Well, what better way to express her love for Wilson than by making a shiny ball gown out of a jersey!
Ezra Miller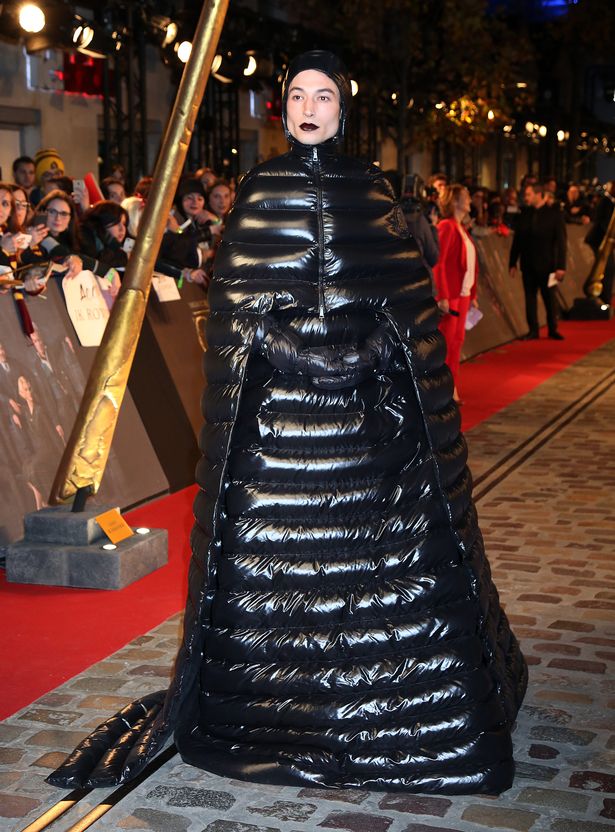 There are times when celebrities pull off fashion experiments that we normal people could never do. However, Ezra Miller didn't get to impress the audience with this extraordinary black ensemble. Wearing a Montclair and Pierpaolo Piccioli gown, the actor opted to purchase and wear this outfit worth $3,500 to the 2018 premiere of Fantastic Beasts: The Crimes of Grindelwald.
Honestly, we're not sure what this outfit's message is supposed to convey to the world. The young actor doesn't look attractive even to some degree, and in fact, he looks like he's wearing a puffer coat that won't stop expanding, trying to eat him whole. What's even worse is he looks like he's wearing a garbage bag! While Miller's an incredibly talented actor, his fashion choices make us think he doesn't have talent in picking out clothes. We just hope he now has a stylist!
Nicki Minaj in Futuristic Attire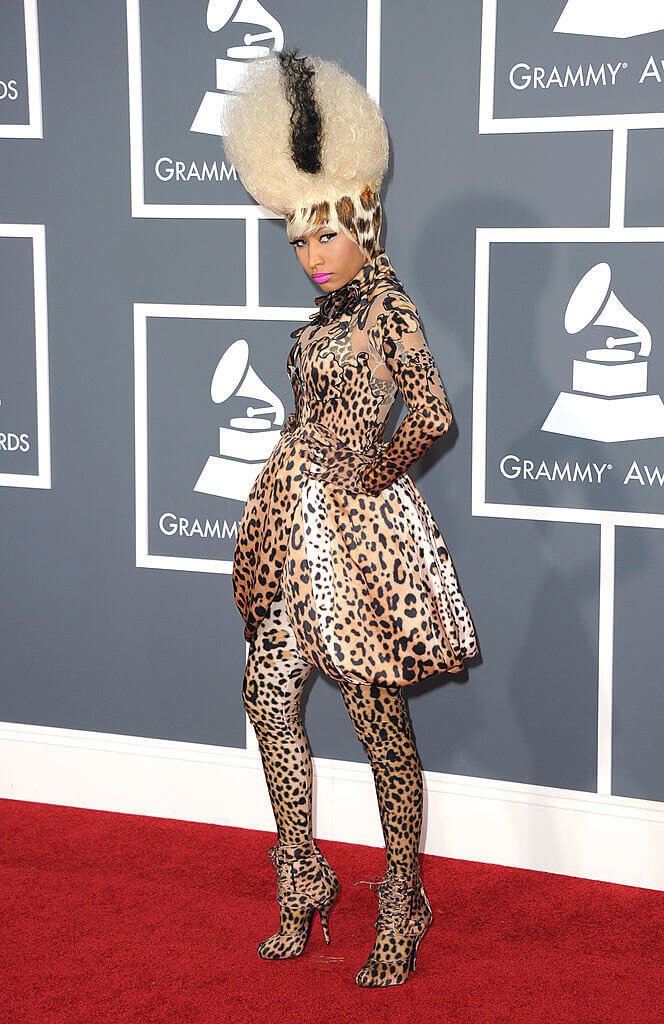 Nicki Minaj doesn't shy away from wearing unusual outfits. Take for example her outfit at the 2011 MTV music awards. Although we give her credit for having the confidence to step out in this bizarre looking outfit, we just don't understand what she was trying to achieve here. For starters, her pastel colored hair clashes with her futuristic wardrobe. Then there is her ice cream necklace which got lost because of all the textures and shapes in her outfit. How was this possible?
Let's not forget her thigh-high socks and bows too. And to cap it all off, she is wearing a mask covering her nose and mouth. It's safe to say that Minaj thought that mask-wearing would be a thing in the future. We understand that artists like to show off their style, but this one wasn't very well put together.
Kris Jenner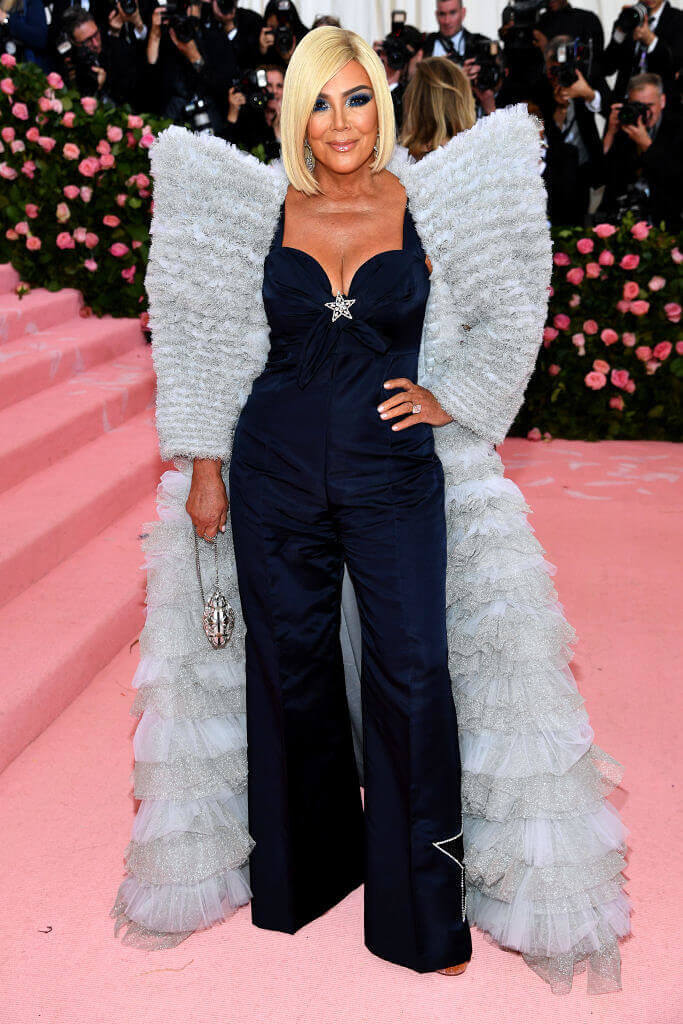 Like mother – like daughter? It seems that the matron of the Kardashian-Jenner household has committed a fashion sin herself. This might be the reason why her daughters were caught having a bad day with their outfits too. Well, this time, momma bear outdid herself. Aside from wearing a blue jumpsuit, Jenner thought it better to wear a blonde wig to go with her outfit. However, it clashed with her natural color, which she attempted to fix with a fake tan.
What's the kicker, you ask? Well, she put on this pointy coat that made her look more like a robot than a chic lady. She could have ditched it instead to look on point with her stylish blue jumpsuit. This is a good example of when less is more. To her credit, fashion mistakes such as these are, for her, few and far between. We just hope she chalks this up to experience.
Kim Petras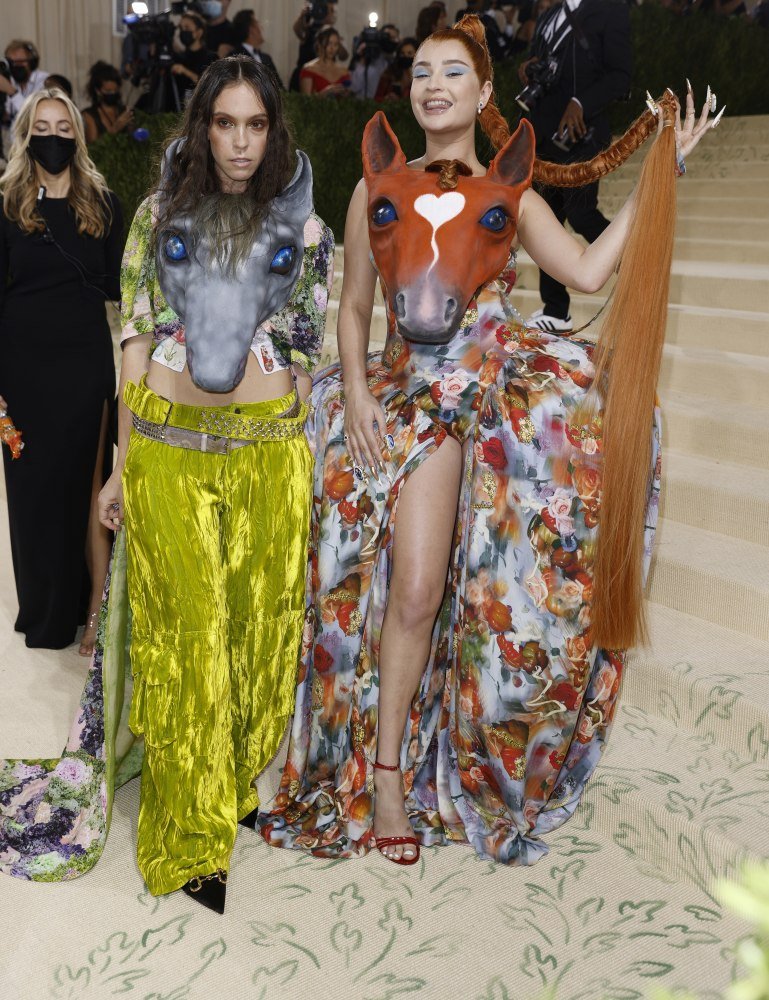 In these times, we can get whatever it is that we have in mind. You can practically come up with outlandish outfits and find them online. Although creativity with regards to outfits should be lauded, how they look when worn is another matter. Take for example Kim Petra's outfit at the Met Gala. The German singer's attire at the recently held Met Gala left many scratching their heads in wonder. After all, Petras seemed unsure whether she wanted her outfit to be a cat or a horse. A combination of the two, perhaps?
Although her choice of outfit seems out of place especially with last year's theme, she did make a lot of noise with her outfit. Since she does have a good credit score to her name, perhaps she can use her money to choose a better outfit the next time she gets invited to an event.
Lady Gaga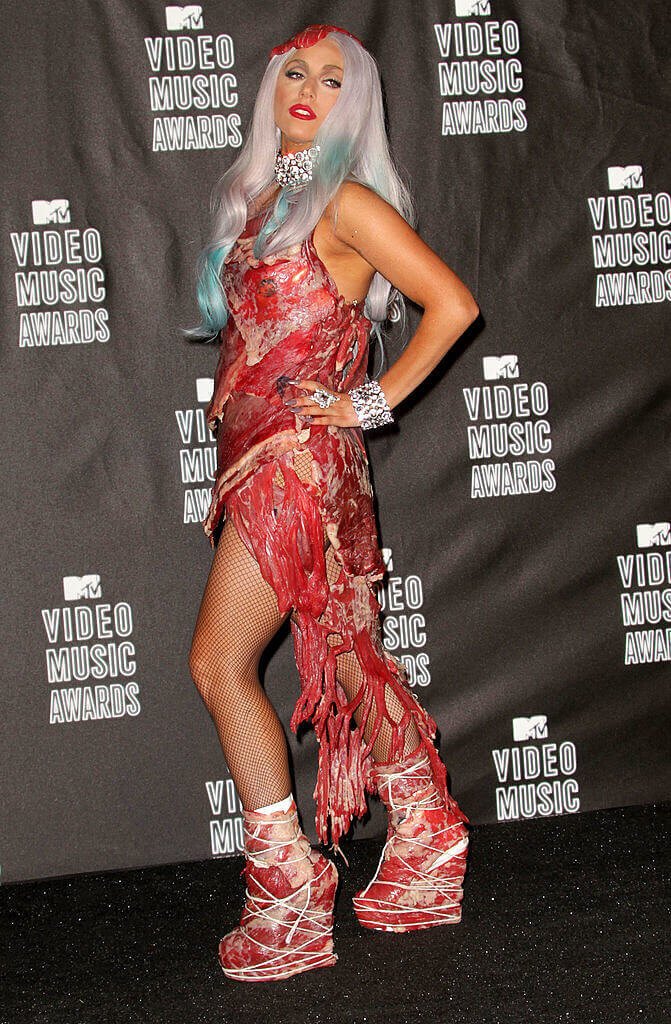 Poker Face singer, Lady Gaga, not only has a powerful voice, but she is also known for her outlandish fashion. The singer is known for her futuristic wardrobes seen in many of her music videos. Not only that, but she does have a good sense of style. However, just like other celebrities, she is not immune to head-scratching outfits like the one she wore at the Video Music Awards. The star wore raw meat for the event – it was certainly jaw dropping, but not in a good way.
Since her dress was made from real raw meat, it was constructed the same week as the awards. To her credit, she opted to wear a dress that didn't smell funky and rotting. Many wondered what the point for wearing such a dress was, especially one that carried the risk of exposing others to salmonella.
Lena Dunham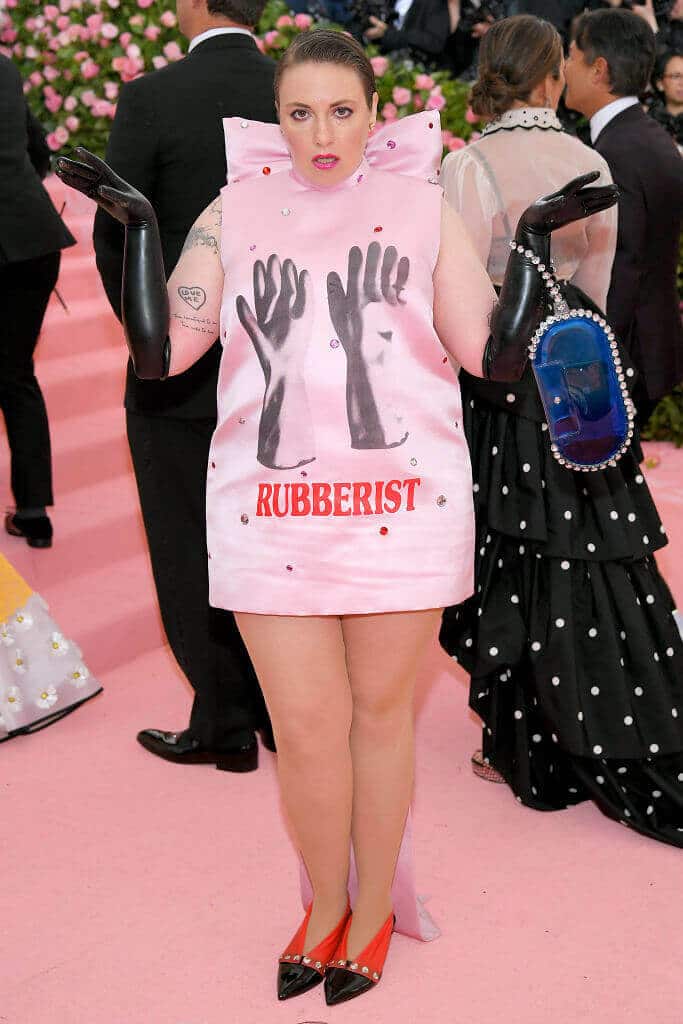 Lena Dunham has had her ups and downs when it comes to fashion choices. She is not the only one who has this kind of love-hate relationship with her sense of style. Well, we definitely do not approve of her outfit in the 2019 Met Gala. Although the theme "camp" left many guests wondering about how to achieve this, Dunham decided to go all out with her outfit for this event. The idea was good, the execution was horrible.
Ms. Dunham arrived in a pink dress that failed to show off her good figure. She paired it with black gloves and red and black shoes. And is that a pink bow at the back? 'A' for effort for this one, Dunham, but you need to reconsider your choices next time. Your outfit fell flat on its back. You still get credit for coming up with such a unique outfit, though.
Jared Leto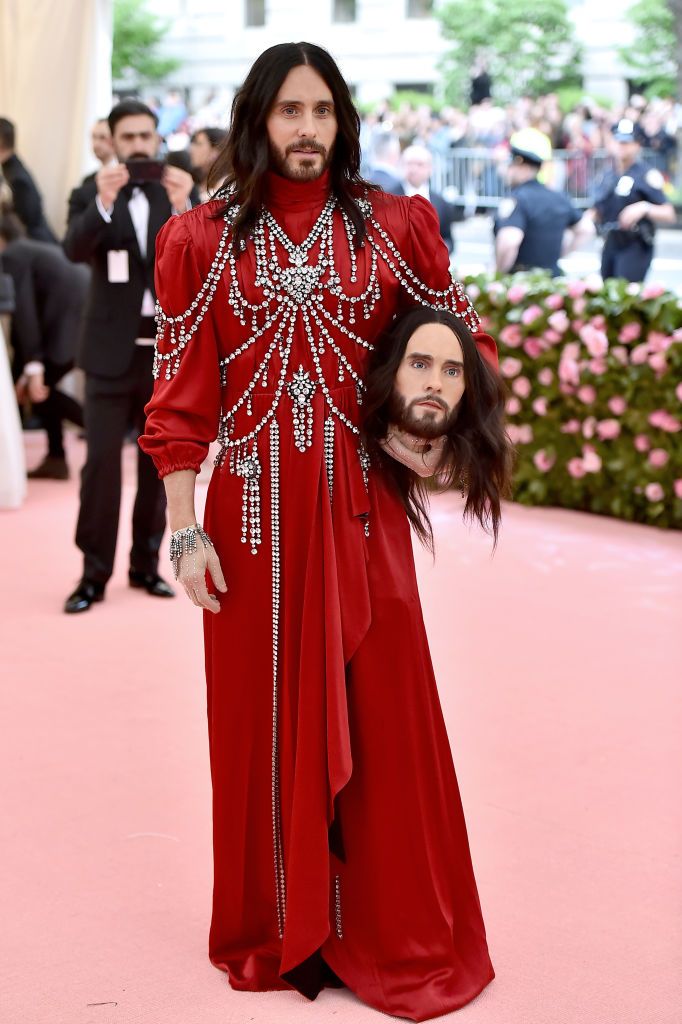 He's worn skirts almost as much as he's worn pants. He even wore his hair in a mullet. Well, it's not that Jared Leto doesn't try. He tries way too hard. Don't get us wrong: we like him and think he's competent to some degree.
It seems like Leto misinterpreted the theme of the Met Gala 2019, which is Camp: Notes on Fashion. He was entirely twinning by carrying a replica of his head at the event. Leto is, of course, emulating a look from Gucci's fall-winter 2018 fashion show, where models walked the runway carrying their heads. While other outfits on the red carpet elicited astonishment or disbelief, Leto's was the first to make people feel like they needed new pants. He gets extra points for having made a good case for a severed head being the best accessory of 2019.
Billy Porter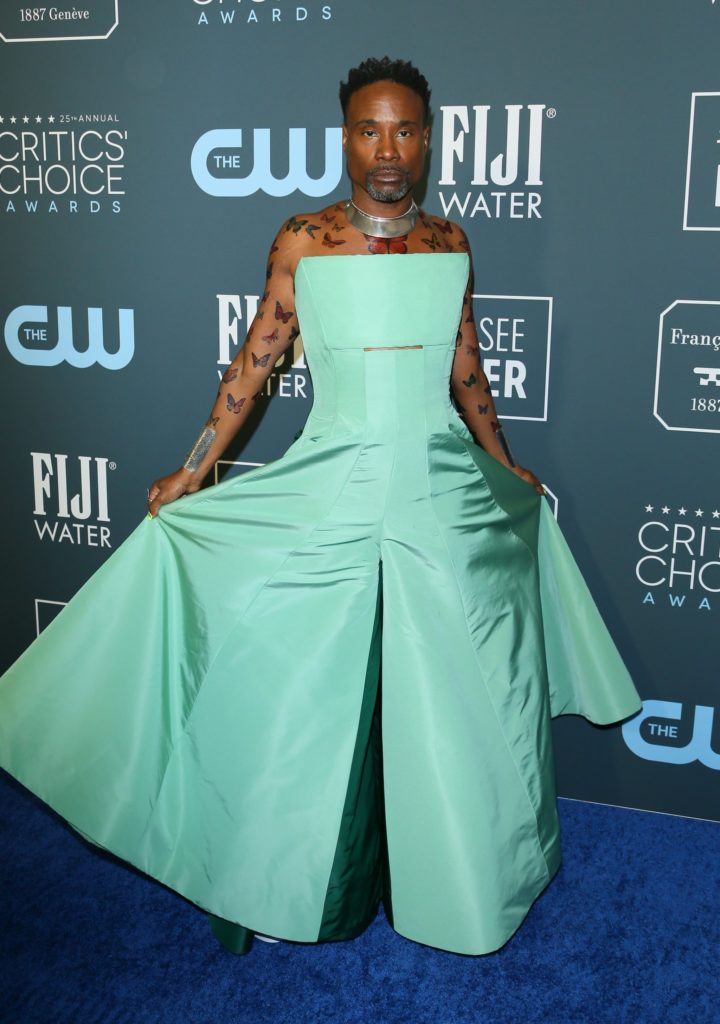 Billy Porter doesn't just walk a red carpet, but he also stages a performance. Since he catapulted into the spotlight with his award-winning role in Pose, the actor has turned many heads at events he's attended. He has sashayed on the flooring flaunting his gender-fluid ensembles. Indeed, he's proved that guys, too, can put on a show.
One thing that seemed to come out of 2021 was the idea that people don't want to join the status quo anymore. There was a feeling resonating in every person wishing to live their lives freely. We think that Porter had successfully managed to defy the status quo when he wore a mint ball gown to the 2020 Critics Choice Awards. We're sure there are some people who will suggest that this look is fabulous, but in our opinion, this boxy gown looks unflattering, and quite frankly, monstrous.
Bjork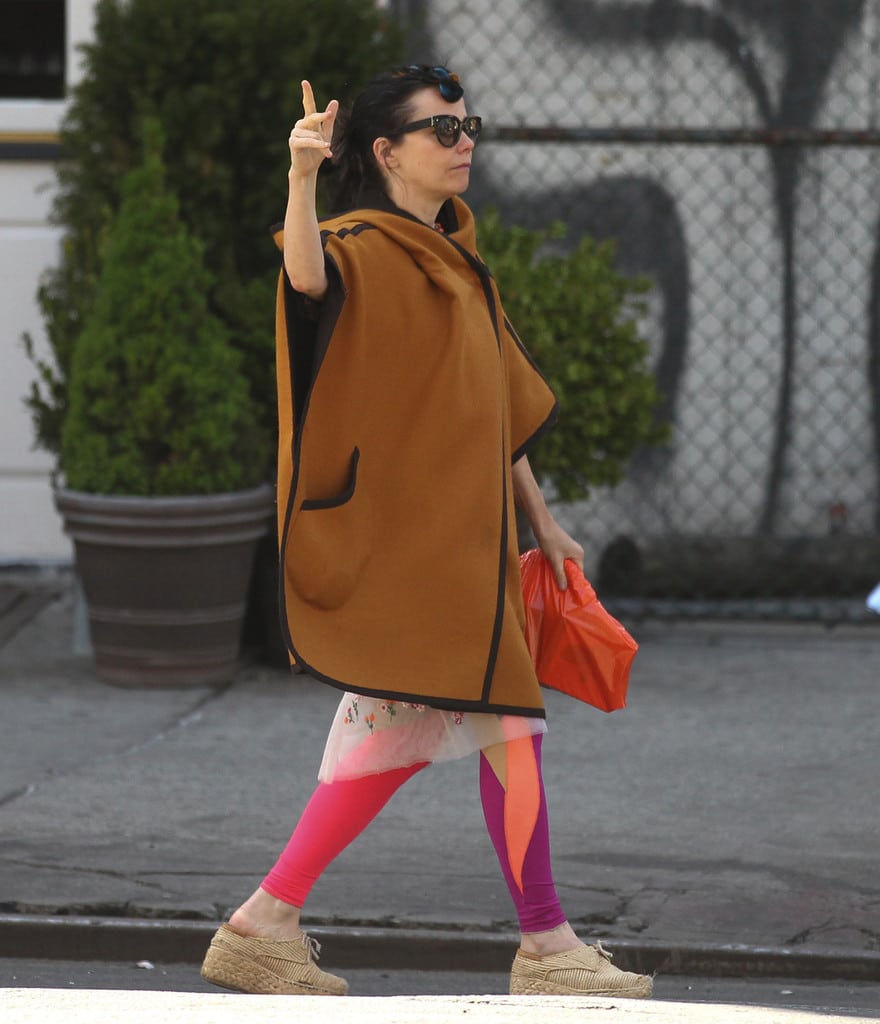 Icelandic singer Bjork once headed out to the streets of New York to run some errands and was photographed in this awkwardly mismatched outfit. We're just glad she didn't decide to wear this awful wardrobe to a social event or a celebrity party, but we wouldn't have been shocked if she had. Bjork is actually credited for her unique and sometimes poor fashion sense.
Still, we wonder what came to her mind when she got dressed that morning. Each piece of clothing, from her bright-colored, patterned leggings, to her unflattering poncho, floral tulle skirt, and platform espadrilles, is eye-catching on its own. Did she put all these together, thinking they looked good together or was she just in a hurry, so she grabbed whatever and dashed out the door? No one knows, but we really hope it was the latter.
Bjork – Part 2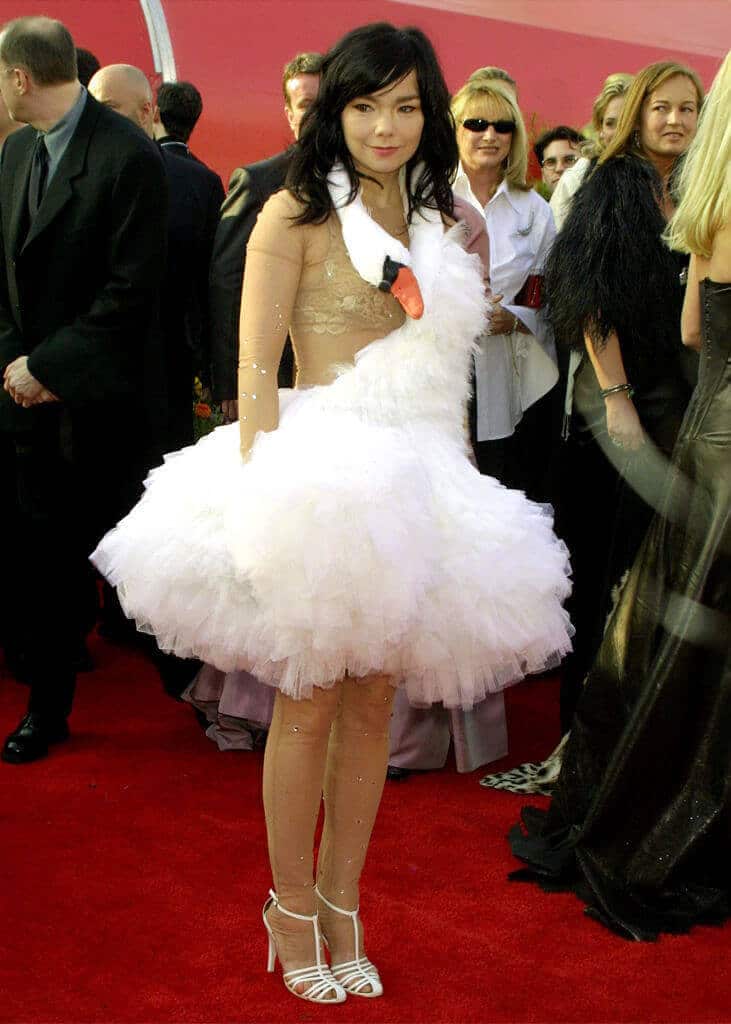 Ever since Bjork released her debut album more than 25 years ago, she has brought a sense of uniqueness to every stage and red carpet that she graces. On the red carpet, the singer tends to opt for quirky pieces that can double as artwork, often in glitter and metallic shades. On stage, she's all about over-the-top costumes with matching headpieces.
Of course, there was the infamous "swan dress" (to Marjan Pejoski's credit) that she wore to the 2001 Academy Awards. Indeed, Bjork went all out, and on a fashion limb, with the bizarre dress, and it landed her in fashion history as one of the worst ever dressers of all time. Her nude and sparkly stockings were loose and made her legs look wrinkly. To top it all off, the swan hanging around her neck wasn't at all appropriate to wear – especially with the glittery stockings and white heels.
Britney Spears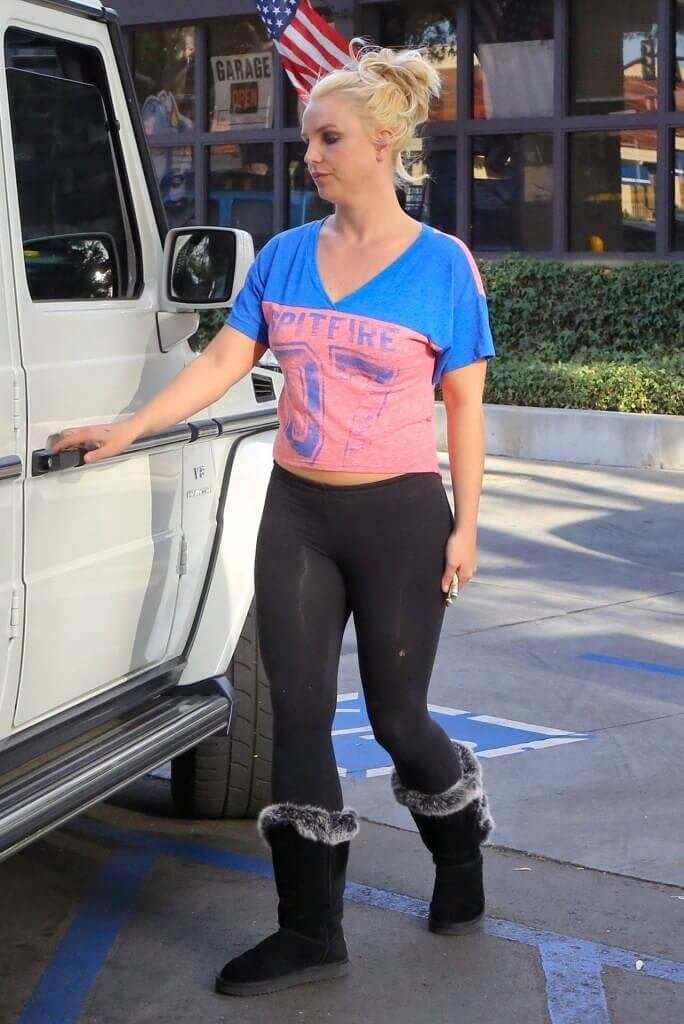 Britney Spears has given us hit songs such as Lucky and Oops I Did It Again. These songs were responsible for a lot of good memories back in the '90s and early 2000s. With all of her artistry, sometimes her fashion moments aren't the best topic of discussion. Early in her career, she was often pictured in tight dresses, crop tops, and sheer pieces. She was also credited for wearing denim pieces, cargo-style pants, and accessories like bucket hats.
Spears had given us outfits that were more on the casual, chic side. However, this outfit just seems like an errand outfit. After all, celebrities have the right to wear the most comfortable shirts they own, but she looks like she just got out of bed and put on whatever was nearest without much effort. We have to admit; we all have lazy days!
Bella Hadid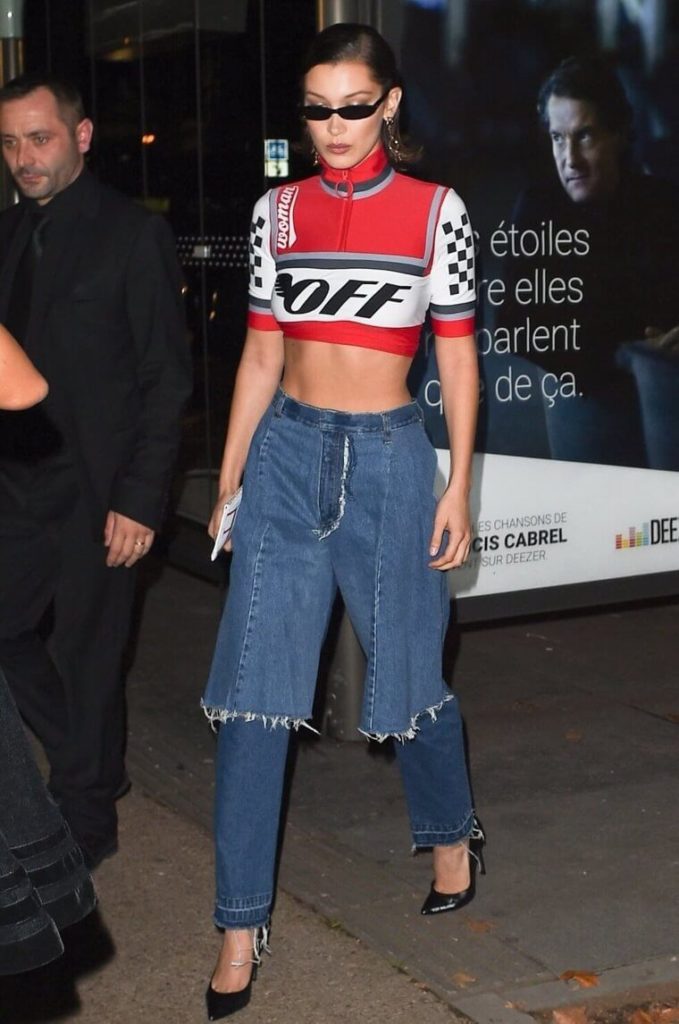 Bella Hadid may have a penchant for monochromatic looks, but the 25-year-old model didn't always dress that way. Her early red carpet appearances are all about color, prints, and lots of accessories. As her career flourished, so did her reputation as a trendsetter and our admiration of her styling chops. Hadid has thoughtfully championed emerging designers and vintage fashion investments by wearing micro-sunglasses, bucket hats, and more.
Indeed, she generally looks amazing, whatever she wears. She's such a young style icon that most audiences don't even question what she wears. However, in one of her biggest fashion nightmares, she wore a turtleneck crop top, cut-off Bermuda denim shorts, and a pair of full-length jeans. We can't quite tell why she wore two pairs of jeans at the same time, but this was one fashion risk best left untaken.
Britney Spears and Justin Timberlake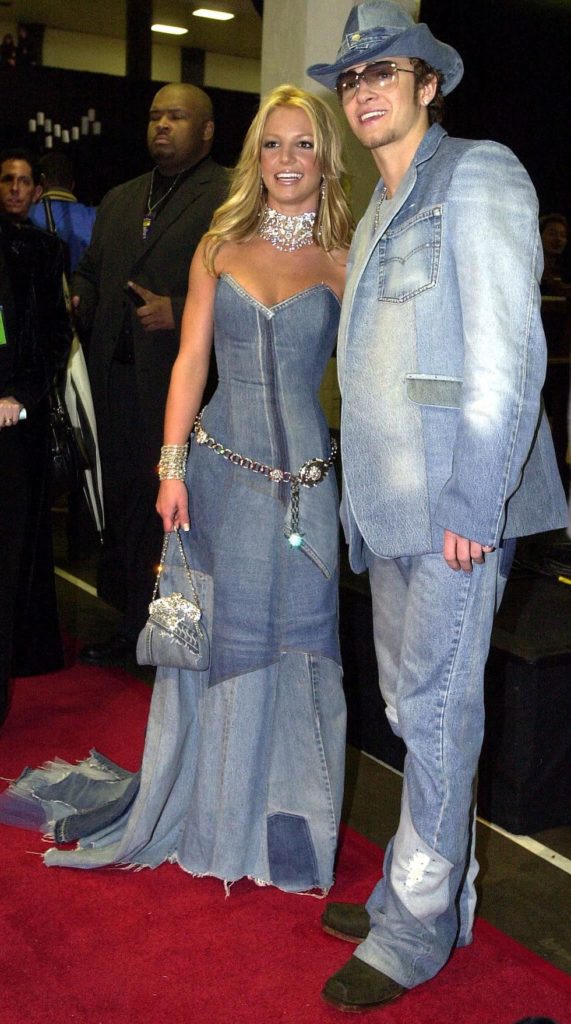 Twenty years ago, The Mickey Mouse Club co-stars Britney Spears and Justin Timberlake strutted their best denim attire at the American Music Awards in 2001 and forever changed what it meant to have an iconic red carpet moment. Back then, the two weren't just pop stars but were a couple as well. They were the ones who started the denim on denim craze when they showed up on the flooring wearing full denim suits.
At the time, they were probably excited about their trendsetting look, but two decades later, it's safe to say it's an outfit both of them would want to forget. They split up in 2002, but unfortunately for them, those photos of the denim outfits they wore would always be on the internet to haunt them. It's also funny to know that the web also celebrated the 20th anniversary of their matching denim outfits!
Celine Dion – Part 2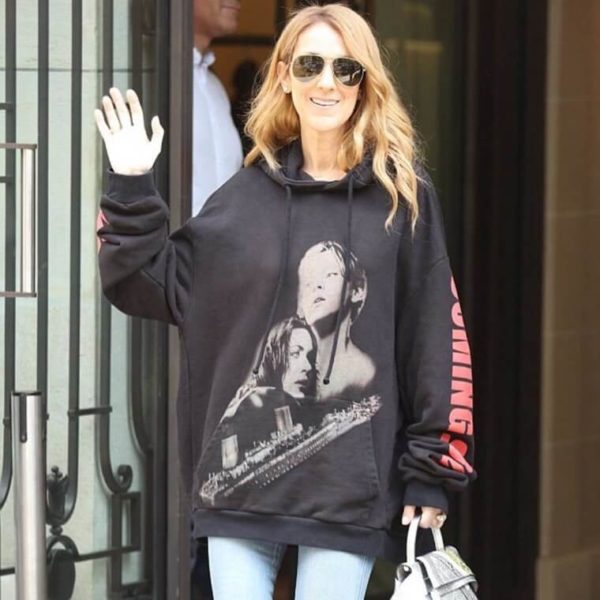 Celine Dion has lived a variety of fashion lives throughout her long career. She's credited as one of the music industry's most exuberant dressers and is dubbed by some as a "fashion chameleon." From her breakout performance in the '90s to her recent appearances, the hitmaker has never shied away from wearing bold, risk-taking outfits—many of which have been ahead of their time.
While we appreciate that Dion wanted to go one step ahead in fashion, there are a few times that she had awkward fashion moments. For instance, the white satin suit made her look like she lost a lot of style points for opting to wear it backward. We wonder whose bizarre idea this was. Was it hers or her stylist's? She may have mastered the art of looking effortlessly cool with her typical wardrobe, but this time, we think it's a total disaster.
Ciara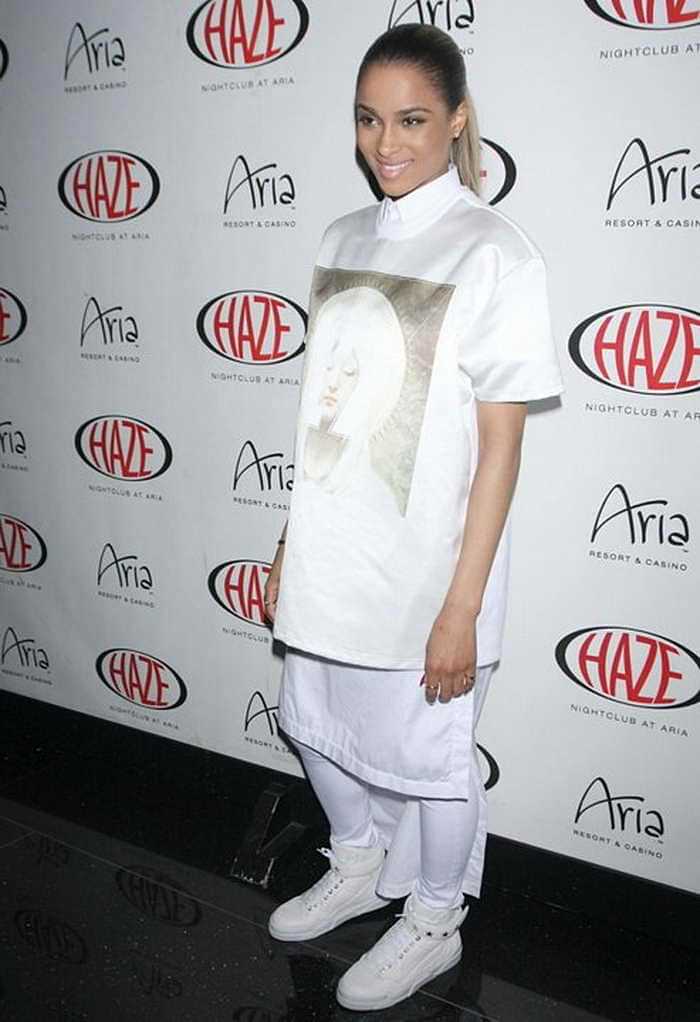 While she's usually a super stylish celebrity, Ciara once had an embarrassing fashion failure. The female singer is always on top of the latest fashion trends and undoubtedly looks stunning with her fashion choices. However, when she had a fashion misstep, many people were surprised. When the Level Up singer stepped out in this menswear created by Givenchy, she caught the attention of many, but for the wrong reasons.
Well, where do we begin with her clothing catastrophe? First, her makeup is flawless! However, her wardrobe is completely shapeless, making her look dowdy and old-fashioned. Second, her baggy t-shirt and high buttoned-up collar are certainly not a flattering combination. Moreover, her long back skirt and sagging white leggings just look so awkward. Last but not least, her all-white fashion investments make her look like she's coming out straight from the hospital or asylum. Yikes!
Harry Styles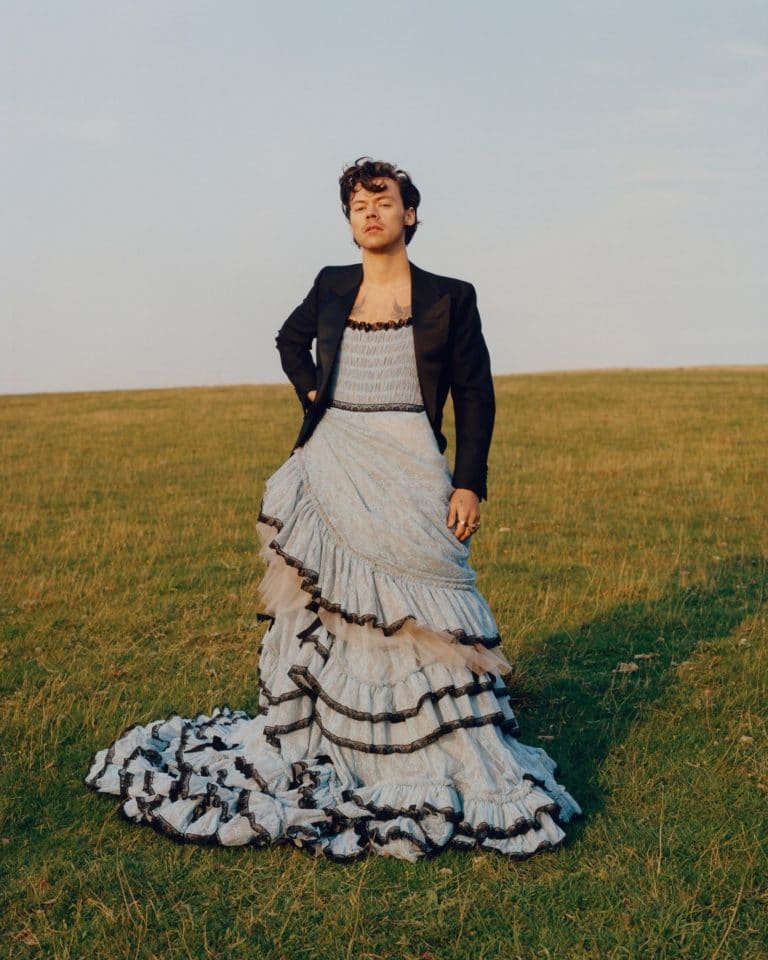 2021 was definitely a year of many firsts for most of us. In the world of Hollywood, one of those "first" things got the fans surprised. In an attempt to relate people to both fashion and gender, some celebrities began pushing boundaries with what it means to dress two-way. Harry Styles was one of those stars who tried to break the limits when he did a photo shoot with Vogue.
Sure, his dress looks incredible in this photo, but what we're not sure of is how any man could pull that off. To the singer's credit, he somehow managed to have the courage to wear a long skirt. Styles has been working with his stylist Harry Lambert for several years now, and together, they love to take refreshing approaches to fashion. Anyway, we're curious how the singer's girlfriend Olivia Wilde reacted upon seeing his pictures.
Harry Styles – Part 2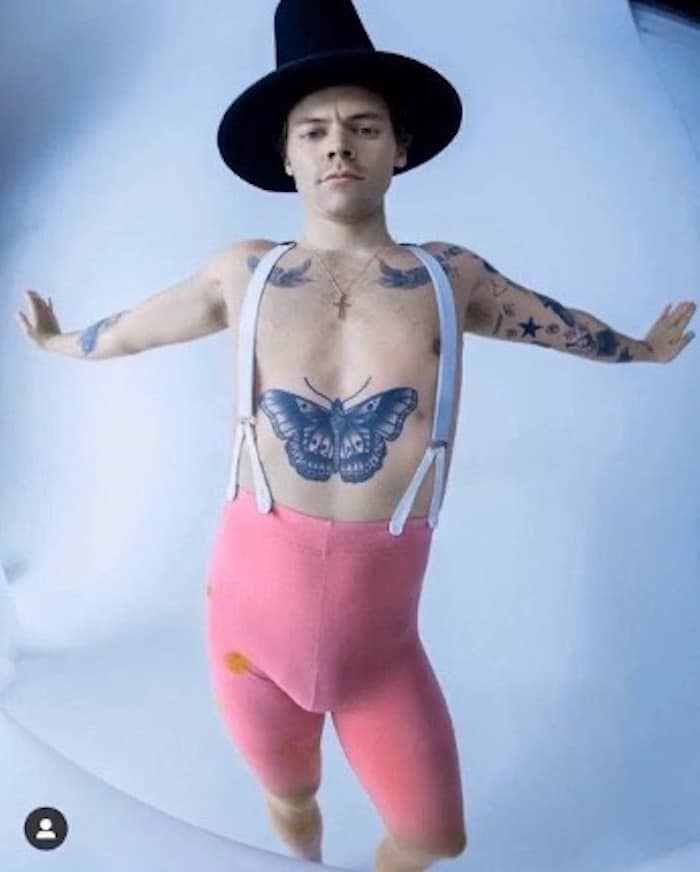 We have learned by now not to be surprised whenever we see Harry Styles sporting a unique outfit. This past year or so, he has proved that he's got a knack for tailoring in particular as he's worn flared trousers and double-breasted styles. He's also been wearing gendered and worn outfits from the womenswear section, but there are times he opted to make investments in crazy wardrobes.
Sure, many of his crazy outfits are only for pictorials and magazine projects, but these pictures will still be seen by his fans all over the world. In this photo, we don't know what he was going for with his white braces, pink bike shorts, and black top hat, but we are pretty sure that the stylists and photographers of this shoot had a vision. While they don't make sense, his tattoos were somehow part of the accessories.
Helena Bonham Carter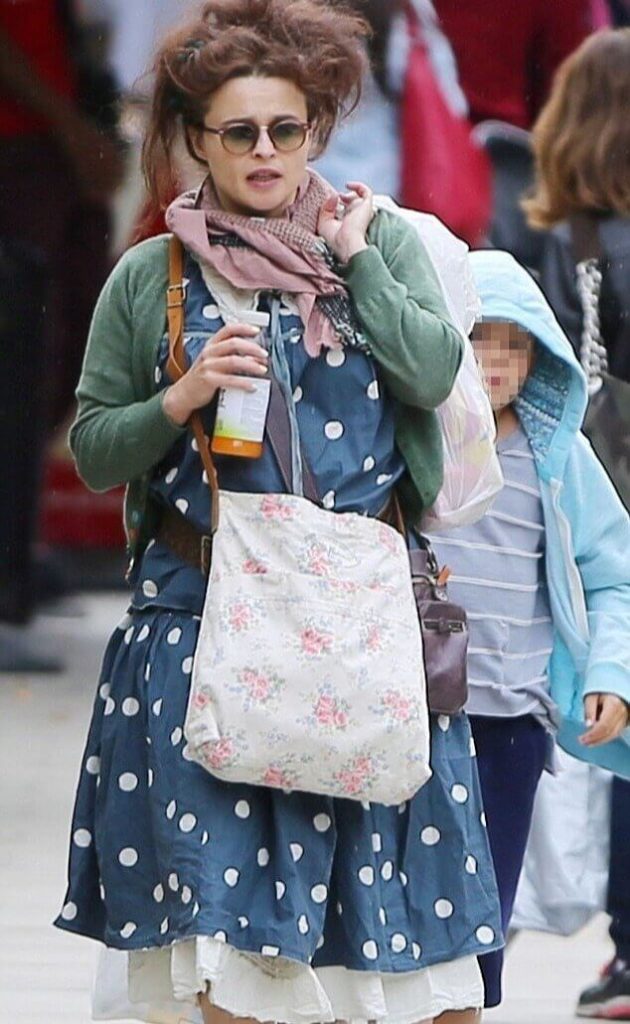 Anyone who shows up at the Golden Globes wearing mismatched shoes is either a horrible representative of the fashion world or an extraordinary fashion genius. We can only claim the latter when it comes to Helena Bonham Carter.
She appears at the top of nearly every worst-dressed list. Well, it's that, or she has built an entirely new fashion character. Here, Carter walks around in mid-calf bloomers and other equally lacey and silly clothes. She demonstrates that she thinks outside the box when getting dressed in the morning. Sure, she appears to be extraordinary most of the time. But Carter is not just another name in Hollywood. She has made a degree for herself in the fashion industry. She isn't on anyone's best or worst dressed list, but she does have her fashion list. Carter is, without a doubt, a fashion genius.
Iggy Azalea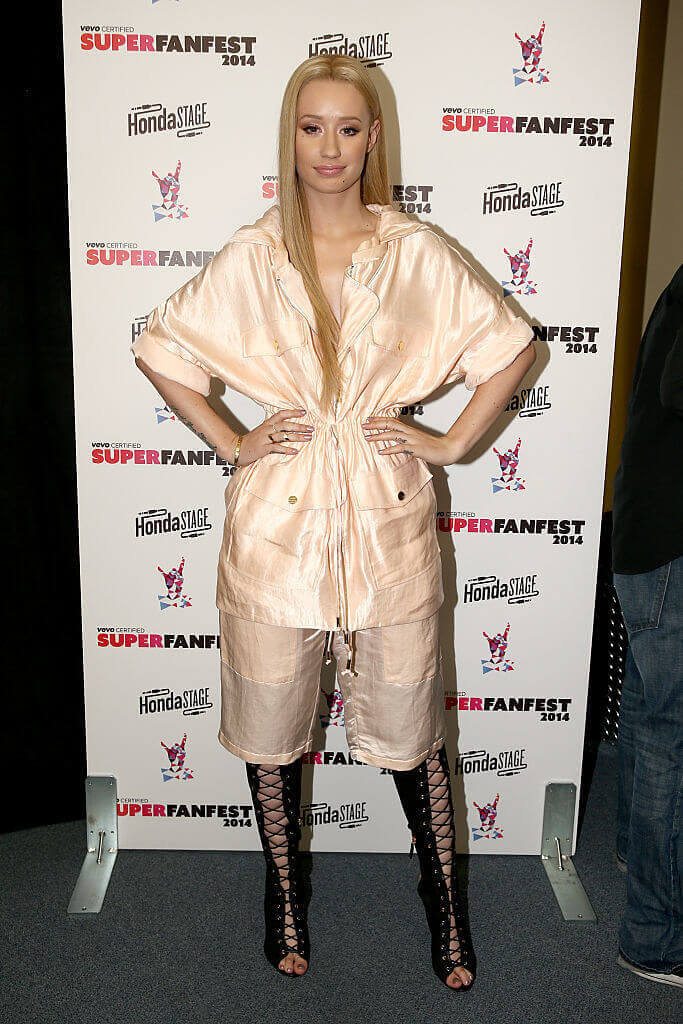 Iggy Azalea is a natural performer on stage and on the red carpet. The Australian rapper-singer is known for bold fashion choices, ranging from sultry stiletto heels to edgy booties. She can also wear a stunning streetwear ensemble with a great sneaker. When it comes to fashion, Azalea favors outfits with a distinct aesthetic, whether it's a pop-art twist or a look that extensively references pop culture themes.
During the SuperFanFest show, Azalea covered her shape under a baggy peach utility jacket. She contrasted her conservative ensemble with a sultry pair of up-to-there gladiator heels. Azalea finished off her look with a pair of long shorts. The shoes aren't as "loud" as some of Azalea's previous selections, and they're less attractive or stylish. Her career investments evolved over the years, but one constant has remained: her love of bright colors and strong designs.
Isabela Moner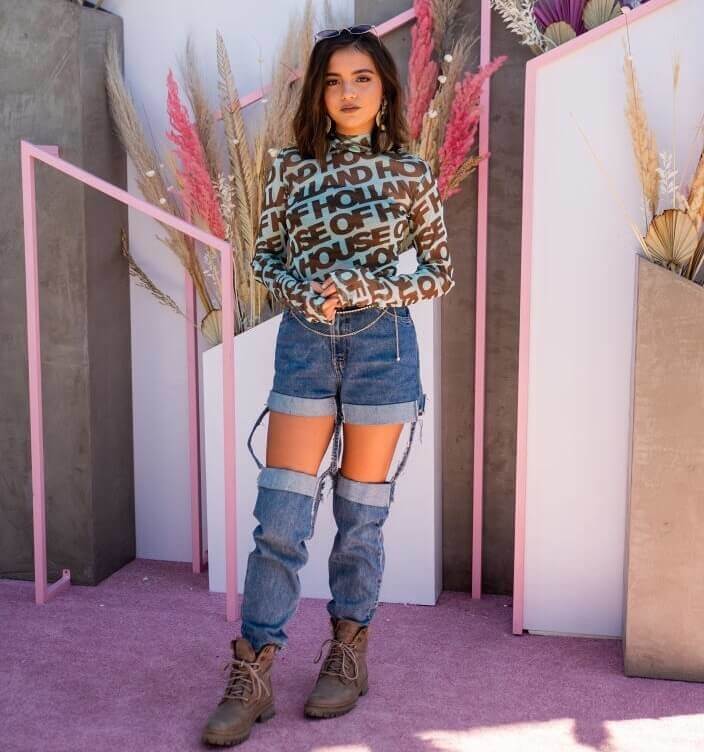 Jeans are something we adore. We've come up with a hundred different ways to wear them. We know which styles will be famous for fall and purchase the greatest ones. But, sometimes, we get caught off guard by weird denim trends. We once used our credit cards to buy mud-splattered blue jeans.
We agreed with the internet when they questioned the wearability of these masterpieces. After all, they don't look very fashionable in our opinion. Furthermore, the most unusual pieces sold out quickly, which was the strangest of all. And we're guessing Isabela Moner was a serious buyer of one of them. She was spotted at the Revolve Festival on April 13, 2019, in La Quinta, California. She sported cropped denim trousers and a House of Holland top. Are they trying to turn old jeans into shorts with this? That's what we thought here.
Izabel Goulart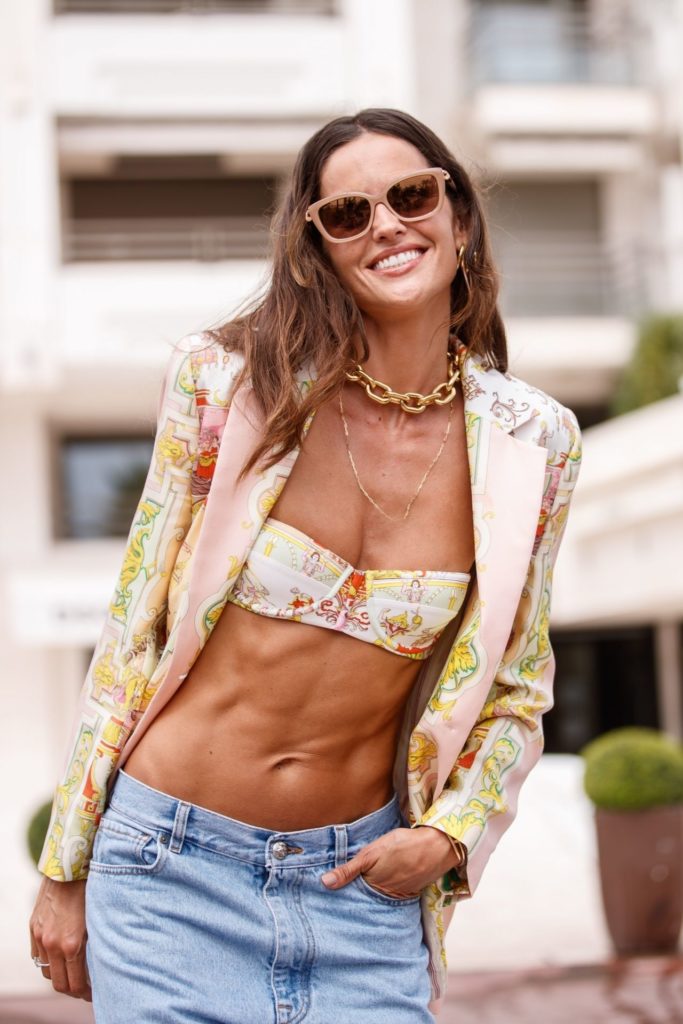 Izabel Goulart has a distinct sense of style and fashion. She often focuses on her shape and fit. Her Instagram page is full of photos that reveal the styles she likes.
Goulart has been wearing lingerie outdoors for years, to red carpet events and other appearances. Here, Goulart took a twist with her matching jacket and bra combo. She dressed up in a pair of jeans to give her suit a bit of edge. Well, the idea makes us shrug. But the look is still being seen on the catwalk. They've been in style for a while and don't appear to be going anywhere. For Goulart, bras are not just for wearing underneath clothing but are also for wearing as is. Well, given her credits and her fantastic body, we can't blame her. Of course, we also don't think that we can ever do what she does.
Jennifer Connelly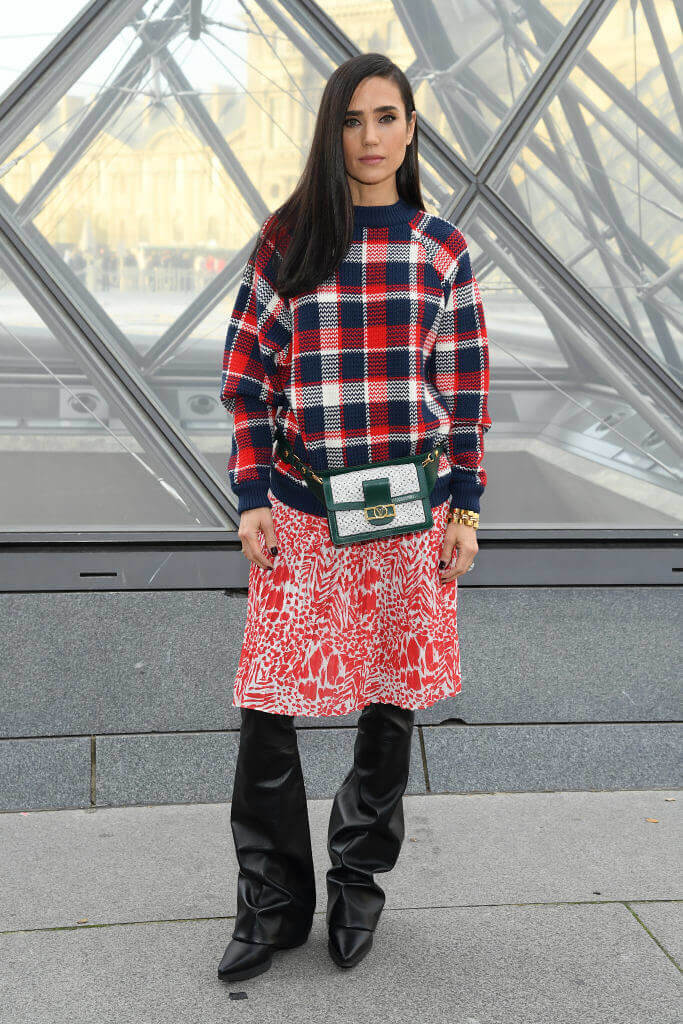 Jennifer Conelly is as well-known for her impeccable red carpet style as she for her credits in films such as A Beautiful Mind, Blood Diamond, and Requiem For A Dream. And, as a long-time devotee of Nicolas Ghesquière of Louis Vuitton, her most iconic outfits have a style formula that is unique to her.
Well, she went out of her comfort zone with this attire. It was like she could not decide between a dress or a pair of pants, so she wore both. This fashion sense isn't new. It has been a staple for a while because it's a blend of masculine and feminine elements. It's like being able to have your cake and eat it, too. Whatever the case may be, it appears to be sticking this time. So now might be a good time to try this trend.
Julianne Moore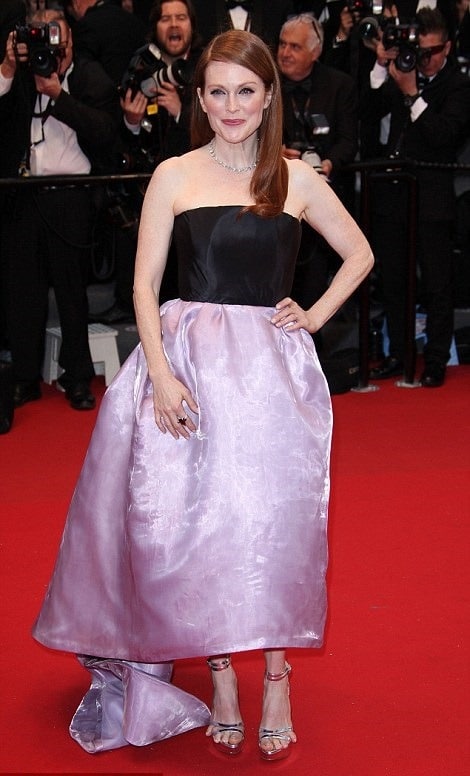 Julianne Moore, who glided down the Cannes red carpet in Dior, looked as stunning and luminous as ever. She was undoubtedly one of the best-dressed and happiest-looking stars of the evening. Her feet were the next thing we noticed. Moore's poor toes were being tortured by the straps of a far-too-narrow platform stiletto. Take a look at her pinky toes! It's insane.
Fortunately, the magnificent black and lilac Dior gown provided enough of a distraction from what was going on south of her body. Moore looked stunning, but her silver strappy shoes seemed to be too small for her feet. Her little toes seemed to be trying to get away from her. Moore's bravery in not letting a potentially uncomfortable and unpleasant shoe scenario affect the rest of her body was admirable. She's an expert. Maybe a pair of bigger shoes should be an investment.
Justin Bieber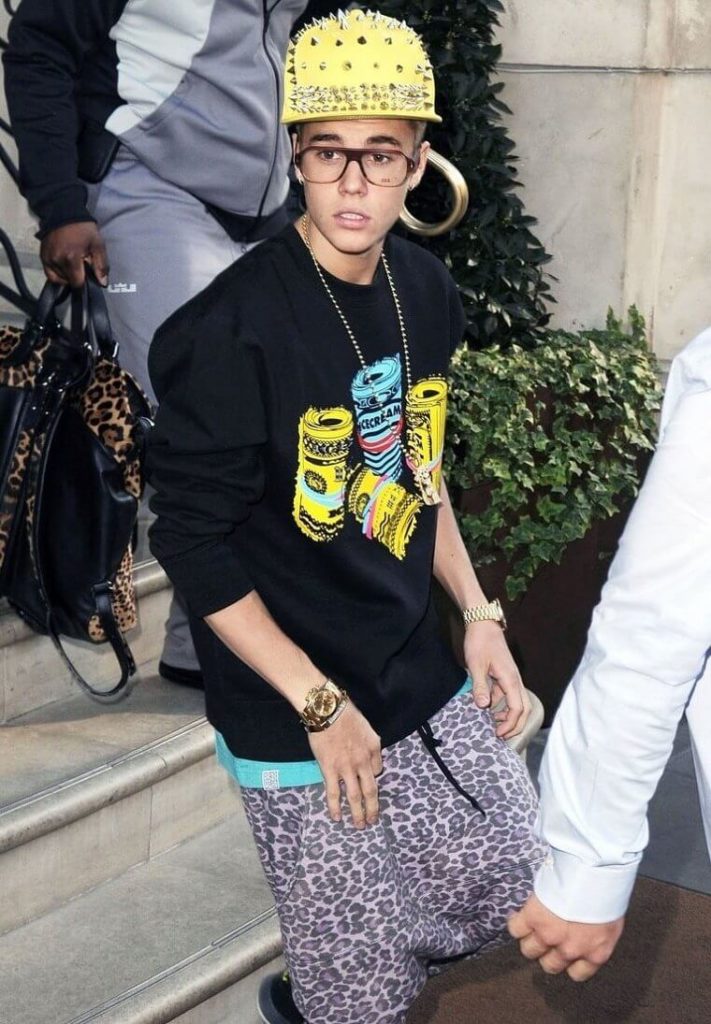 With the success of his albums "Baby" and "Yummy," he has always been a big hit in the music industry. Besides music, he has, to his credit, also established himself as a fashion icon.
Bieber's incredible dress sense has also inspired many. We saw the musician in various casual and comfortable outfits and formals. With his wholly stylish and excellent appearance, Bieber has always nailed it. However, the fashion icon has made mistakes on occasion. Bieber used to be an uninteresting little tweenie bop singer who was very dull and ill-dressed. The Biebs once wore purple leopard print leggings, thick-rimmed spectacles, and — the crowning glory — a yellow spiked hat, while out and about in London. We wonder if this spiked-hat ensemble is the worst the singer has ever worn. It's not that we dislike Bieber's style, but we wish he never wears anything like this again.
Justin Bieber in a baggy leather bottom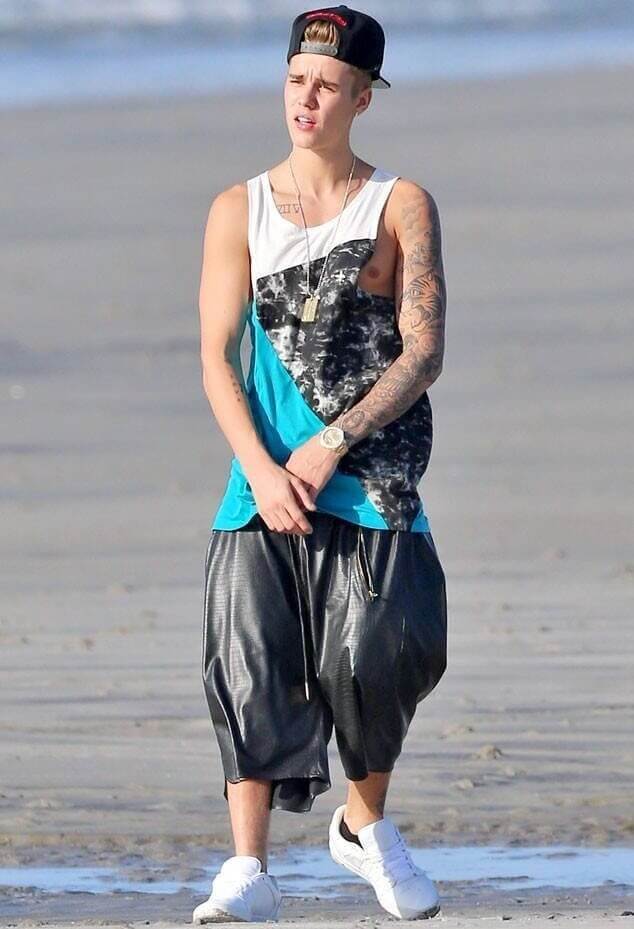 Whether you like or dislike Justin Bieber's songs (or his ever-changing hairdos), there's no disputing that he's refined his style in the last year.
Bieber had successfully ditched the all-purple-everything look, the leather-detailed waistcoats, and found his signature look. It could be because he now has a prominent degree. He is now known for wearing large, loose-fitting clothes and wide-legged trousers. Yet he has made some questionable fashion choices, still. These loose leather shorts have sparked a slew of questions. To begin, why is he dressed in loose leather shorts? Comfort? Isn't it true that the usual shorts are more comfortable? Style? No. What about functionality? We doubt these can double as a baggy leather swimsuit when you're at the beach. You can't work out in them or spend the entire day in them because they're leather.
Katy Perry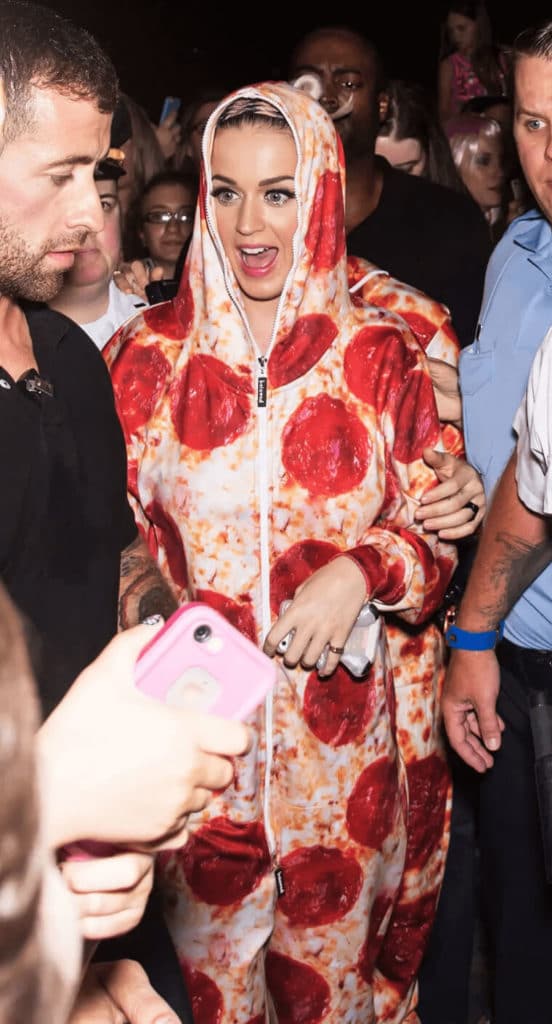 Katy Perry is known for her outlandish fashion choices. After all, not many individuals could pull off a Smurfette outfit, cat ears at the airport, or a garment constructed out of a country's flag. But, based on the fact that she once came out in a pizza onesie, we believe she may have just won this one.
It was not just an ordinary pizza onesie. It was pepperoni, to be exact. Perry was seen in the delectable ensemble during her tour stop in Philadelphia. She even posed for fans who were enjoying her newfound love of pizza. We're not sure where her recent pizza obsession came from. But she's clearly into it, as evidenced by her use of a pizza leotard and pizza slice earrings in the video for her single, This Is How We Do. It shows that a pizza is a good investment, after all.
Katy Perry in a light-up dress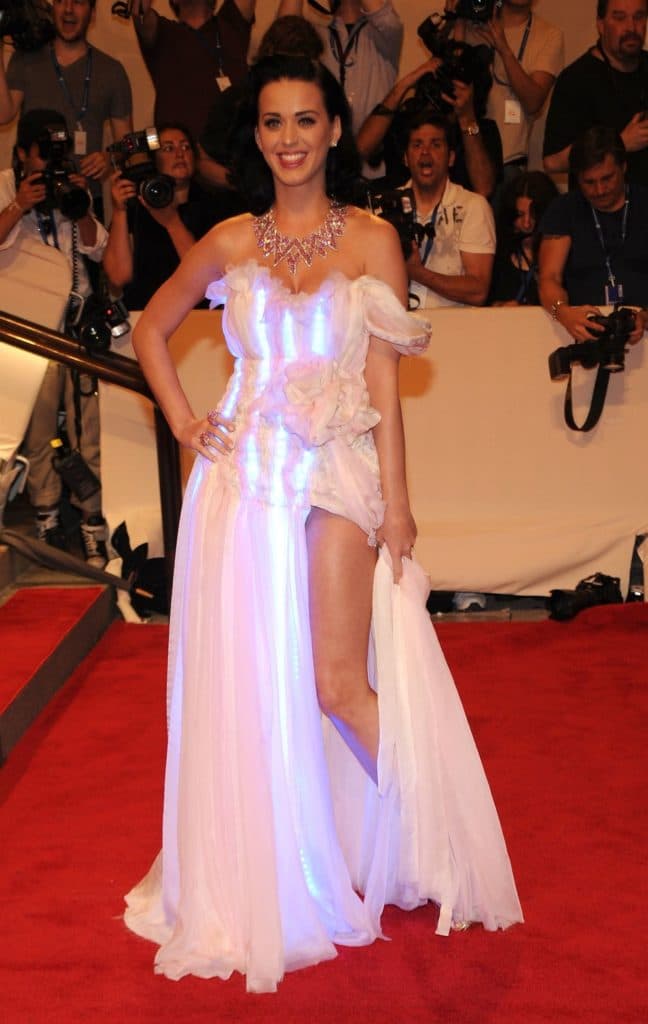 Are you thinking of wearing LED lights? Katy Perry is here to let you know that she's been there and done that. Perry has never been the subdued type, but her dress for Met Gala 2010 went on another degree. Perry went above and beyond, wearing a CuteCircuit glow-in-the-dark (yep, glow-in-the-dark) outfit. She shone in the room!
Perry walked the red carpet in a flowing pink gown with a thigh-high slit that felt a little too modest. But, lo and behold, her dress lit up and began changing colors a few moments later. Her dress was made from 24,000 LEDs and designed by CuteCircuit's tech fashion team. Perry admitted that she didn't need an electrical outlet to turn on her gown once the lights went out. She had a power switch hidden someplace in her gown – in her bra!
Kendall Jenner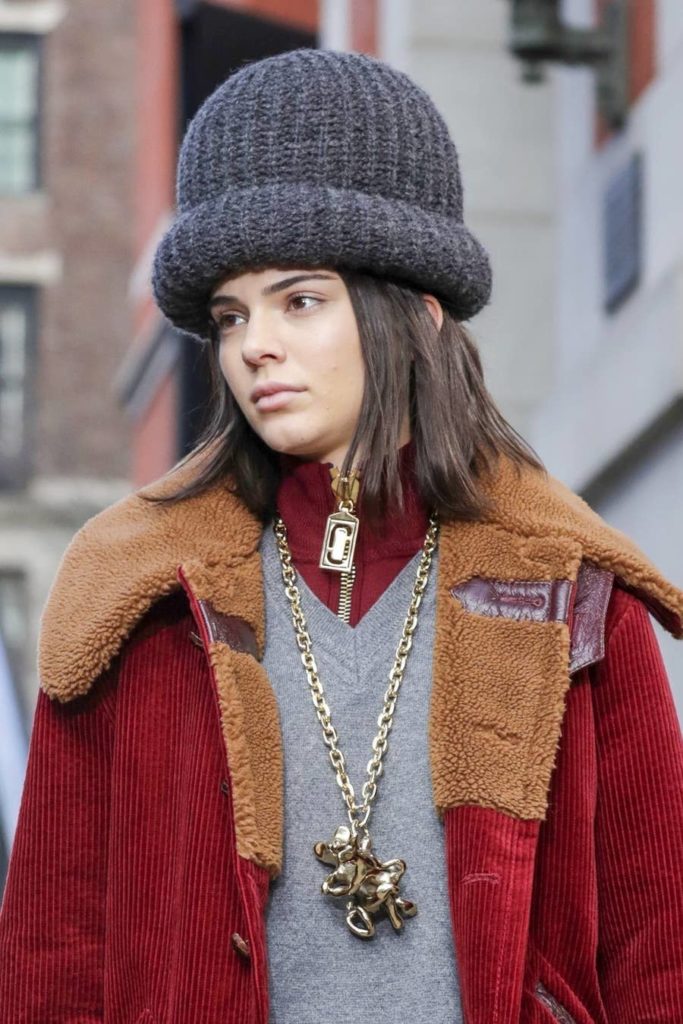 Kendall Jenner has swiftly established herself as a rising star in the modeling world. She has not only created headlines on the runway, but her street style has also earned her multiple points in our eyes.
Jenner is known for her frequent style shifts. Who knows if she continuously changes her style to keep up with her equally trendy family, or if it's the other way around. Surely she wants to stand out from the crowd. Whatever the case may be, we're used to seeing her in a variety of looks. But she had something on her head at the Marc Jacobs show during New York Fashion Week that we don't understand. It's big, gray, and shaped like a cylinder. Perhaps it's a hat – either a huge beanie or an XXL woolen bowler hat? It could be a huge knit basket to hide her investment money.
Kesha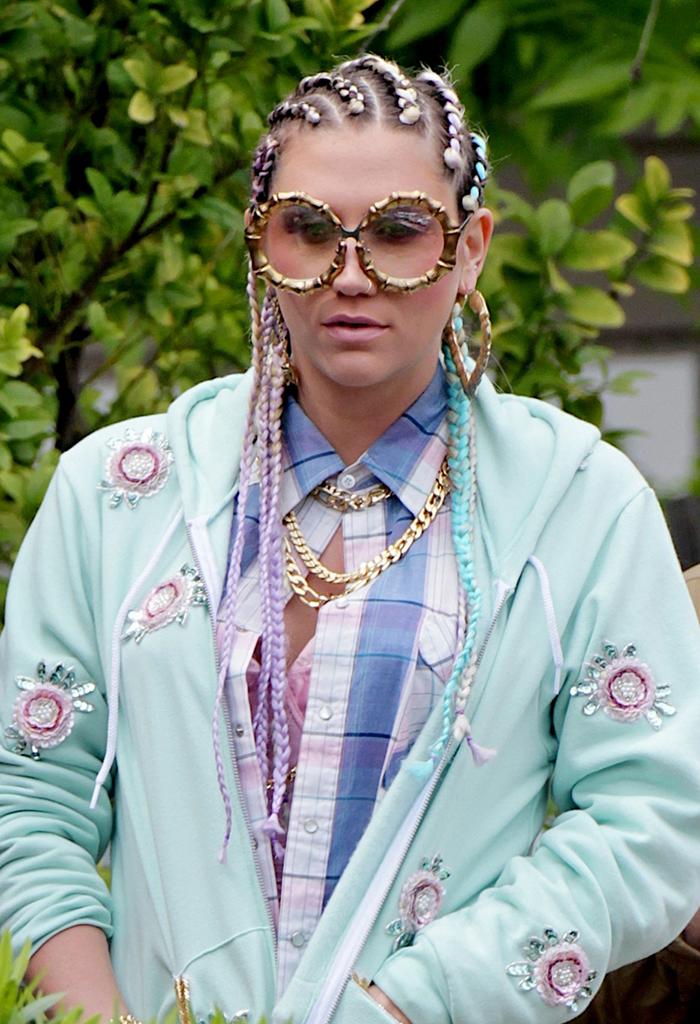 You might be scratching your head over her unusual dress choices, but you have to hand it to Kesha. Her bold sense of style sets her apart from everyone else in Hollywood right now.
She is undeniably daring when it comes to her appearance. But this look was undoubtedly her most outrageous yet. Kesha was filming a video for her new credit, Crazy Kids, in a park in Los Angeles. She sported gold chain glasses that appear to attach to a corn row hairpiece, giving her a gangster nerd look. However, Kesha oddly matched her flowery, adorned hooded top with a checkered shirt, buttoned at the top but revealing gear beneath. She even wore white stockings with bows at the top of her legs. Something about Kesha makes us want to whisk her away to a spa and give her a makeover. Also, the braided appearance is puzzling.
Kim Kardashian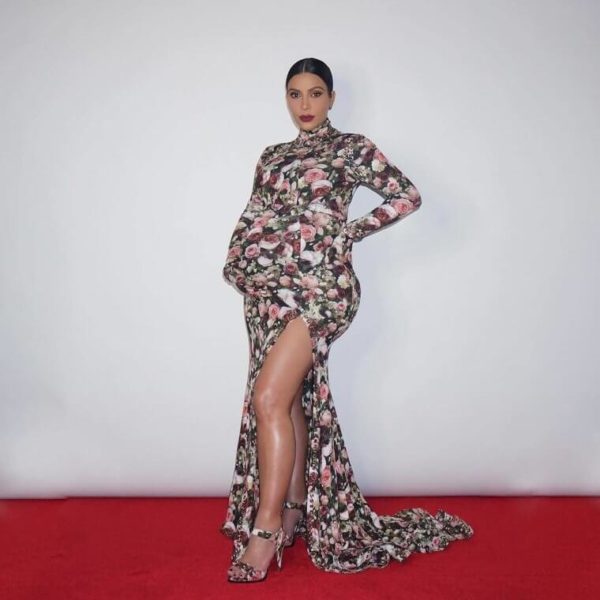 Who doesn't want to live it up like the Kardashians? Kim Kardashian is a beauty mogul and a fashionista who has a lot of investments. Of course, her fame comes with mistakes, too. She revealed a stunning truth about the dress she wore to the 2013 Met Gala. It was her first appearance at the event as Kanye West's plus one.
She attended the gala in a Givenchy flower print gown while heavily pregnant with her daughter North. The figure-hugging dress fit her like a glove and showed her famous contours. She even wore gloves and shoes that matched! Her Givenchy ensemble, designed by Riccardo Tisci, instantly became a meme. Social media users compared it to a grandmother's couch. Robin Williams even tweeted that he looked better in florals as Mrs. Doubtfire. Despite her red carpet poses, Kardashian admitted to being devastated at the time.
Kim Kardashian in her Faceless Balenciaga outfit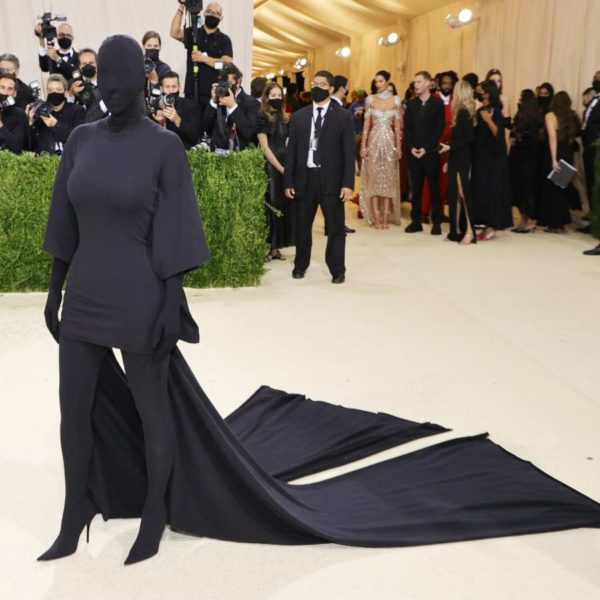 Kim Kardashian is serious about her Met Gala style, given her prominent degree. It's been years since her red carpet appearance in the now-iconic floral print Givenchy maternity dress. Yet, the reality star has continually gone above and beyond with her choices.
The most striking aspect of Kardashian's new style was her head-to-toe attire at the Met Gala in 2021. The bright Balenciaga gown was a statement piece that grabbed heads and made headlines. With Balenciaga designer Demna Gvasalia on her arm and a similar attire incorporating a black-out hoodie. Kardashian kept the entire audience guessing as she walked into the gala. Kardashian's stark black Balenciaga high couture gown, complete with matching mask and train, was unlike anything else she'd worn to the Met previously. The appearance completely obscured the reality star's features and legendary body. At least, the look gave her privacy.
Kim Kardashian in Beige, Belted Dress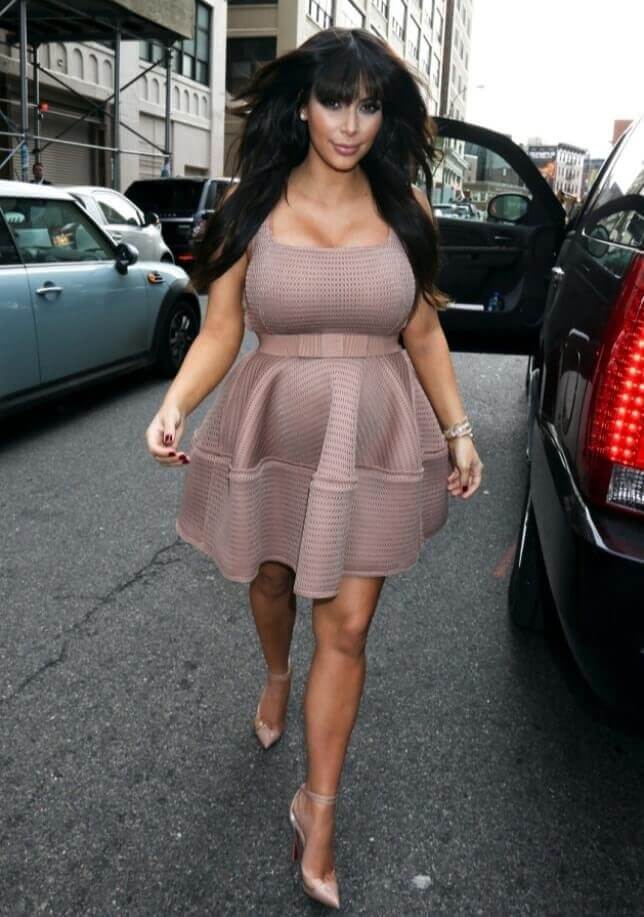 Kim Kardashian has certainly come a long way as a celebrity stylist to reality TV star. Kim is best known for being part of the Keeping Up with the Kardashians. The star has stepped out in public with her fashion on point, but not always. One example of this is her beige-belted dress she wore while she was pregnant. This is something to be worn when not pregnant as it can certainly flatter a woman's curves. However, it doesn't do well in hiding Kim's very prominent belly.
To her credit, even Kim admitted that this wasn't her best moment which is understandable. After all, you just want to look great as a soon-to-be-mom. The high heels sure felt uncomfortable with the extra weight that she was carrying. Perhaps she could have kept things simple and opted for an outfit that she would be comfortable in wearing like sweatpants and flats.
Kim Kardashian in Tunic and Shiny Leggings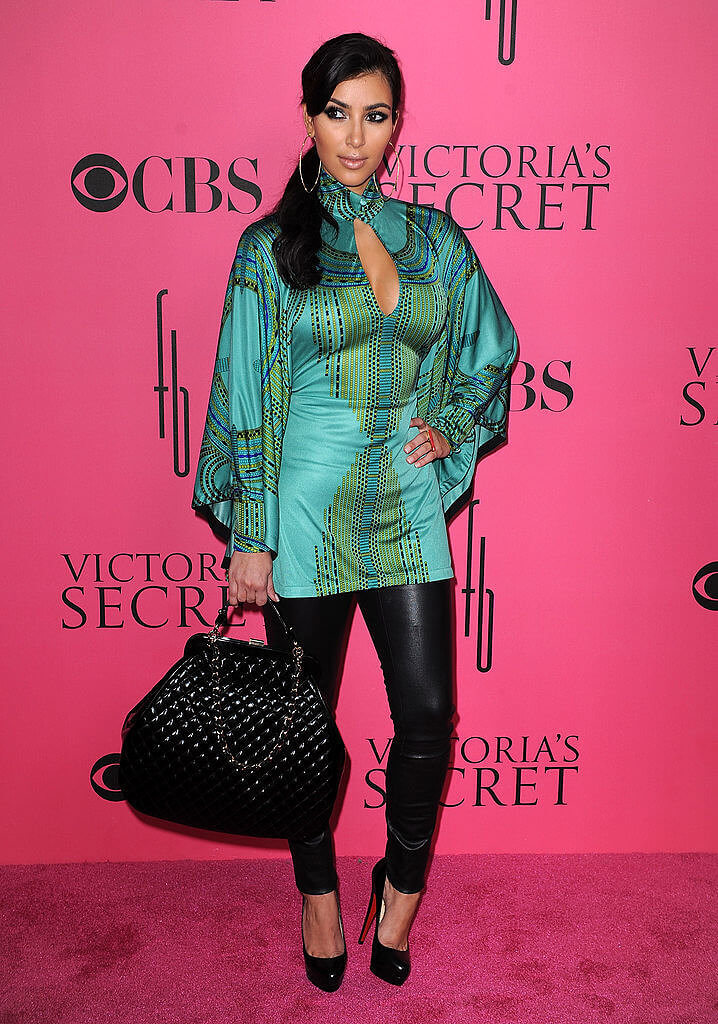 Reality TV star turned entrepreneur, Kim Kardashian, has been showing her fans that she has the knack for running a business. Not only that, but many are keeping their eyes peeled for her next public appearance to see what she is wearing. To her credit, she has all the right curves and her stylists know how to enhance them too. However, some are quick to point out her fashion faux pas from time to time.
One example was her tunic and tights ensemble for one event that did not do her beauty any justice. For starters, the tunic she wore was all over the place. There was too much going on that it's hard to decide where to focus your eyes. Aside from the high neck and cutout décolletage, the flowing sleeves are another matter. Worse, she paired it with shiny leggings! We hope she learned from this.
Madonna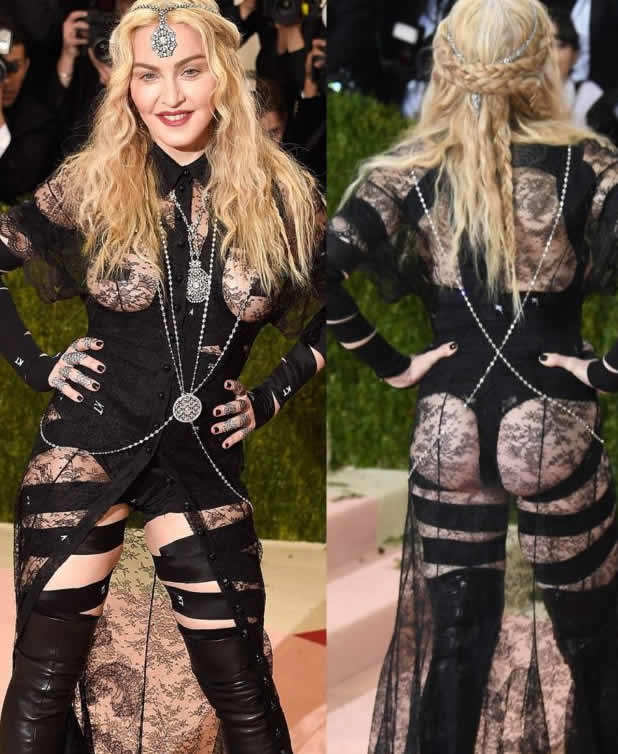 Madonna is never one to conform to the latest fashion trends. In fact, she is a fashion icon herself. Ever since she became an international pop star in the 80's, she never lost her stride, especially with her choice of outfits. However, this doesn't mean that her wardrobe choices were great. In fact, she is known to wear clothes that would make people uncomfortable. Well, the Like a Virgin singer definitely turned heads with her outfit back in 2016 Met Gala. She certainly generated quite a buzz with this show stopping piece.
The Givenchy dress that she wore looked great on her when she appeared to be fit and healthy for her age. However, many do think that this was best left worn in the comforts of the bedroom. To her credit, Madonna can certainly strike a pose with this outfit especially since she doesn't look her age here.
Kim Kardashian in Oversized Tee and Corset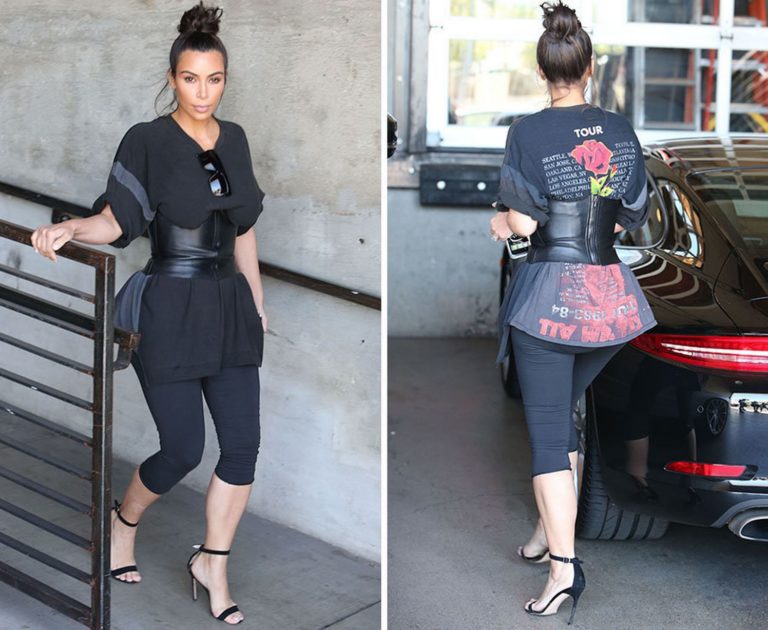 Kim Kardashian tends to make news wherever and whenever. Aside from their reality show, Keeping Up with the Kardashians, and her marriage to Kanye West, Kim is also talked about because of her fashion. We do know that celebrities have a tendency for acquiring an eccentric vibe, which can be whimsical at times. However, Kim's attempt to shine with this outfit of hers did not do well at all. Mixing an oversized shirt with a corset is never a good idea, especially when there is print at the back.
Add to this the fact that Kim paired it with tights and heels is just mind boggling. Perhaps she was in a rush to go somewhere and just grabbed whatever it was that she could find in her closet. Her investments in her walk-in closet should have helped her organize her clothes better. This one is a fashion fail.
Kim Kardashian in Velour Outfit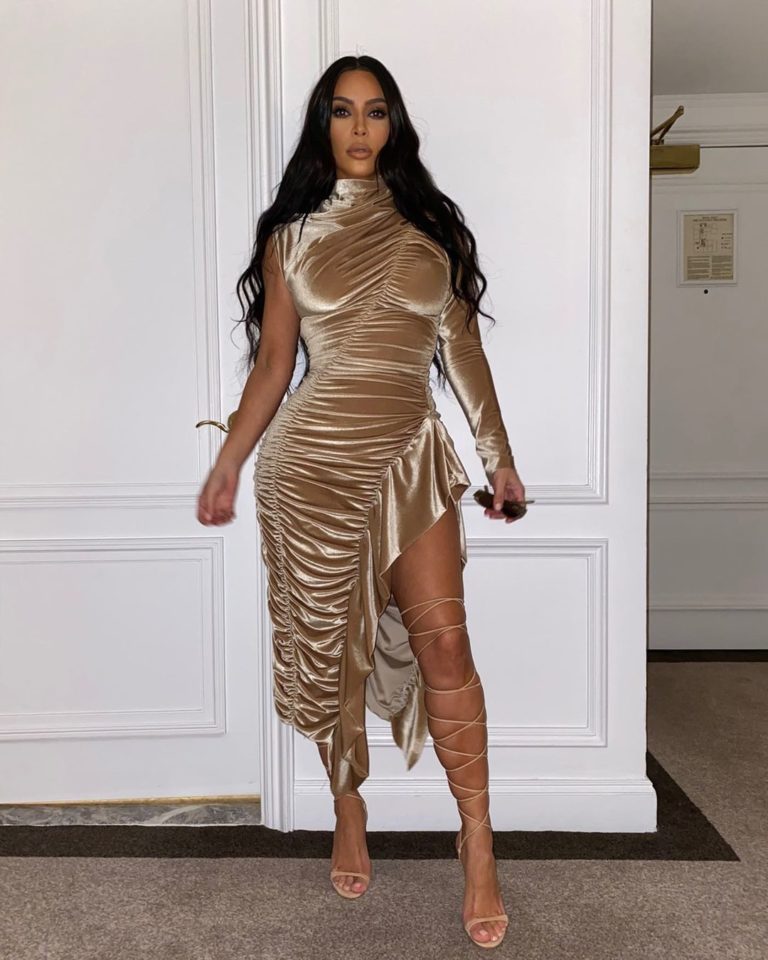 How can someone who has her own fashion line commit so many fashion flops? It might be that being married to a rapper/fashion designer had opened her up to more influences. However, we were hoping that these influences were for her betterment. This dress of hers certainly gives off a strong Velour look, but somehow it didn't look ideal for the star. There are many factors as to why this was a miss for Kim K. The color and the style are not flattering one bit. Also, her choice of shoes didn't seem to match her dress either.
To her credit, Kim wore the dress with confidence and she managed to give it more character. However, no one has to endure this kind of fashion flop for an entire night. Perhaps a stylist could steer her in the right direction when it comes to making fashion statements so she can avoid such fashion blunders?
Kourtney Kardashian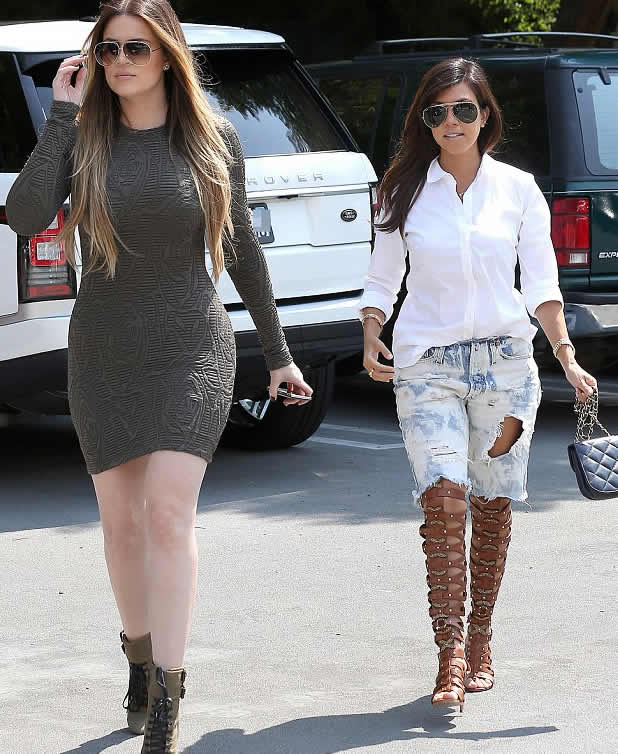 Kourtney Kardashian is just one of the Kardashian reality TV stars who are making a name for themselves. Their hit reality TV show certainly helped them amass a fortune, which they used to run their own businesses. You would have thought that with all their investment money, they wouldn't have any trouble finding an outfit to wear. Well, it just so happens that even celebrities can have fashion fails from time to time. In Kourtney's case it was the outfit she wore while she was out enjoying time with her sister.
Her white button-down shirt was already great. But when it came to her bottoms, we just had to do a double take. She wore bleach-stained, knee-length denim shorts that were torn in some areas. On top of that, Kourtney decided to pair her outfit with gladiator sandals! There is no rhyme or reason for such a messy outfit.
Machine Gun Kelly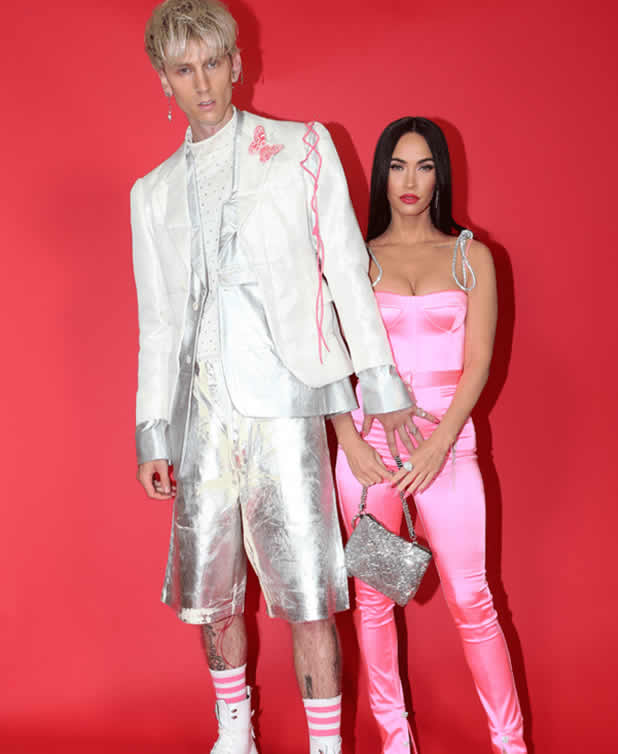 Machine Gun Kelly has certainly made waves online ever since he started dating actress Megan Fox. The pair worked together in a movie and it seems that their chemistry on-screen was real. They look very much in love with one another as their photos on social media reveal. However, we certainly hope that these two would work on their sense of fashion. The couple's ensemble for one event did not inspire much confidence in the fashion department.
Although Megan looked okay in her pink outfit, Machine Gun Kelly needs to have his eyes checked. A short suit combination? This was a fashion fail especially because he thought it would be good to add different textures and shades. Hopefully, they think about how to use their investment money better because their wardrobe definitely needs some fixing. Better yet, they should hire a stylist to help them.
Nicki Minaj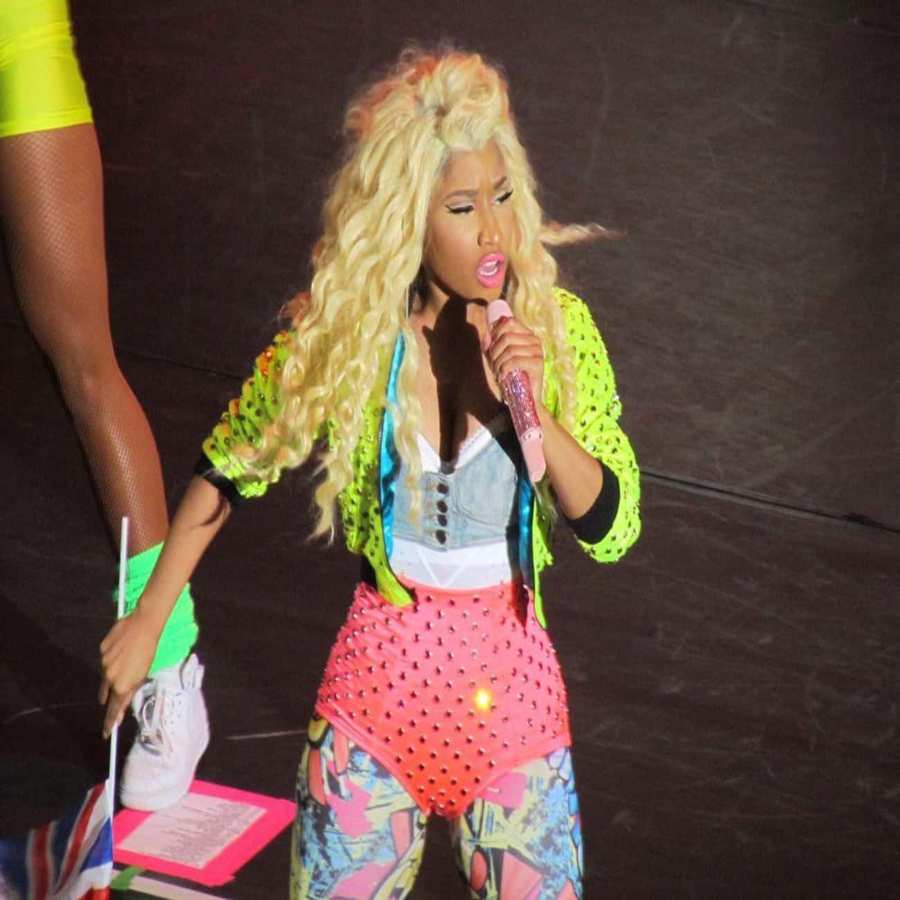 It is hard to be famous since you are always under the spotlight. For some stars, like Nicki Minaj, being a celebrity can also mean you'll be receiving plenty of opinions about your style. Of course you have to be prepared for it since it is part of the life of the rich and famous. This is especially true when it comes to their sense of fashion.
Minaj, like other artists, do not shy away from wearing outfits that are outlandish. However, we have to draw a line on this outfit of hers that makes it seem like she just attended an aerobics class. It doesn't matter if it was inspired by the 1987 or 2006 aerobics trend. This outfit is best forgotten. Fortunately, Minaj has since used her investments on better outfits. Indeed, she's barely had a fashion misstep in recent memory.
Paris Hilton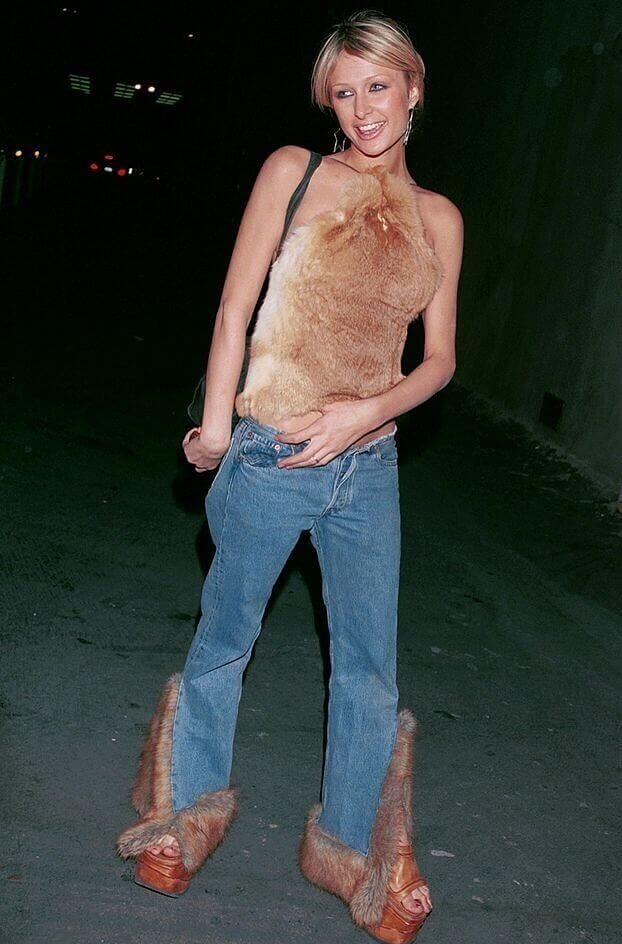 Paris Hilton is an heiress, which means that she doesn't have to worry about applying for personal loans. This also means that whatever outfit she wears must have been of her own volition. It is surprising to see Hilton wearing a fur top in a revealing halter style. What makes this cringe worthy is that fur is often used during winter. Using it as a halter top is quite unusual because halters are for summer. Although she could have been forgiven for this fashion faux pas, what she paired it with could not.
Hilton's bottoms and footwear have fur accents, too! Her entourage could have stopped her from appearing in this travesty of an outfit. This was not one of Hilton's best outfits to say the least. In fact, it is best hidden in the closet, forever. Hopefully, the heiress has learned to upgrade her wardrobe.
Perez Hilton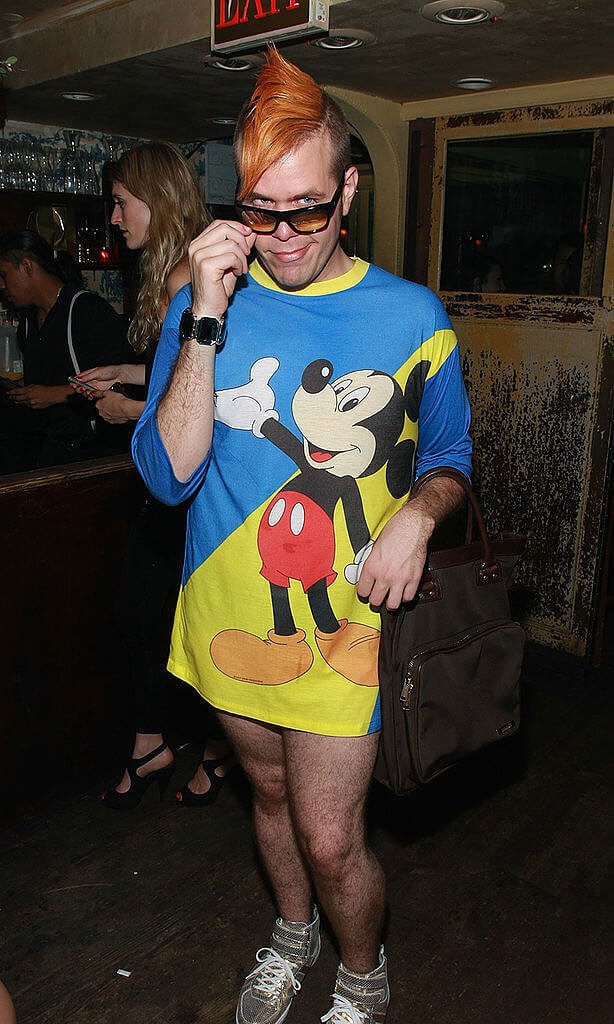 For those who are into celeb Hollywood gossip, Perez Hilton will be a very familiar name to them. Hilton is perhaps infamous for his blog that talks about what goes on behind the scenes in Hollywood. In his blog, he is quite provocative and daring at revealing the secrets of favorite celebrities over the years. This, in turn, drew praise from many and drew ire from celebs and their lawyers. Overall, he is someone who is pretty much unafraid to go to the limits.
With that being said, he bewildered many in 2009 with his attire during that year's Fashion Week. As a supposed homage to Lady Gaga, he wore a very large Mickey Mouse t-shirt and paired it with gold hi-top sneakers. While no one knows why he came to wear such attire, what is certain is that he ended up with a wardrobe disaster.
Rita Ora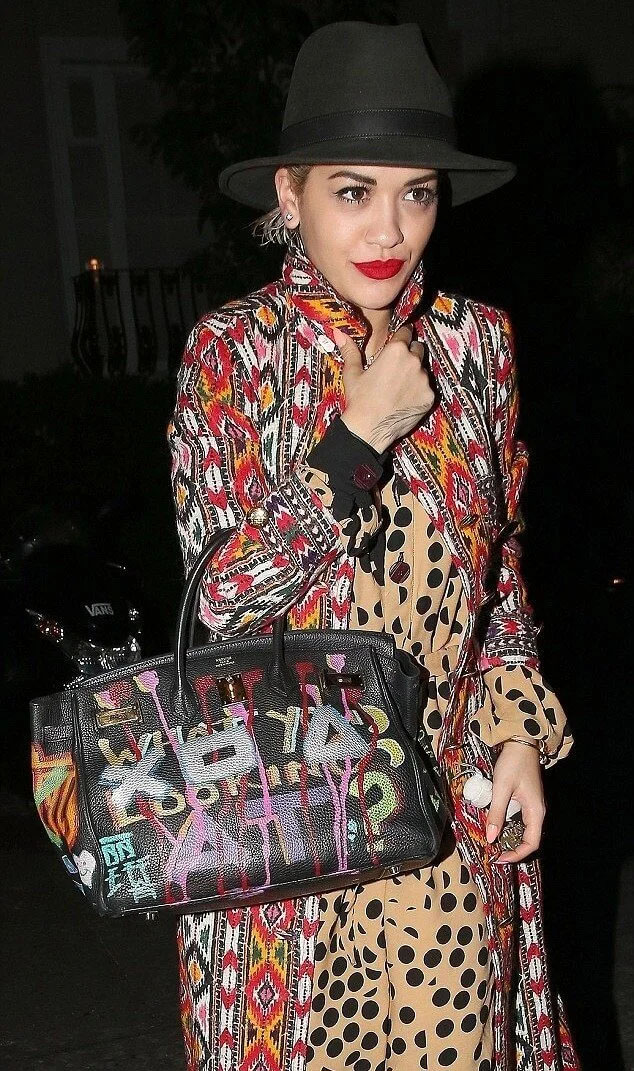 Rita Ora is a well-known singer who hails from Britain. If one searches her name, they might find photos of her looking great in various outfits. But there are times when her outfits just seem so strange. For instance, in 2014, she wore something that had wildly contrasting patterns. Her dress was designed with polka dots. Meanwhile, her outer coat has prints that bear resemblance to designs often seen in Southeast Asia.
While Ora has been known for her daring fashion style, it can be an eyesore for some. After all, a rule of thumb in wearing good clothes is to not mix up contrasting patterns. To top off her psychedelic attire, she wore a graffiti-inspired handbag. While the overall attire will require cash loans to purchase, it may not be worth the time. Then again, Ora still glows well despite her attire.
Rita Ora in a Bathrobe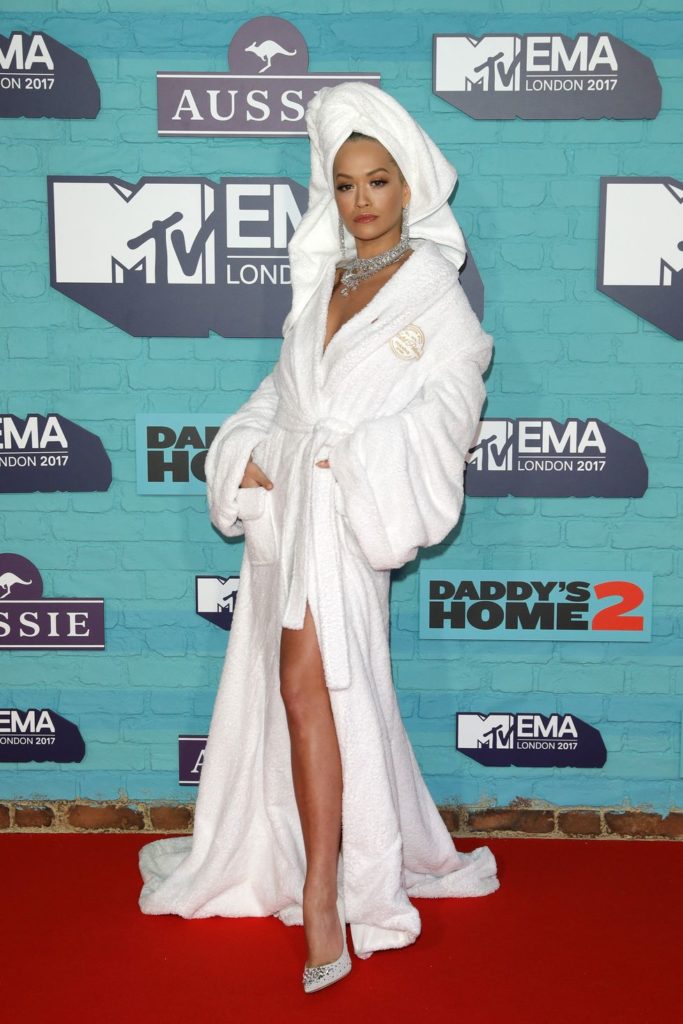 Rita Ora made an unusual choice when she wore a dress that resembled a bathrobe to the Brit Awards. Well, she did just that. When she attended the 2018 MTV EMAs in London, she sported a floor-length bathrobe with a matching terry towel wrapped on her head. To pair her dress up, she wore some diamond jewelry.
While many thought that Ora's dress came straight from her wardrobe, we should give credit to Palomo Spain for designing the attire as part of its 2018 Spring Collection. While Ora did look like she just came out after a bath, she was able to pull it off somewhat, especially after she performed on stage wearing a shorter version of the dress. There are certain outfits that can inspire you to try something new, even if you're not sure you'll be able to pull it off.
Rita Ora in Denim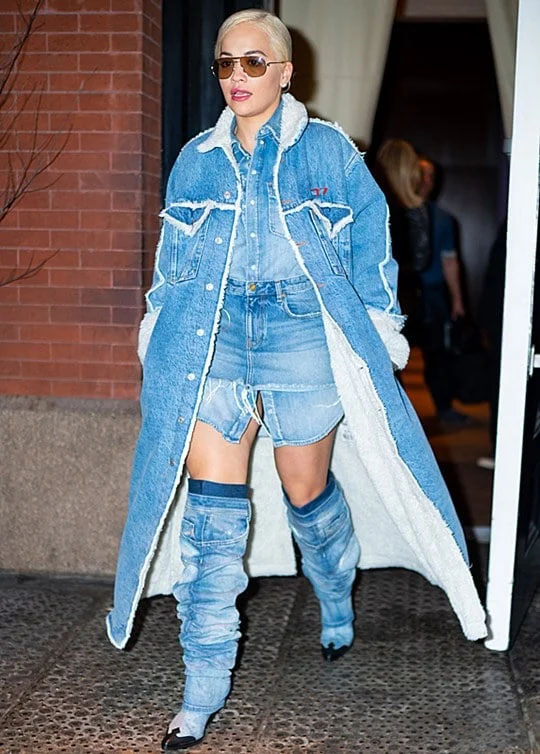 Part of a pattern of ever more daring and, frankly, bizarre attires, Rita Ora became one of the newest additions to a growing list of celebrities to wear all-denim clothes when she showcased her attire in 2019. In fairness, denim is quite tough and resilient as a clothing material. Even a pair of denim jeans can be worth the investment and can last for a decade or two.
Yet, having an all-denim attire just feels quite unsettling. Already wearing denim shorts, Ora wore an inner dress shirt and an outer long-sleeved jacket. While some may say that she wore her attire as well as her previous one, it needs to be said that an all-denim attire can be nauseous to look at. This is just another example of her extravagant style and we will see her wear more bizarre attires in the future
Robert Pattinson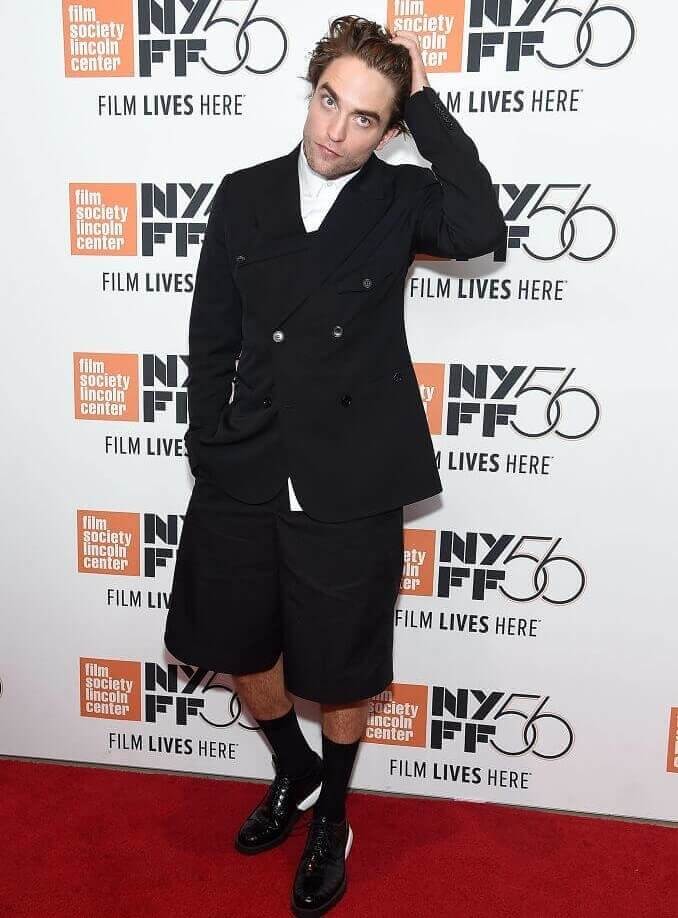 Robert Pattinson is considered to be very stylish, especially when he's wearing a suit. He's very confident in pretty much whatever he wears, even if the attire can be quite goofy and out of place if worn by someone else. Well, this seems to be the case when he attended the 56th New York Film Festival in 2018.
Inspired by what schoolboys and dads typically wear, he wore an attire that combined the two. His upper attire is essentially a suit. However, his lower attire is basically Dior-designed shorts with matching school shoes and long black socks. His attire that time was quite high-risk, kind of like betting one's investment money on the stock market to gain big returns. Yet, he managed to pull it off. Of course, he still looked like a young kid on the red carpet.
Rose McGowan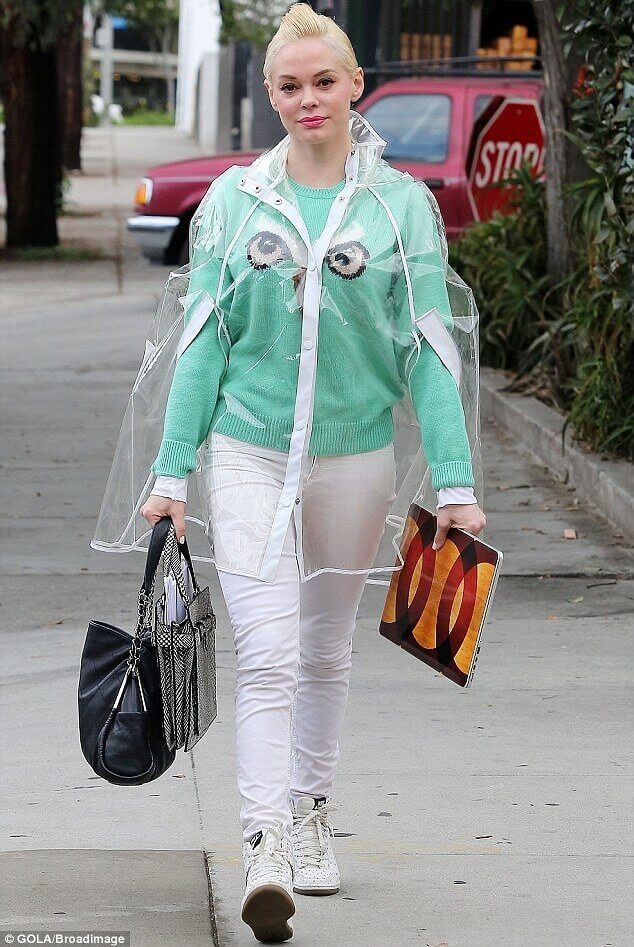 Rain gear is one thing that will be hard to wear stylishly. After all, it is a utilitarian outfit meant to be worn under the rain. Given this, they tend to be oversized, formless, and unfashionable, which is because of the fact that they're meant to keep water out of your body. This is why rain gear as a fashion statement does not work, no matter how much investment you put into it.
For instance, when Rose McGowan was spotted in public in 2013, she wore a clear raincoat over her outfit — a knitted long-sleeve shirt and white pants. She ended up here looking like an emissary from outer space, especially since she wore it while there was no rain. Many questioned her fashion choices. Regardless, based on the photos, she was seen smirking in the photographs in her attire.
Runway? No Way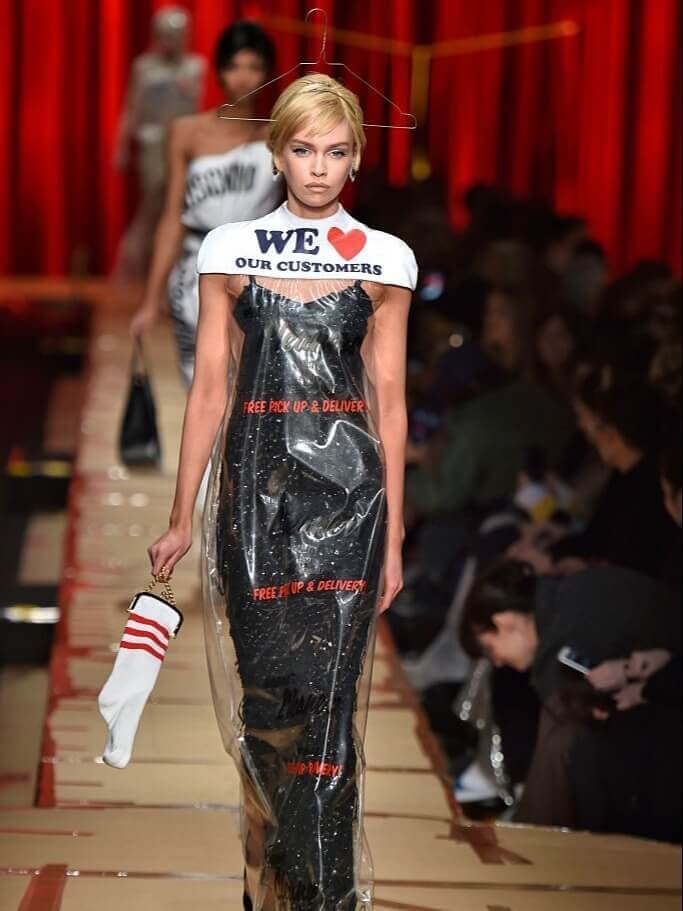 At any fashion show, some degree of absurdity is always expected by the show's watchers. After all, this is where fashion designers can display their artistic creations with pride and glamour. Sometimes, fashion shows have a theme that is relevant to what's happening in society. Of course, how some designers turn said theme into reality can leave a lot to be desired.
Take, for instance, this dress made of plastic dry cleaning bags that was designed by Jeremy Scott. While the dress fits the theme, one cannot help but think about the absurdity of the design and get cynical in the process. To add a cherry on top, the dress can be bought for $700. Essentially, you are buying glorified trash. Just save your credit card balance on something worthwhile. Further, how does this dress represent any of the current pop culture trends? The answer is, it doesn't.
Taylor Swift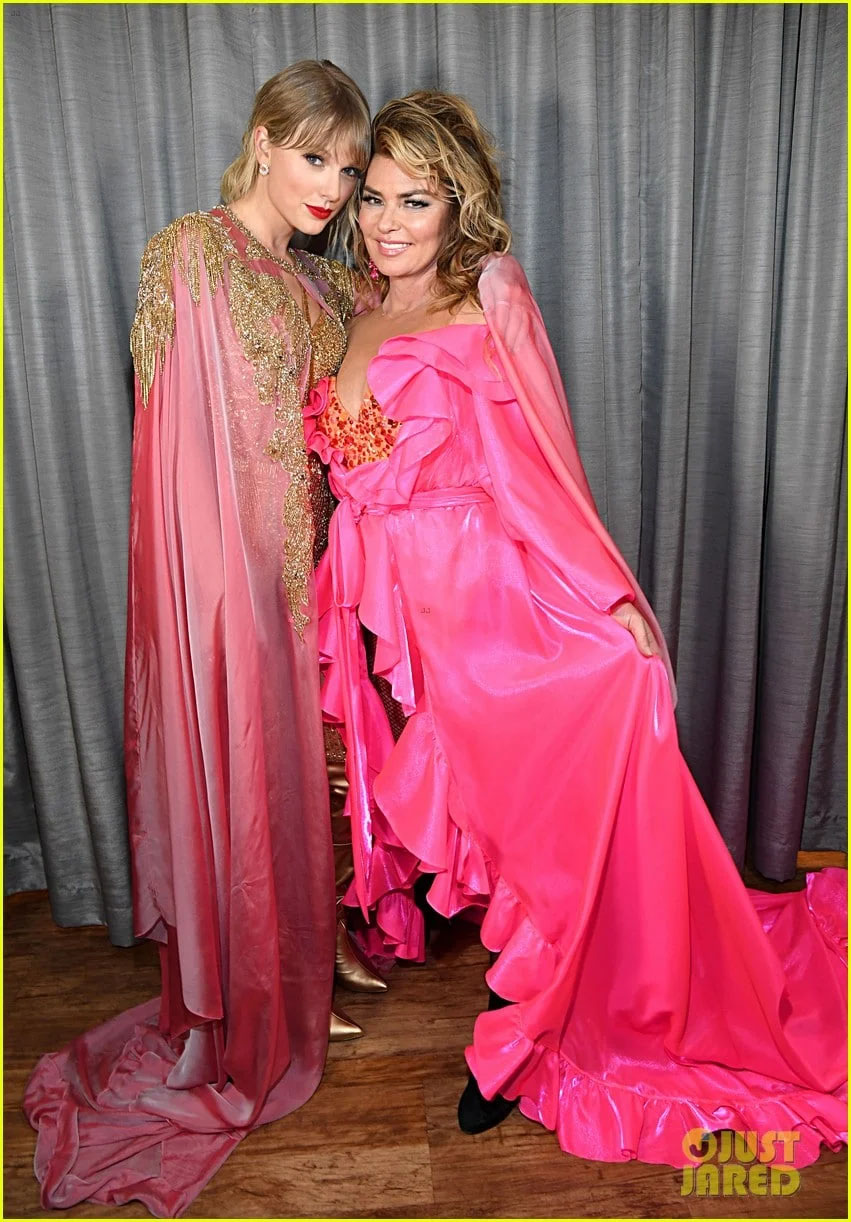 Taylor Swift is a popular American singer, songwriter, and actress. Many of her fans are instantly impressed by her style and fashion choices. Often, Swift manages to pull off the dresses and clothes she wears for public events and occasions. After all, these can be credited for making her the pop powerhouse she is today. However, there are times that the pop superstar just misses the mark when it comes to her fashion choices.
During the 2019 AMAs, Swift wore a gold dress that was paired with a pink cape embossed with gold patterns. Unlike many of her past outfits, this one was really quite blingy, even for her. While the attire was excessive, she nonetheless made it work with her performance at the ceremony. Even better for her, she managed to become the star of the show, bagging the most awards in the ceremony and overtaking Michael Jackson for most awards received.
Travis Scott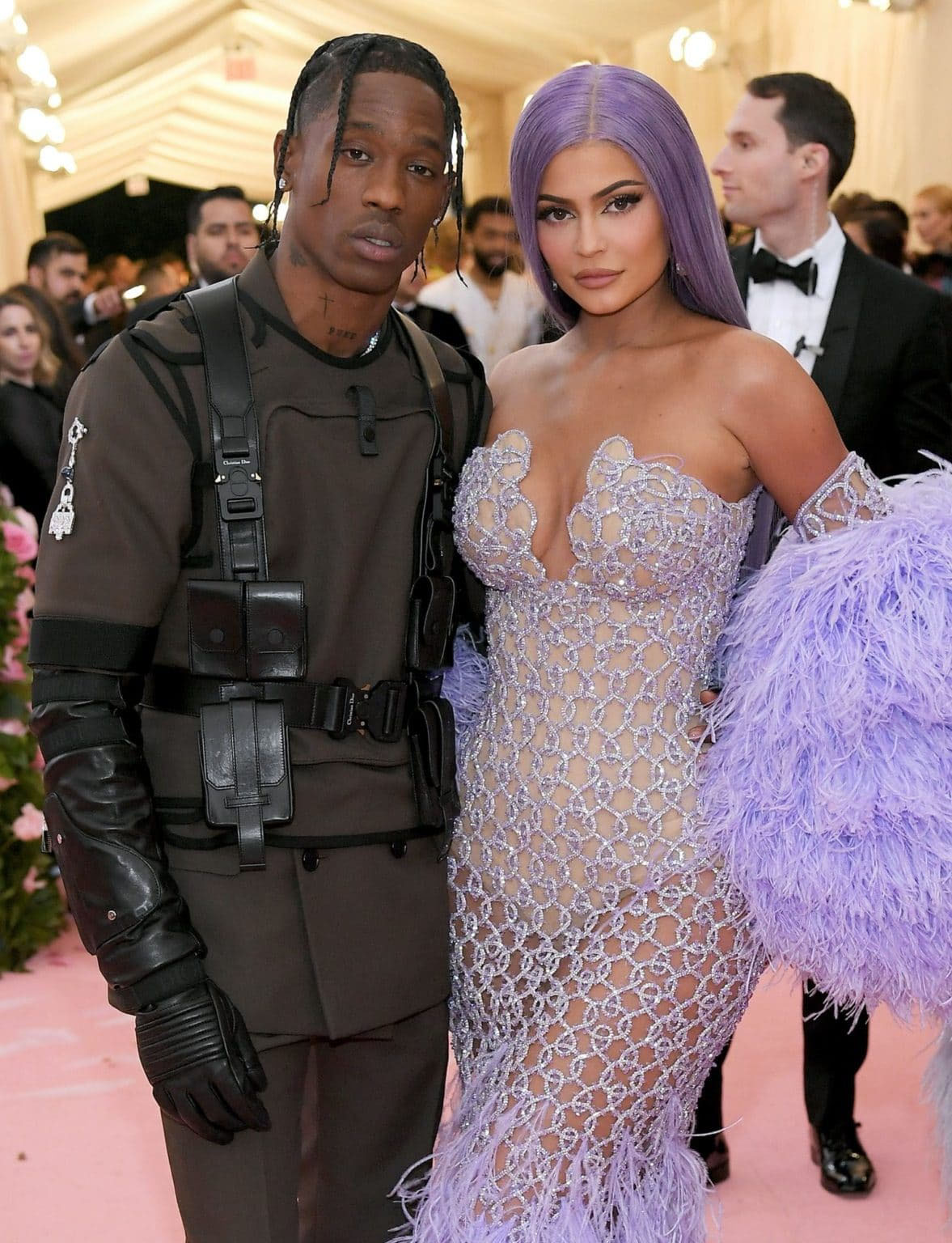 While rapper Travis Scott is known for his great drip, it seems that the attire he wore for the 2019 Met Gala was, to put it mildly, odd. Then again, the Met Gala is known for having people in creative and bizarre outfits that require big investments. For that year's gala, the theme was camp. So the guests were expected to dress absurdly.
At the time, Scott wore an attire that was straight out of Ghostbusters and Star Wars. Scott's attire was festooned with straps and belts, making him look like he was a member of some special force. Meanwhile, his partner Kylie Jenner opted for a purple dress that made her look like a goddess. While the two won the night for fitting with the theme, many have said that Scott looked cheesy and goofy because of what he was wearing.
Tula Contoslavos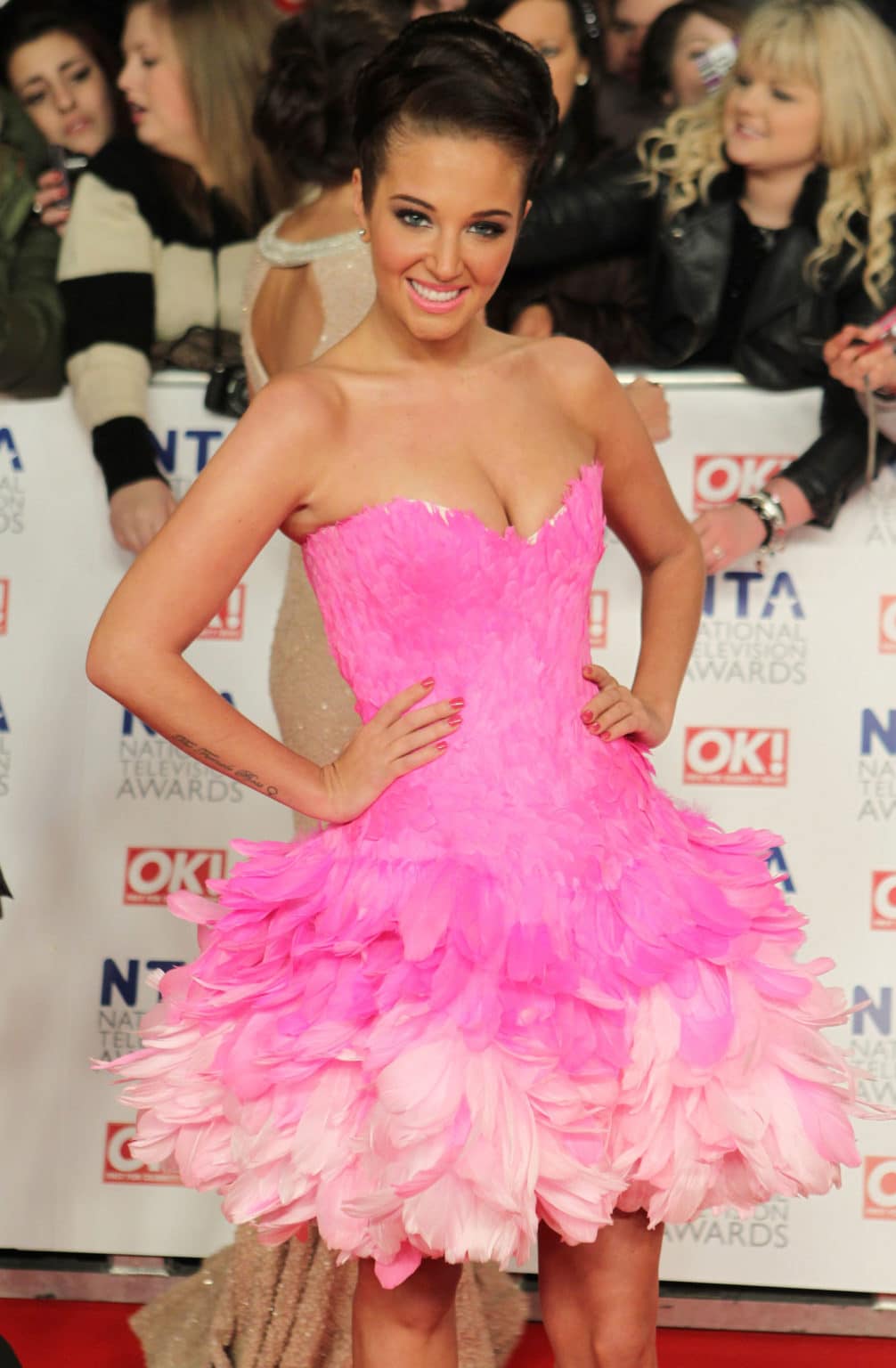 Tula Contoslavos, better known as Tulisa, is a well-known figure in Britain. A member of the group N-Dubz, she became a well-known figure in hip-hop and a fixture on British TV thanks to her role as a judge on The X Factor. In addition, her fashion styles have been noted by many, and some have remarked that the star can wear anything and pull it off. However, there was one instance that pretty much was a disaster for her.
In 2012, Tulisa attended the National Television Awards in London. Walking the red carpet, she wore a bright pink strapless dress with a feathered bottom. While she might have looked good, her orange tinge made her an eyesore at the time. Couple this with the fact that she had to pull up her dress from time to time since it was slipping — the investment in her attire proved to be not worth it.
Tyra Banks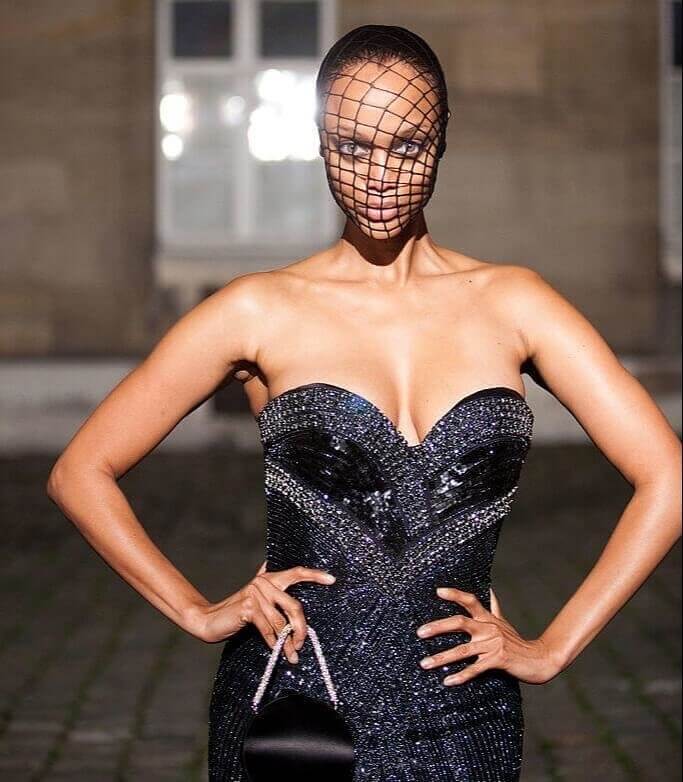 We all know that Tyra Banks knows how to dress elegantly. After all, she is a supermodel and has been a trendsetter for many years. So, it can be inconceivable for some to think that she could wear something weird. Turns out, she did just that. When Banks attended Vogue's masquerade ball in France, she wore a black net for a mask.
While she did meet the requirement for a mask, it seemed that she was following the dress code without giving it much thought. A mask should only cover a part of your face. For Banks, the net covering her face can count as a mask. While she did look absurd at the time, she pulled off her gown very well, to her credit. Let's hope she does not repeat this antic. In fact, we hope that she avoids wearing masks at all.
Zendaya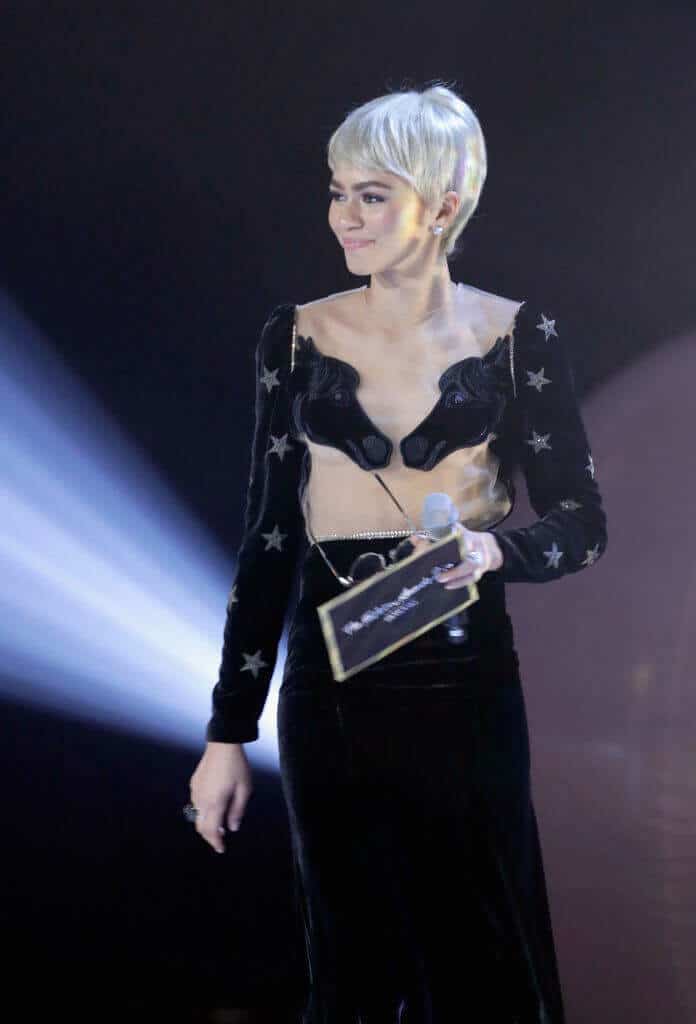 Zendaya is currently one of the most prominent personalities in Hollywood. Her role as MJ in Spiderman has made her quite popular with fans. In addition, her background as a Disney star can be credited for turning her into the superstar that she is today. Aside from acting, she is known for her beautiful attires in recent years, and some of them have been noted as among the best ever. However, the actress did experience a wardrobe malfunction incident.
During the 2017 British Fashion Awards, she wore a dress with two symmetrically placed horse heads over her chest. While her dress was not that bad overall, the horseheads felt out of place. Thus, many were conflicted as to whether or not her attire was good or bad. Naturally, some people were happy with the way it looked while others did not approve. In any case, Zendaya is still regarded as a true fashionista who is very confident in her style.